If you want your WordPress theme to have the capability to showcase images or samples of your completed work, you can easily do it using a WordPress portfolio plugin or a WordPress slider. By downloading a portfolio plugin and implementing it on your web site, you can display your work in a way which was not possible before. Basically, it allows you not only to display a number of images, but also to manage and arrange them from your admin panel like what you do on a regular WordPress portfolio template.
In this article, we share with you a collection of WordPress portfolio plugins with different presentation styles and layouts. Be sure to visit their source pages and their demos to see these plugins in action. Also, you will see that some of the great items in this showcase are freeware, which makes it easy for you to try them first hand. You can also find some premium items just in case you want something with professional support, regular updates and in general more features. Check out these WordPress extensions and share with us your thoughts below the article!
Disclosure: Please note that some of the links below are affiliate links and I will earn a commission if you purchase through those links (at no extra cost to you). I recommend that you do your own independent research before purchasing any product or service. This article is not a guideline, a recommendation or endorsement of specific products.
Premium WordPress Portfolio Plugins
Social Video Locker for WordPress – MORE INFO / DEMO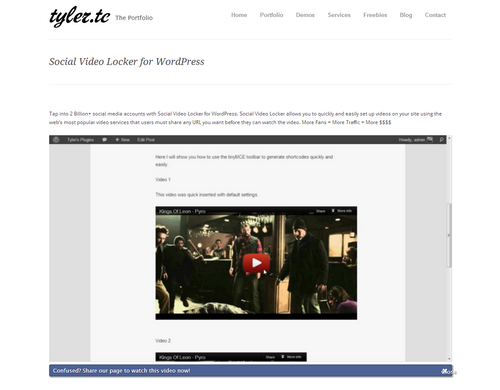 Tap into 2 Billion+ social media accounts with this plugin. Social Video Locker allows you to quickly and easily set up videos on your site using the web's most popular video services that users must share any URL you want before they can watch the video.
uSquare – Universal responsive grid for WordPress – MORE INFO / DEMO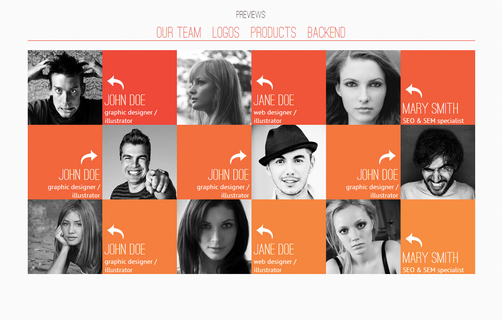 uSquare is a wordpress responsive squared grid that can display your content in a unique and interesting way. You can use it for displaying team members, products, services, designs, blog posts or anything else really.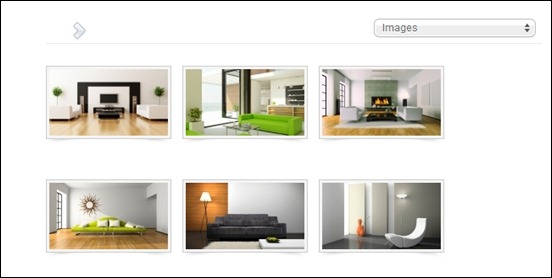 Fancy Gallery comes with an outstanding AJAX admin and a lot of new features. You can create unlimited of galleries and each gallery can hold unlimited of albums. You can add different types of media – Images, Video, Websites to the albums. One of the biggest feature is the Generator. It allows to use galleries, you created in wordpress, on external websites. The generator creates the code for the head and body tag and all you have to do is to copy and paste it in.
Global Gallery – WordPress Responsive Gallery – MORE INFO / DEMO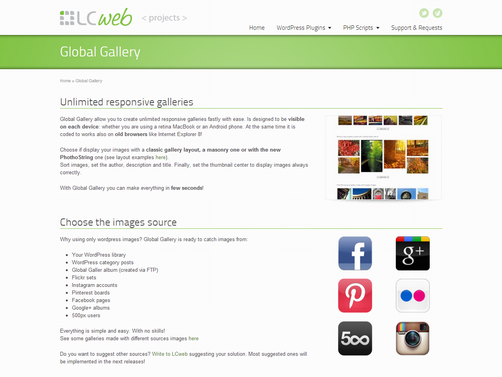 Create fully responsive galleries fastly and with ease on your website. Global Gallery comes with three gallery layouts, four lightboxes ready to use and is designed to be visible on each device: whether you are using a retina MacBook or an Android phone.
Slider PRO – WordPress Premium Slider Plugin – MORE INFO / DEMO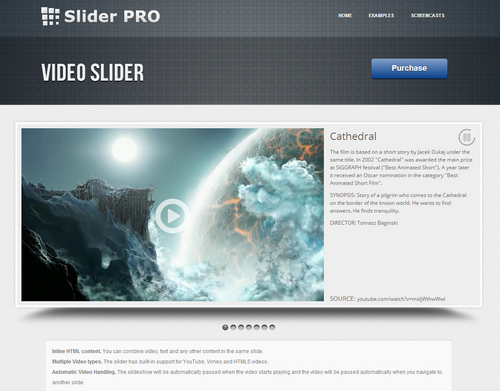 Slider PRO is one of the most powerful slider plugins for WordPress on the market, and is fully responsive and mobile-ready. It provides several possible transition effects, from simple 'fade', 'slide' or 'swipe' effects to more complex 'slice' effects, a range of different skins and much more.
Instagram Gallery – WordPress Plugin – MORE INFO / DEMO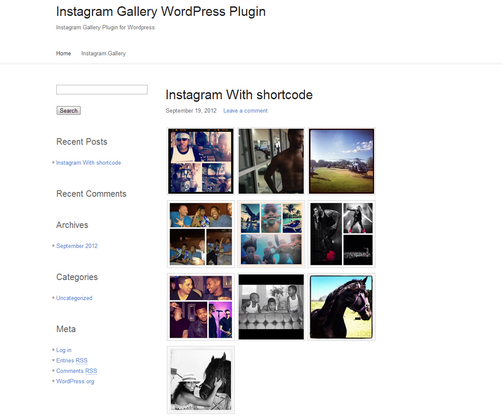 This plugin enable you to display your snaps you or another account have uploaded to instagram or images with hashtags. This includes a variety of configuration to have control over the gallery.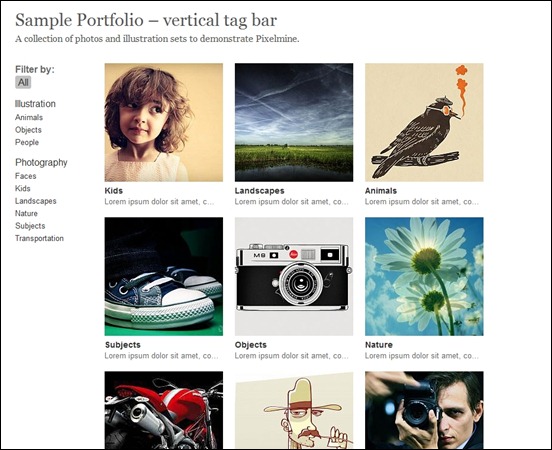 Pixelmine is a WordPress Plugin for designers, artists, photographers and craftspeople who want to showcase their work. Pixelmine is flexible, easy-to-administer and boasts a ton of functionality.
Showcase – WordPress Gallery Plugin – MORE INFO / DEMO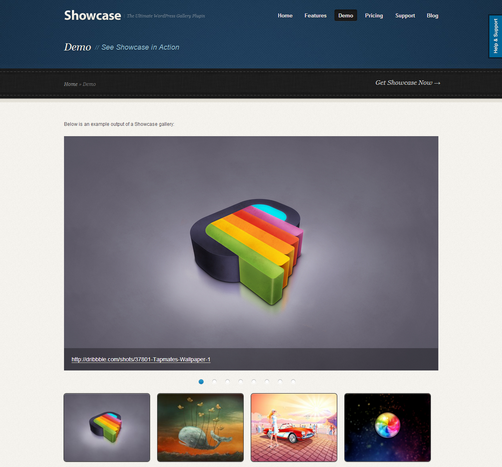 This theme gives you fancy lightbox slideshows and drag and drop ordering and all kinds of bells and whistles.
Vidplanet WordPress Video Sharing Plugin – MORE INFO / DEMO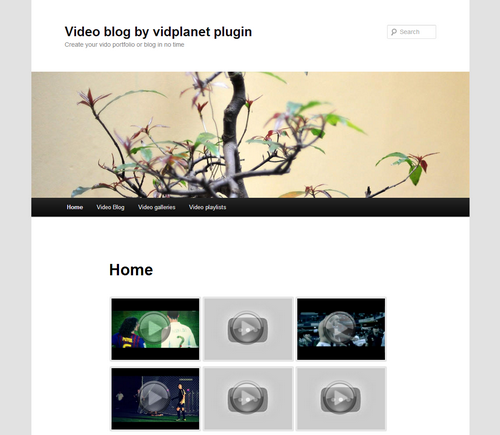 This plugin can create a comprehensive amount of video playlist and video gallery with full custom controls of shortcode.
Social Gallery WordPress Photo Viewer Plugin – MORE INFO / DEMO
Social Gallery Plugin is a great way to engage visitors to your WordPress blog by adding the ultimate lightbox featuring social media buttons (Facebook like, Facebook Send, Pinterests 'Pin it', Twitters 'Tweet This' and now Linked In, Stumble Upon & Tumblr) as well as Facebook or Disqus Comments!
Lightbox Gallery Manager – MORE INFO / DEMO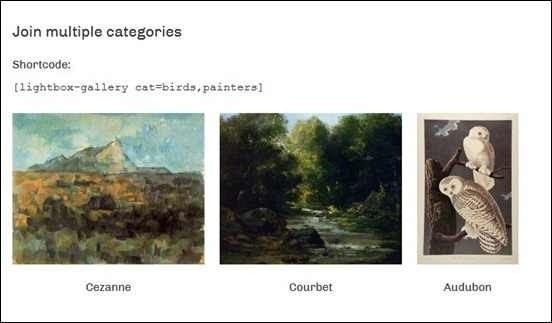 Lightbox Gallery Manager is a WordPress plugin that offers an easy way to embed unlimited lightbox galleries on your WordPress site. You can organize your images by category and add single sets or whole categories with a simple shortcode.
Vimeo SEO user playlist for wordpress – MORE INFO / DEMO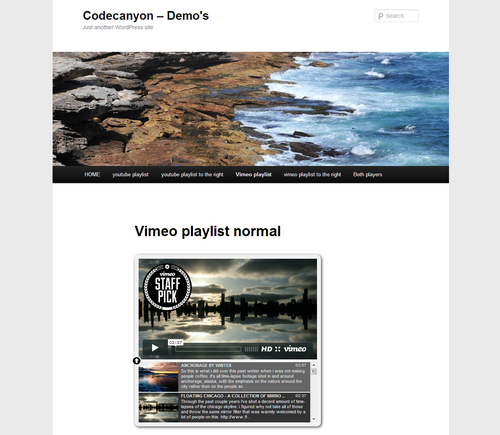 Vimeo Playlist SEO with jQuery for WordPress allows you to turn an unordered list of Vimeo links into a video playlist. The php script makes the Vimeo list on a fly and uses the latest Simple Api.
CCGallery WP – Multimedia Gallery WordPress Plugin – MORE INFO / DEMO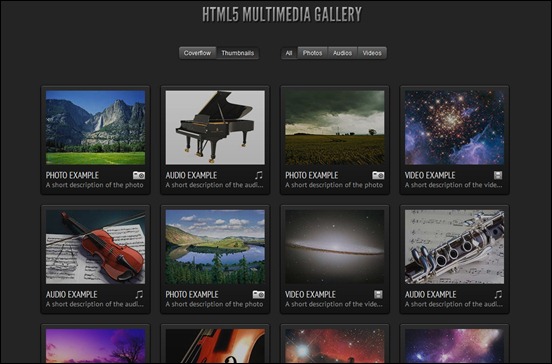 CCGallery WP makes it easy to embed the CCGallery HTML5 Multimedia Gallery, in your WordPress theme. It displays all your images, audio files and video files in a sleek and attractive interface. You get to browse the items in Coverflow mode or in a Thumbnail grid mode. You can easily switch between the two display modes and can even filter the items by displaying only images, or audio files, or video files.
Video Mash Facemash for WordPress – MORE INFO / DEMO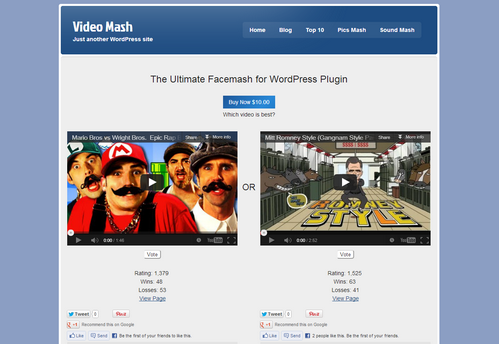 This plugin allows you to add videos from either youtube.com or vimeo.com and find out which video is the favourite video voted by your website visitors.
Media Grid – WordPress Gallery, Responsive Portfolio – MORE INFO / DEMO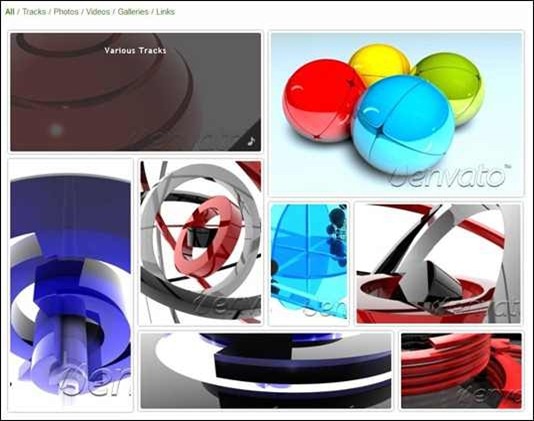 Create responsive and filterable portfolios with ease on your website. Media Grid comes with masonry layout, is designed to adapt each portfolio to any situation and is mobile optimized for responsive themes.
Banner Rotator / Content Slider WordPress Plugin – MORE INFO / DEMO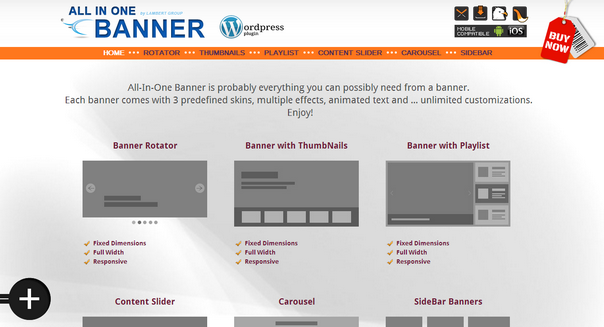 All In One is an Advanced Jquery Slider WordPress plugin which comes in 5 flavors: Banner Rotator, Thumbnails Banner, Banner with Playlist, Content Slider, Carousel. It allows you to easily create powerful sliders with animated text using HTML standard tags, making the slider very easy to setup and maintain.
TouchCarousel is a posts content slider WordPress plugin with touch navigation for mobile devices. The Touch feature also works when you use a mouse…pretty cool actually. You can slide custom post types, with custom taxonomies (categories, tags, e.t.c.) and create layout templates using simple templating system.
Wall/Grid Gallery – Premium WordPress Gallery Plugin – MORE INFO / DEMO

This Plugin will help you to easily add a grid gallery to your WordPress website or blog. The gallery is completely customizable, resizable and is compatible with all browsers and devices (iPhone, iPad and Android smartphones). You will be able to insert it in any page or post you want with inbuilt short code generator.
Complete Gallery Manager for WordPress – MORE INFO / DEMO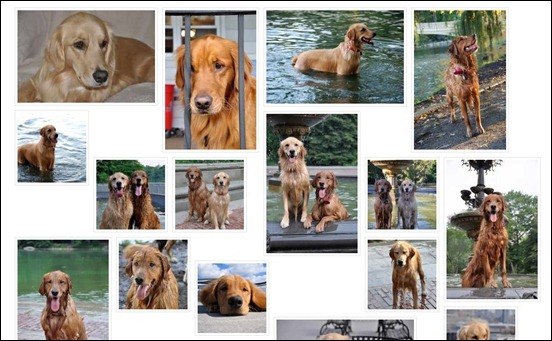 It is not always easy to manage multiple and large galleries of media files in WordPress. There is a lot of gallery plugins available for WordPress, some are really good, but we feel that they often lack an easy interface to create and manage multiple galleries. Using Complete Gallery Manager will make it fun and fast to manage and create galleries for your website.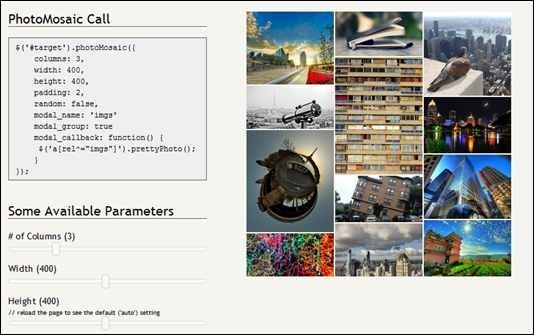 PhotoMosaic creates a shortcode ([photomosaic]) that transforms a WordPress photo gallery into a visually-striking design piece by giving it a fresh mansonry layout worthy of your favorite design blog.
Justified Image Grid – Premium WordPress Gallery – MORE INFO / DEMO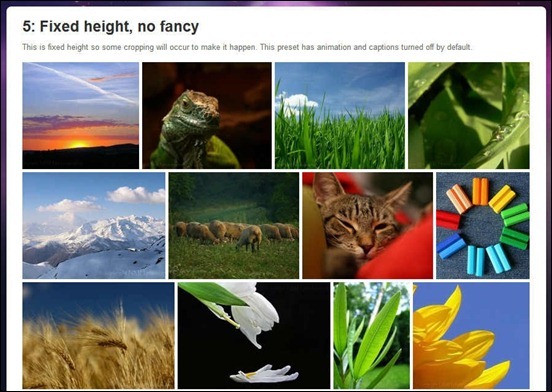 This WordPress jQuery plugin aligns your thumbnails into a responsive and justified grid. Flickr and Google+ both featured images like this. This plugin behaves similarly. Let WordPress present your galleries in an eye-catching and unique new way! You have the control over every aspect: appearance, on the fly desaturation, color overlays, captions with details, lightboxes, animation.
Free WordPress Portfolio Plugins
iThemes VidEmbed – MORE INFO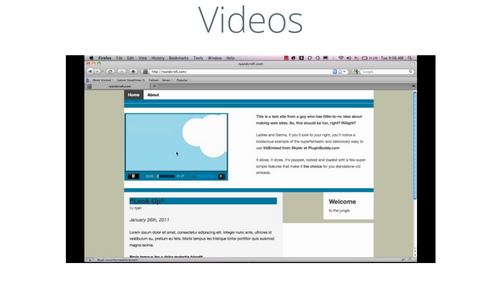 This plugin adds video content from various sources including self-hosted video files, YouTube or Vimeo. Customize video embeds and video player styles (like theme and frame colors) for a consistent look site-wide.
Lightbox Gallery – MORE INFO

As the name suggests, Lightbox Gallery plugin changes the view of galleries to the lightbox. Among others it features: Lightbox display of Gallery, Tooltip view of caption of images, Displays the associated metadata with images, and extends the default gallery options.
WordPress Video Plugin – MORE INFO
[Screenshot coming…]
The WordPress Video Plugin adds a filter for WordPress that allows easy video embedding of 65 supported video sites.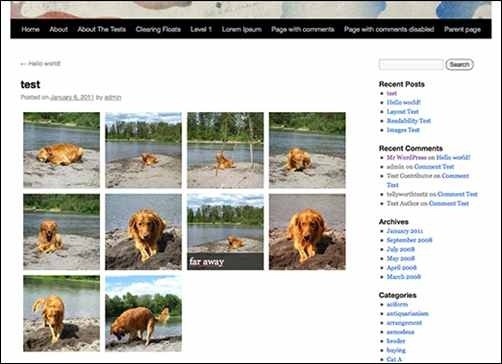 CataBlog allows you to catalog pretty much anything you would want and share it through your blog in a simple but elegant gallery. Upload images, give them titles, links, descriptions and then save them into your catalog. Use categories to organize and filter your catalog items into multiple different catalogs. Show off your photos in high resolution with the LightBox effect, perfect for simple galleries. Easy, intuitive and smart design makes it trivial to keep track of all your different catalogs and create amazing e-stores, galleries, lists and more.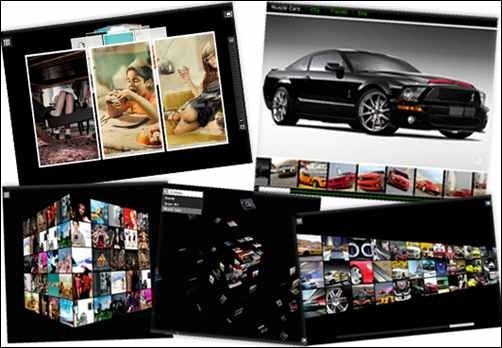 GRAND FlAGallery is a Photo Gallery, Video Gallery, Music Album & Banner Rotator plugin with powerful admin to manage your media content. It is a flash and jQuery media content plugin that provides a comprehensive interface for handling image galleries, audio and video.
Portfolio Slideshow – MORE INFO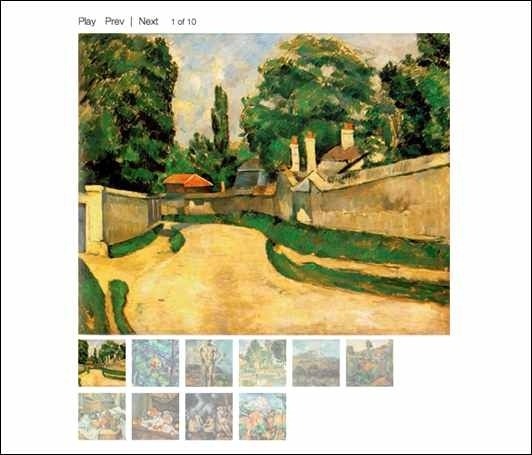 Portfolio Slideshow is an easy to add clean and simple JavaScript slideshow to your site. The slideshow integrates well into any design, supports fluid-width themes, and offers lots of options for power users, too.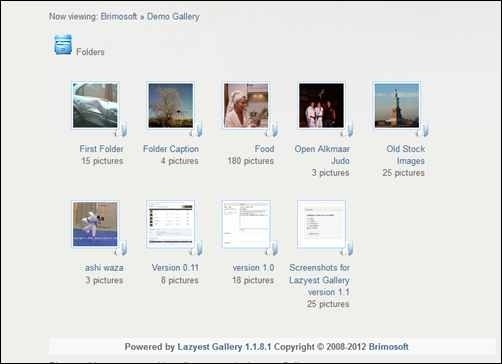 Create a photo gallery from your existing photo directories. This gallery basically needs just two settings: Your image directory and your gallery page. Lazyest Gallery automatically creates a photo gallery with folders, sub folders, thumbnail pages and slide shows. If you want more, the gallery offers a multitude of options by featuring a smart back end management site. You can sort photos through folders and add captions, comments and descriptions with minimal effort. If you are tired of uploading photos through the WordPress server, this plug-in will make it a breeze with their FTP auto-indexing integration.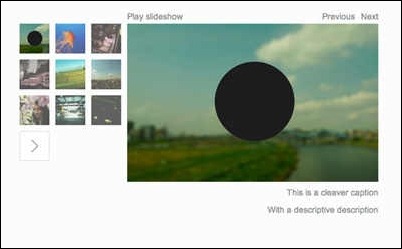 The Photospace plugin takes advantage of the built in features of WP by automatically adding any images attached to the post or page into the gallery.
AutoNav Graphical Navigation and Gallery Plugin – MORE INFO / DEMO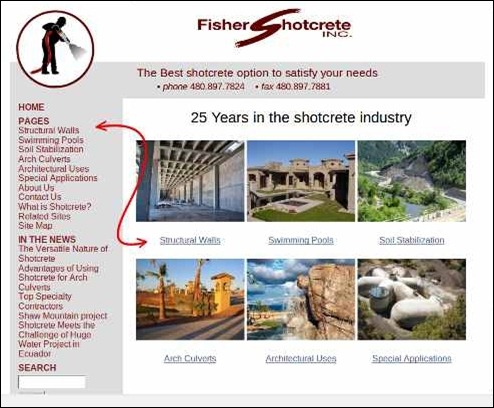 Creates customizable lists/tables of text/thumbnails/links to posts, pages, taxonomies, attachments, custom post types, and image directories.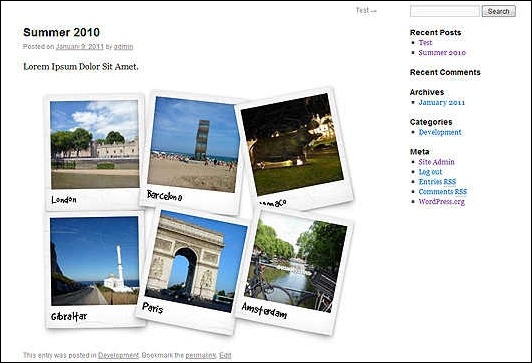 Polaroid Gallery is a CSS3 & jQuery Image Gallery plugin for WordPress Media Library. It is used to overlay images as polaroid pictures on the current page or post and uses WordPress Media Library.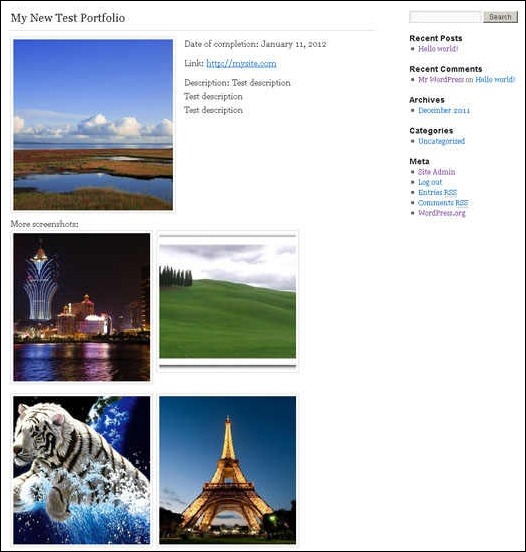 Portfolio plugin allows you to create a page with information about your past projects.
Category Grid View Gallery – MORE INFO / DEMO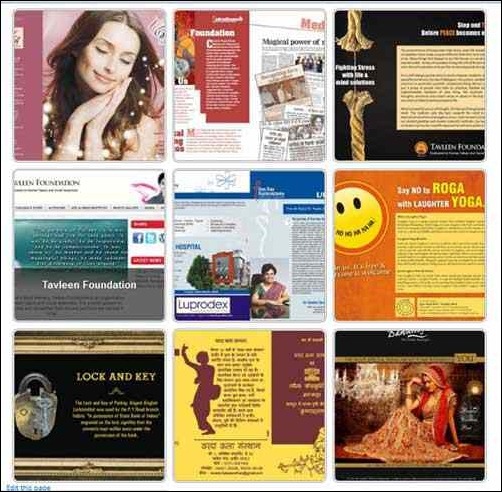 Generates a grid view of the Images grabbed from posts of a category and displays the image and titles using a shortcode. Awesome for portfolios.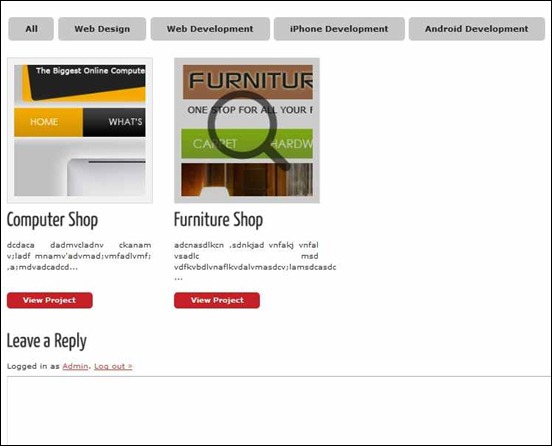 HuskerPortfolio allows to create a unique page for displaying portfolio items with screenshots and additional information such as title, description etc. Also it allows to add additional screenhots (many additional screenshots per 1 portfolio item). You can manage your Portfolio by creating suitable categories related to your work (Like Web Design, Web Development).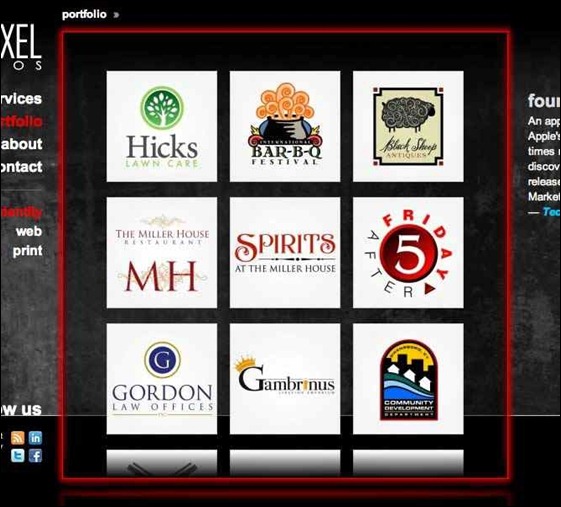 '
The RPS Image Gallery plugin takes over where the WordPress gallery leaves off by adding slideshow and advanced linking capabilities. The plugin changes the way the gallery is output by using an unordered list instead of using a definition list for each image. This offers several advantages. There are fewer lines of code per gallery for simplified styling and better efficiency. From an accessibility standpoint, the unordered list is better suited to this type of content than is the definition list. It enables a gallery that will automatically wrap to any given container width.