One of the most common trends in web design recently is the use of image and content sliders to direct the visitor's attention towards the most important content. Using WordPress slider plugins is a great way to add sliders to WordPress websites and feature content like images, videos etc. the front pages where the space is limited. Sliders typically work as a stack of preloaded content that transition in and becomes visible for the visitor. While the early versions of sliders just swapped images you will see that modern slider plugins for WordPress support cool animated transitions that surely will give visitor a wow experience.
Most sliders for WordPress are basically jQuery slider scripts that WordPress developers have made easy to use on WordPress. Typically you will find that a slider plugin build for WordPress have advanced and powerful admin modules that help you configure the slider in a WYSIWYG fashion. For some of the most professional and premium plugins this even includes adding animated layers and fly in effects.
For this article, I have collected a set of best WordPress slider plugins to help you make your featured content stand out. Please support us and take the time to share this article with your friends and coworkers. I would also love to hear your thoughts and hopefully some additions to this WordPress slider plugins roundup .

Disclosure: Please note that some of the links below are affiliate links and I will earn a commission if you purchase through those links (at no extra cost to you). I recommend that you do your own independent research before purchasing any product or service. This article is not a guideline, a recommendation or endorsement of specific products.
Slider Revolution Responsive WordPress Plugin – MORE INFO / DEMO
Create a responsive (mobile friendly) or full width slider with awesome animation effects. Customize this slider with our convenient drag&drop back-end to your very needs. This plugin features tons of unique transition effects, an image preloader, video embedding, autoplay that stops on user interaction and lots of easy to set options to create your own effects.
Cute Slider WP – 3D & 2D HTML5 WordPress Slider – MORE INFO / DEMO
Cute Slider WP is a stunning premium CSS3 / HTML5 WordPress slider plugin with stunning 3D & 2D effects, responsive layout. 5 ready to use skins with skin editor & variable controls (thumbnail list, hover thumbnails, bullets). You get a WYSIWYG editor to set up the slides.
Slider PRO – WordPress Premium Slider Plugin – MORE INFO / DEMO
Slider PRO is one of the most powerful slider plugins for WordPress on the market (some buyers have been saying that it's actually the best). The slider offers you 100+ customizable properties, 100+ possible transition effects, 10+ skins and much more. Also, the slider's administration area is very powerful and uses the default WordPress design, which WordPress users are already familiar with. This slider plugin is carefully coded, using WordPress development best practices, to avoid conflicts with other themes and plugins that are well coded. Please take a look at the list of features at the feature page.
The WP UniSlider plugin adds an elegant and sleek slider feature to your pages, You can use it as an images slideshow, or put any html content to slide.
RoyalSlider – Touch Content Slider for WordPress – MORE INFO / DEMO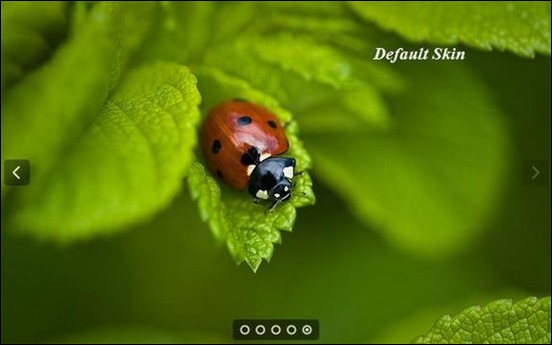 RoyalSlider for WordPress is a cross-device jQuery content slider with touch-based navigation and fluid layout. It has user-friendly admin area where you can manage slides, change slider settings, customize interface and add blocks-captions using custom WYSIWIG editor.
ZoomShowcase – Responsive Banner for WordPress – MORE INFO / DEMO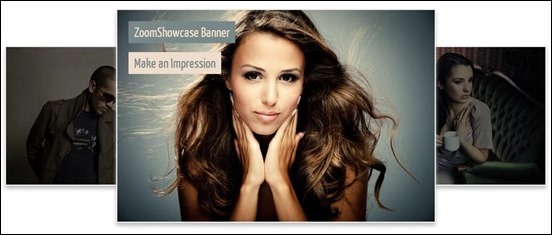 This is the WordPress version of one of my popular JavaScript plugins. Rebuilt from the ground up, the WordPress version is not only responsive but is also jQuery free, which means you won't ever have to worry about jQuery conflicts.
Responsive Zoom In/Out Slider WordPress Plugin – MORE INFO / DEMO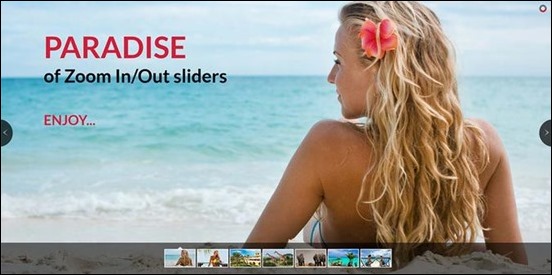 Zoom In/Out Effect Sliders Full Collection WordPress Plugin comes in 4 versions.
Estro – jQuery Ken Burns slider – MORE INFO / DEMO
"Estro" meaning "creativity", "talent" or "inspiration", in Italian, is a fitting moniker for this beautiful slider. For the design of this slider we wanted to create a price of work which could form the centerpiece of your next web project. A starting point, who?s design and execution would inspire you and supercharge your own work.
LayerSlider Responsive WordPress Slider Plugin – MORE INFO / DEMO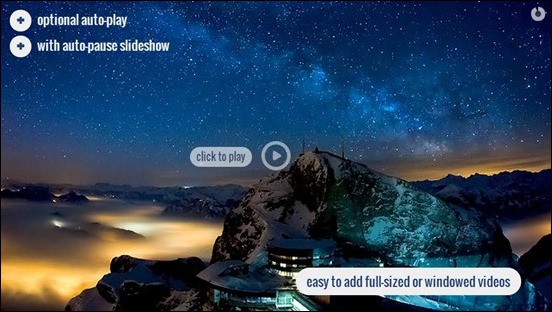 This is a WordPress plugin of the LayerSlider! You can create as many layers and sublayers as you want. You can use images or any other HTML elements, including Flash movies as layers. The script is very user-friendly, you can add global settings or local (per slide) settings to each layer or sublayer. You can change delay times, easing types, durations and much more with the WYSIWYG editor!
Full Width Background Image Slider – MORE INFO / DEMO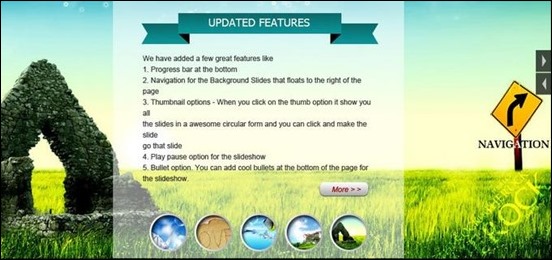 This wordpress plug-in gives a beautiful touch and a dynamic feel to any website by allowing you to easily create a full-width background slide with many built in options. You can create any number and assign them to post and pages. If you want to choose colors you can also set colors instead of images.
TouchCarousel – Posts Content Slider for WordPress – MORE INFO / DEMO
TouchCarousel is a posts content slider WordPress plugin with touch navigation for mobile devices. The Touch feature also works when you use a mouse…pretty cool actually. You can slide custom post types, with custom taxonomies (categories, tags, e.t.c.) and create layout templates using simple templating system
Polaroid Slider for WordPress – MORE INFO / DEMO
Polaroid slider mimics the feeling of the old-style polaroid photographs. It's a powerful javascript-css slider using CSS3 and jQuery! Create slides with image, video or HTML content or generate slides from your favorite flickr or 500px feeds.
WordPress Flipper 2.0: Flipbook style slider! – MORE INFO / DEMO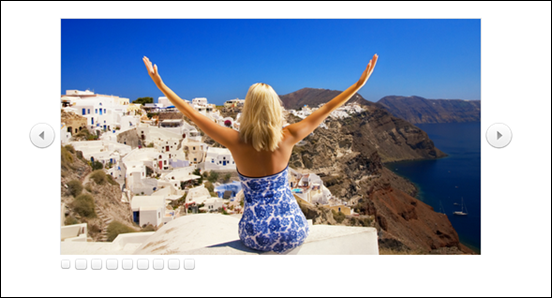 Flipper is a WordPress plugin that lets you transform any content to a beautiful book-like slider!
Banner Rotator / Content Slider WordPress Plugin – MORE INFO | DEMO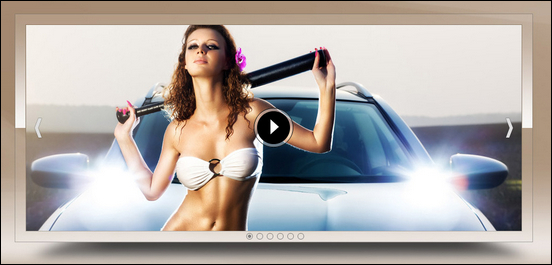 All In One is an Advanced Jquery Slider WordPress plugin which comes in 5 flavors: Banner Rotator, Thumbnails Banner, Banner with Playlist, Content Slider, Carousel. It allows you to easily create powerful sliders with animated text using HTML standard tags, making the slider very easy to setup and maintain.

This Plugin will help you to easily add a thumbnail scroller to your WordPress website or blog. The scroller is completely customizable, resizable and is compatible with all browsers and devices (iPhone, iPad and Android smartphones).
Lowrider Triple Slider – MORE INFO | DEMO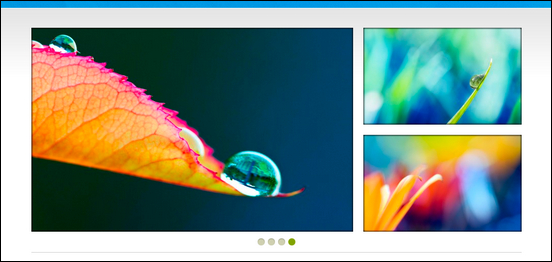 Lowrider Triple Slider is a non-traditional slider for WordPress.
uBillboard – Premium Slider for WordPress – MORE INFO / DEMO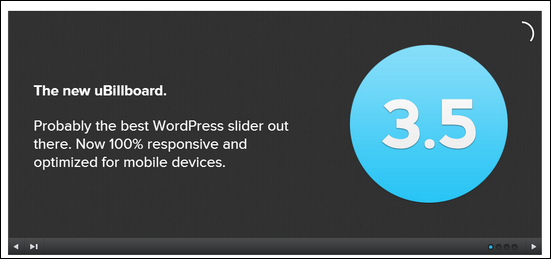 uBillboard is a Premium Slider for WordPress. It is a jQuery based slider with a multitude of transitions and options for you to be able to customize it to your needs while not overwhelming you with options you never wanted or needed. Version 3 is a revolutionary release with most of the codebase rewritten from scratch. This has enabled us to integrate many features that you have been requesting during the first year. Make sure you see this WordPress Slider demo in action!
WordPress Slider gallery shortcode – MORE INFO / DEMO
This plugin creates a new shortcode for WordPress. With this new shortcode, you can create a slider gallery in seconds just by typing [slider] while you're writing your post or page. The slider will display the images that you have uploaded to the current post or page. If you need more options, this simple shortcode features multiple attributes that you can set
CCSlider WP – 3d/2d Slideshow WordPress Plugin – MORE INFO / DEMO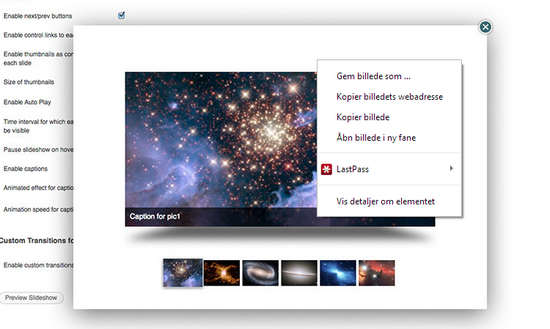 CCSlider WP makes it easy to embed the CCSlider jQuery slideshow plugin in your WordPress theme. CCSlider is an unique slideshow plugin because of the fact that it supports 3d transitions! There are 10 stunning 3d transitions available, and also 10 stylish 2d transitions.

Manage your slides the way you want, don't depend on pages and posts. Upload Images via AJAX direct from the slide manager page. Over 11 different transitions
Premium Featured Posts Slider – MORE INFO
/
DEMO
Show off your content the real way – in a slider! This WordPress slider includes 6 predefined layouts and allows you to customize layouts with 18 variables. Intuitive admin GUI with inline help.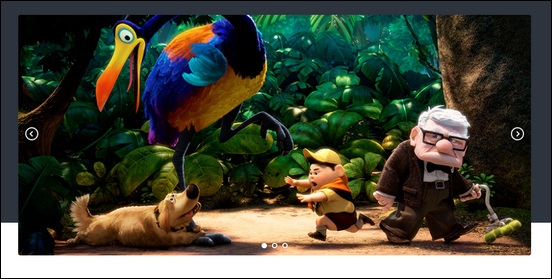 You can create unlimited slideshows each with their own unique settings.
Slider Evolution for WordPress
Slider Evolution is a JQuery plugin that lets you easily create powerful javascript sliders with very nice transition effects. Enhance your website by adding a unique and attractive slider! Create an unlimited number of sliders with customized settings for each one, and place them anywhere on your WordPress website with ease. You must check out this WordPress slider demos.

MORE INFO / DEMO – by CodeCanyon (premium plugin)
Paradigm Slider WordPress Plugin – MORE INFO | DEMO
Paradigm has a combination of Parallax Effect, state-of-the-art Slider and Text Animations that defines how this slider works. With Drag&Drop Slider Editor, you can customize this slide depending onyour needs. You can even give each slider a parallax caption to transport your message. Touch swipe for iOS and Android mobile devices is of course included. So it works on every modern browser (including IE7 /8) and on mobile devices.
Sublime Slider for WordPress – MORE INFO | DEMO
WPSublimeSlider is a fantastic WordPress plugin that allows you to create and display unlimited image galleries on your site. You can create sliders using your own images or even from a Flickr photoset or Picasa web album.The plugin supports multiple themes and the included (Sublime) theme can display your galleries at fullscreen or fit within your own predefined dimensions.