If you are a photographer, an artist or a designer wanting to display your online portfolio in a catchy and innovative way I recommend you check out some fullscreen WordPress themes. The cool thing about full screen websites is that your creative work get a lot of space and focus. Since a WordPress fullscreen theme display images and videos in full size, taking up the full screen area, they then to draw a lot of attention of the audience.
Because this kind of themes minimize, if not eliminate widget, sidebar and banner areas altogether, you will notice that they have a minimalist layout that cleanly and attractively promote your work in full glory and splendor. Thus, they a strong theme to advertise your business and strengthen your online presence.
Here, in this article, we are featuring a large number of these themes to simplify your search for good full screen photography WordPress templates. We are inviting you to visit their source pages to read their full features and capabilities. Either way, this article is a great resource for any fullscreen WordPress theme selection for any photographer, designer or any creative for that matter. Check them out and help us share this article to your friends. Enjoy!
Disclosure: Please note that some of the links below are affiliate links and I will earn a commission if you purchase through those links (at no extra cost to you). I recommend that you do your own independent research before purchasing any product or service. This article is not a guideline, a recommendation or endorsement of specific products.
Responsive Fullscreen Theme for WordPress MORE INFO / DEMO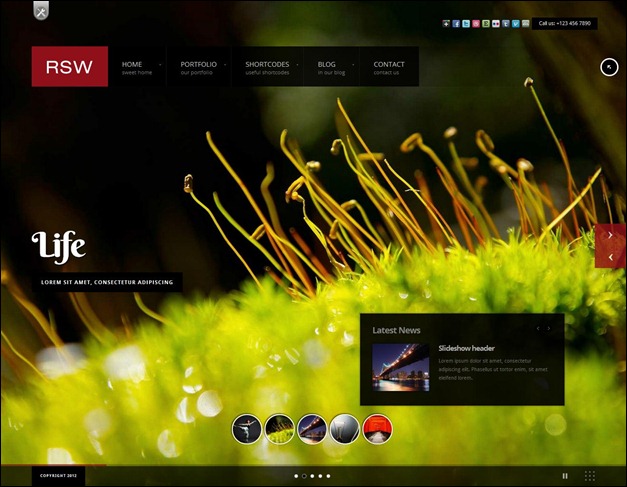 RSW ( Responsive Fullscreen Studio for WordPress ) is a powerful theme for photographers and creative artists and comes with Light and Dark with theme options supporting multicolor customization of theme elements using color pickers. Creative artists can easily display their products using unlimited portfolio and post formats supporting Aside, Quote, Audio, Video, Link, Image and Gallery. The fonts can be changed using 400+ Google Web fonts choices in theme options.
Source – Responsive Photography WordPress Theme – MORE INFO / DEMO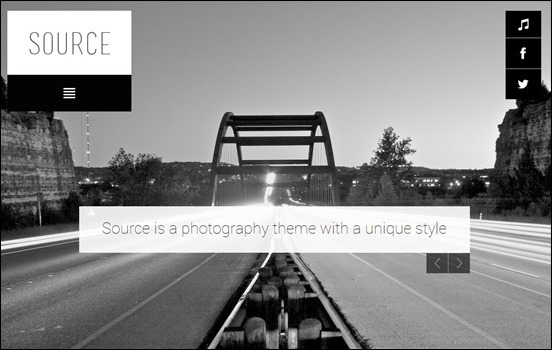 Source is a responsive theme perfect for photographers. It is fully compatible with mobile devices and it contains many options that will make it easy to customize to fit your needs.
AutoFocus – Photography WP Theme with Geotagging – MORE INFO / DEMO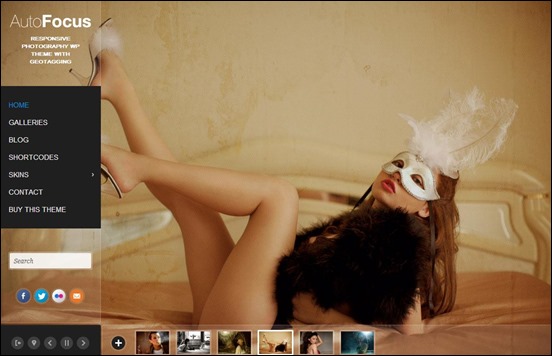 AutoFocus is a responsive photography WordPress theme with unique features, ideal for professional photographers, photo agencies and travel photography enthusiasts.
Flowfolio Ajax Portfolio WordPress Theme – MORE INFO / DEMO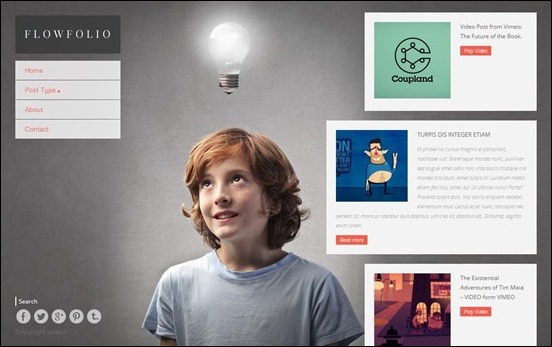 Flowfolio is a definitely fantastic and unique responsible and fullscreen theme designed for photography presentation, you could use it for your portfolios, eMagazine or any other purpose if you have many beautiful pictures to share with others.
Modern Metro – Responsive WordPress Theme – MORE INFO / DEMO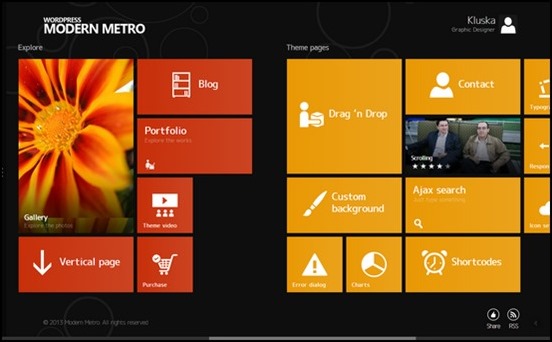 Dark and tasty Metro style theme with a fullscreen layout. The theme slides sideways as users explore the content. A really cool and unique theme.
Kaleido Responsive Fullscreen Studio for WordPress – MORE INFO / DEMO
Kaleido is a responsive fullscreen portfolio studio theme for creative professionals and agencies.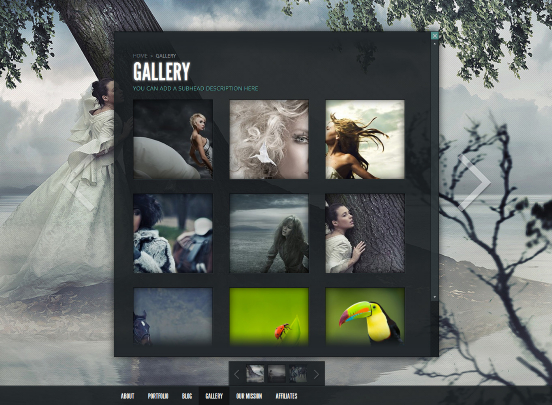 Gleam was built to dazzle. With its flashy effects and smooth ajax loading techniques, this theme creates a truly unique experience that is sure to grab your visitor's attention. This allows for setting up a custom fullscreen image gallery for each page, Gleam makes it easy to create a custom stunning appearance for each section of your website. The theme also comes with a full-screen portfolio section, giving you a new way to display your work.
FIAT LUX – Image & Video Background WP MORE INFO / DEMO
FIAT Lux is a fantastic and professional looking theme with music playing in the background adding to the experience of viewing images full screen. You can play full screen video or display images and utilize the full potential of the elegant and minimal design. It's a highly customizable theme and you can choose between unlimited color schemes and 11 page templates to build your website. There is many different ways to showcase your work using picture galleries, grids or masonry galleries. This theme is packed with features to accommodate every photographer, portfolio or gallery website.
Fairytale Full Ajax Portfolio WP with Video Audio – MORE INFO / DEMO
Fairytale is full screen responsive ajax portfolio and blog theme with background video andaudio manager support. It has creative and unique style.
BigFormat – Responsive Fullscreen WordPress Theme MORE INFO / DEMO
BigFormat is a fullscreen responsive portfolio theme for freelancers, web designers, photographers and videographers alike, built to showcase your work at a large scale.
Pulsar – Fully Responsive Parallax WordPress Theme – MORE INFO / DEMO
If you are searching something different and out of the line, please check out Pulsar – Fully Responsive Parallax WordPress Theme.
SmartScreen fullscreen responsive WordPress theme – MORE INFO / DEMO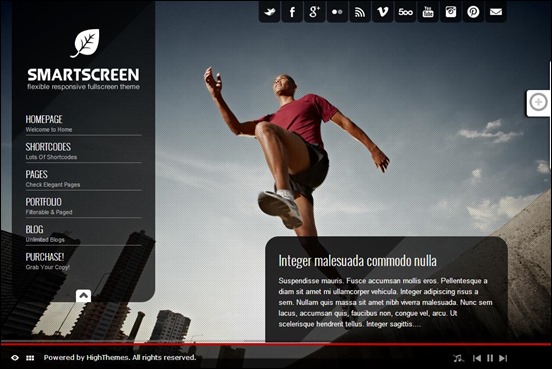 SmartScreen is a fullscreen responsive wordpress theme which offers CMS functionality to your website.
Immersion – Responsive Fullscreen WP Theme MORE INFO / DEMO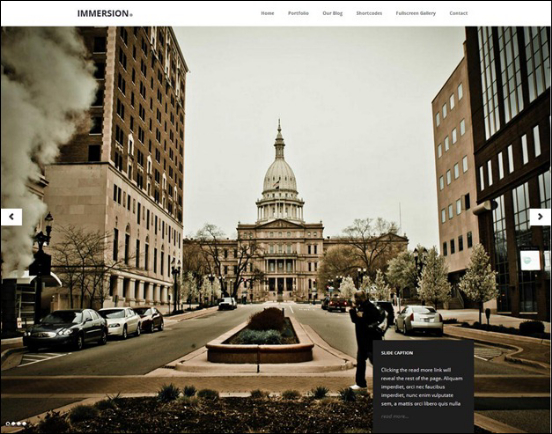 Immersion is the wordpress theme you need: elegant, simple, feature rich. All the latest HTML5 , CSS3, jQuery, wordpress are present. It's developed on the css skeleton boilerplate so it resizes beautifully on smaller screens like tablets and iphones, plus it comes with a layout manager that allows you to add columns with ease. Then comes the post formats (images, vimeo, youtube, html5 video and audio, gallery, quotes), the 6 custom widgets, tons of shortcodes (with shortcode generator), unlimited fullscreen slideshows, portfolios, custom sidebars and footers.
Ekho – Unique Responsive WordPress Theme – MORE INFO / DEMO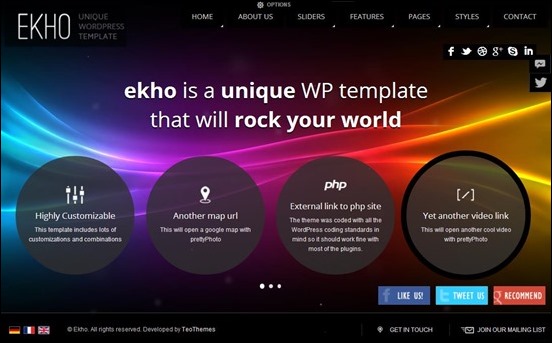 EKHO IS A UNIQUE, AWESOME, CREATIVE, FULLSCREEN TEMPLATE.
Fashion9 – Responsive Photography WordPress Theme MORE INFO / DEMO
Fashion9 is a responsive theme perfect for photographers .It is fully compatible with mobile devices and it contains many options that will make it easy to customize and fit your needs. Fashion9 includes 52 built-in shortcodes, 19 button shorcodes and very flexible admin theme options.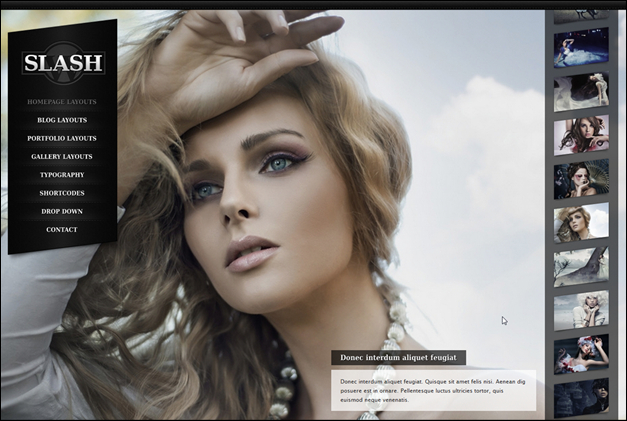 Slash WP is a new Premium WP Theme with a unique modern design – perfect for showcasing your work. Works great for portfolio, photo-gallery or blog. It's very powerful with native support for WP 3.2 post formats and it's also made to look good on iPhone and iPad or other mobile devices. It comes with 3 homepage templates allowing a full-width slideshow, static homepage or a full-width video homepage. You can create your own personal appearance in a few very easy steps. It features powerful sortable portfolio pages allowing you to show both photos and videos. An awesome photo gallery with either a classical or 2-layer layout where you can upload hundreds of photos in a few steps. Featuring 3 post formats, 8 custom widgets and a jPlayer this surely is one of most versatile themes for photographers!
Travel Fullscreen/Responsive WordPress Theme MORE INFO / DEMO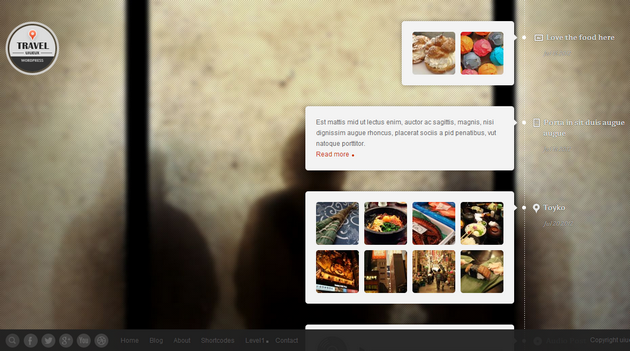 Travel is a definitely fantastic and unique responsible and fullscreen WordPress theme designed for photography presentation, you could use it for your portfolios, travel logs or any other purpose if you have many beautiful pictures to share with others. In Fullscreen mode, the user could view all the photographies from one post to the next, it support Manually and automatically switches, sharing, maps(optional), etc.
DK For Photography Creative Portfolio MORE INFO / DEMO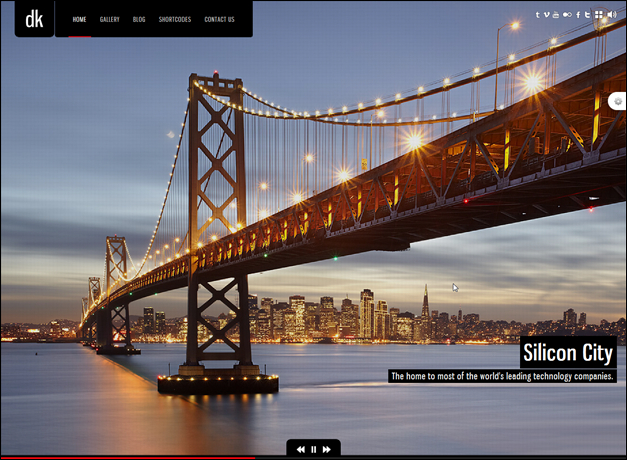 DK is a Premium Photography Theme with a very unique and aesthetically looking full screen slideshow for Photo Gallery. It features 4 homepage styles, 10 page templates and 6 gallery page templates. You can easily administrate galleries, and uploading multiple images has never been more simple. A very nice feature is that you can password protect single galleries if you want to showcase your work for customers or protect your privacy. Portfolio content supports videos, images and external links and is on par with other portfolio featured themes. You have 7 custom widget areas to play with making it a breeze to customize your site the way you like it. An excellent integration with social media sites makes it perfect for sharing your work. Indeed a unique and complete photo theme.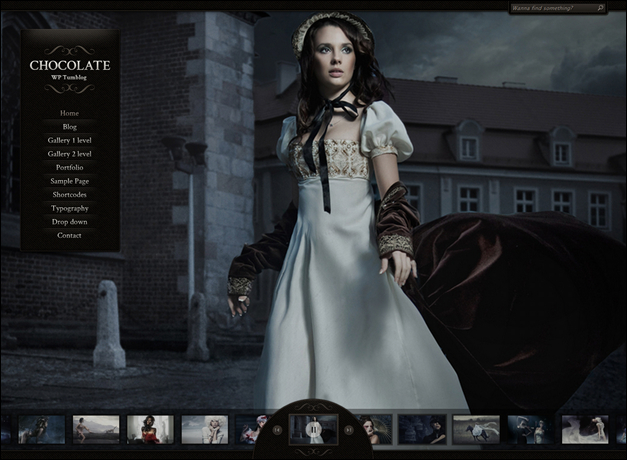 Chocolate is a versatile full-screen WP theme that's refined and elegant with it's combination of light gradients and shadows. It's made to make you have a strong blogging experience and it's powered by Woo Tumblog (for Tumblr like posts) and Express App for simple posting from your iOS driven devices like iPhone, Ipad or iPod touch. You even get 30$ worth of highslide JS for free! Main features are an outstanding fullwidth showcase-style slider for your home page, unique 2-level gallery, masonry-style fluent layout, custom widgets and much more. The included background builder and headers font selector lets you customize every aspect of the this great theme.
PhotoEclipse – Ajax Powered Portfolio WP Theme MORE INFO / DEMO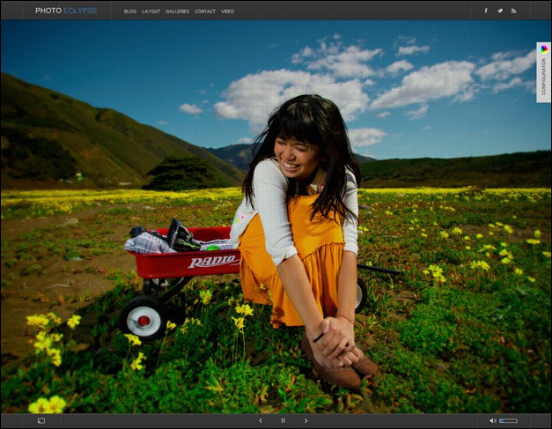 PhotoEclipse an AJAX powered Fullscreen-Background theme, will enable you to built an impressive portfolio page without much effort, in no time. To avoid full page reloads wich is the main problem with themes that use a fullscreen background slideshow, PhotoEclipse uses advanced Ajax to load its pages while background slider, sound etc. keep running. At the same time it doesn't loose any functionality in terms of browser history and url's. Our team worked very hard to bring you this unique theme and we hope you will enjoy it!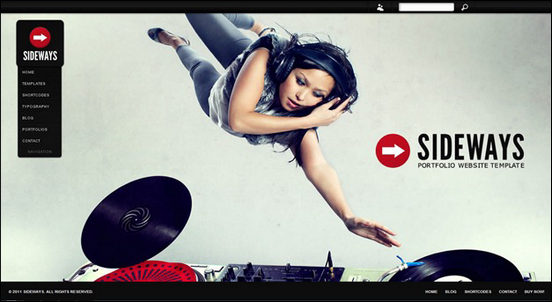 Sideways is a portfolio theme that offers both horizontal and grid layouts. It incorporates eye catching full screen background images that scale to fit all resolutions and window sizes as well as strong and elegant typography and design.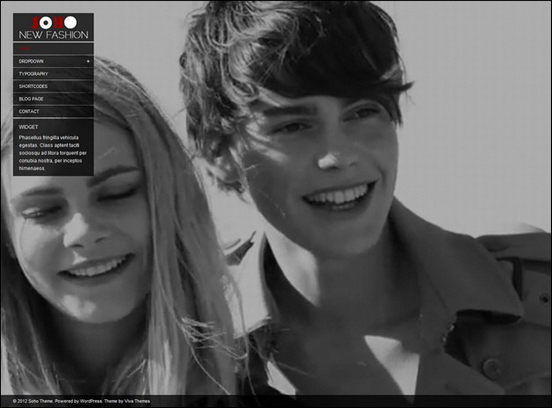 The Soho theme is great for the creative individuals or companies that want to display their work in an attractive way. The theme comes with a flash video background in the front page and rotating background images in the interior pages. You can easily replace the video or the images with your own. You can also disable the video from the theme panel in case you decide to have an images only website. Soho has featured images enabled in both posts and pages, offering an attractive way to promote all your content.
Digon Responsive Fullscreen Studio for WordPress MORE INFO / DEMO
Digon is a highly customizable responsive fullscreen studio theme which which features fullwidth and 2 column postformat posts. Fullscreen, portfolio and pages can be password protected. Fullscreen mainpage features service boxes which are hover enabled to display it's representing image.
PicturePerfect – Photography Fullscreen WordPress Theme MORE INFO / DEMO
Picture Perfect theme is a clean, feature rich theme for photo bloggers, photographers and designers. It can be used to showcase your work in an entirely different manner which can surely impress people to your blog.
Crius Fullscreen Website Template MORE INFO / DEMO
Crius is the Responsive Photography, Portfolio, Personal website Template built with latest WordPress features. Advanced Gallery admin, Kenburns Slideshow etc.
Stage – Full Screen Slider WordPress Theme MORE INFO / DEMO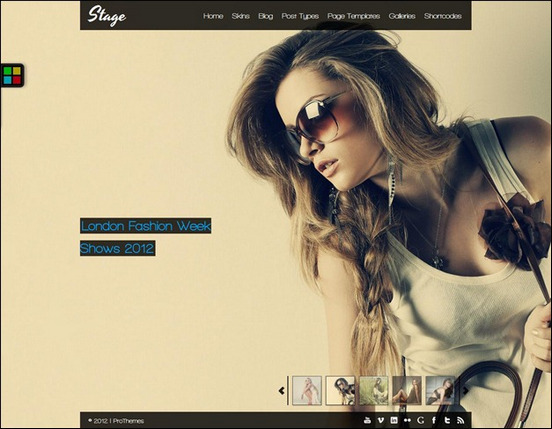 Stage is Fullscreen Image Background Slider WordPress theme suitable for photographers and designers, powerful yet simple to set up and administer.
John Smith – AJAX Portfolio WP Theme – MORE INFO / DEMO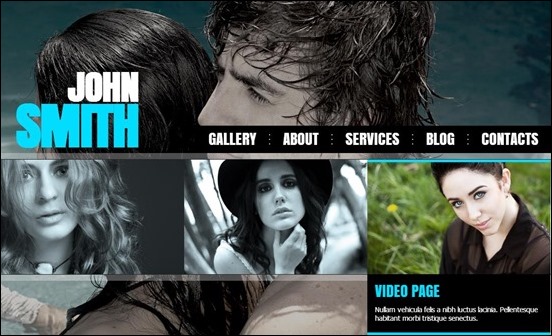 John Smith is a premium one page WP theme and it is great for portfolio and personal websites.
Photolio – Photography / Portfolio WordPress Theme MORE INFO / DEMO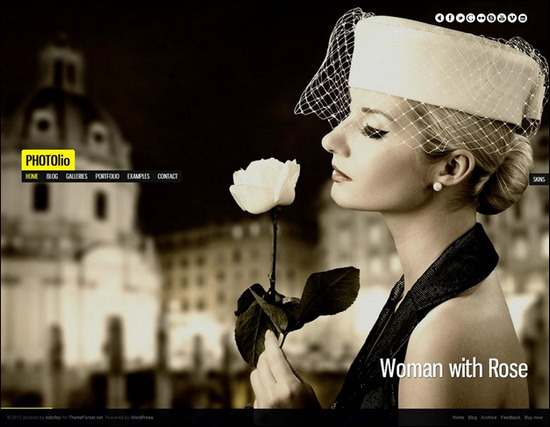 PHOTOlio is a powerful and modern Portfolio and Photography WordPress Theme which is best suited for photographers and creatives.
SuperSlide features a full screen homepage slideshow with a design that scales down responsively for smaller screens across multiple devices and screen sizes. SuperSlide also includes 2 background color variants, 5 Fonts choices, 6 link color options, 15 slideshow overlay options and more.
Boxed – Responsive Fullscreen Theme MORE INFO / DEMO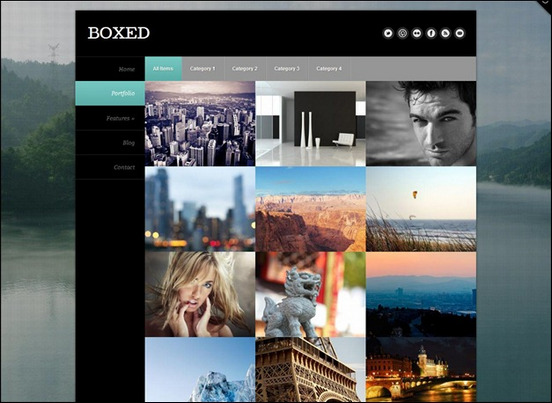 Boxed is an elegant responsive portfolio/photo WordPress theme that was created so you can show off your work beautifully on the web. The theme has a unique left-sided navigation while keeping the site centered in the browser, an optional (you can have a normal static image instead) full-screen background image slider which can be set to show different images on the homepage, portfolio pages, blog pages, regular pages and even on a per post/page basis and overall a very clean and modern design that looks great no matter your browser size.
Right Now WP Full Video, Image with Audio MORE INFO / DEMO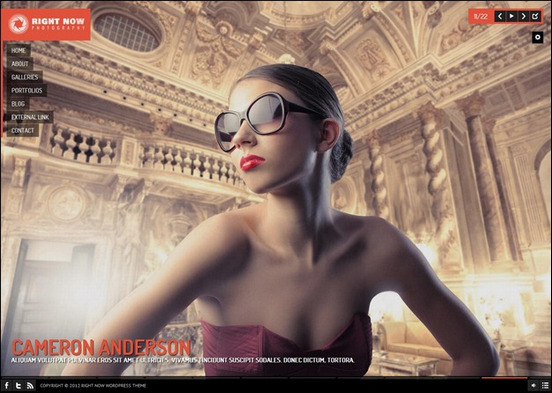 Right Now is an awesome and elegant theme perfect for creative artist, designers and photographers. It features an enhanced HTML5 and CSS3 standard with an Ajax load function. You can draw the screen and easily navigate the screen. It's optimized for iPhone, iPad and android and supports youtube, vimeo, flv, mp4 and mov. Furthermore there are animated buttons with sfx, deeplink support and it's WordPress 3.3+ compatible.
FullScene – WP Fullscreen Theme MORE INFO / DEMO
FullScene is a professional, multi-layout, ultra flexible and customizable portfolio WP theme with fullscreen showcase features and loaded with options for designers, photographers and design agencies.
Decor – fullscreen WordPress theme MORE INFO / DEMO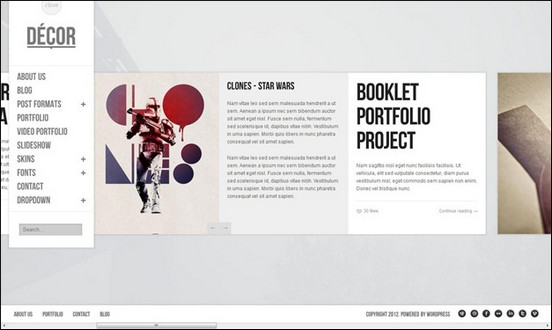 Decor is multipurpose wordpress theme designed to showcase your projects, posts, images and videos from a new perspective. The theme comes packed with a lot of features and plugins so you won't be disappointed: 2 skins, 6 custom fonts,fullscreen slideshows, gallery manager, 7 post formats, booklets integration are some of them. The horizontal layout will give you the possibility to present your projects or blog posts in an unusual way.
This Way WP Fullscreen Video/Image Theme with Audio MORE INFO / DEMO
This Way Word Press Theme is designed with HTML5 & CSS3. It features full Screen Image & Full Screen Video Background with Audio support. It also has an awesome JQuery animated effect, Twitter feeds and social media links. It is easy customize blog and portfolio with filter.
Rhea For Photography Creative Portfolio MORE INFO / DEMO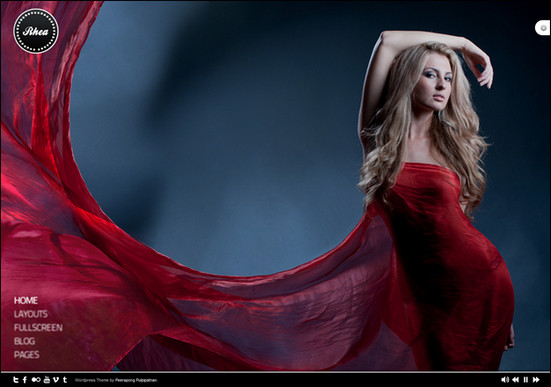 Rhea is the Premium Photography, Portfolio, Personal website Template built with latest WordPress features. Custom Post Type, Unlimited Colors, 4 homepage styles, 10 page templates, 7 gallery page templates, 7 custom widgets and Image Uploader are only a few of the many great features this theme has to offer. Check out the demo for all features.
Pacifico – Fullscreen wp theme with motion effect MORE INFO / DEMO
Pleased to present you Pacifico – fullscreen background wordpress theme which can not be ignored! Enjoy the beautiful pictures in motion with the incomparable Motion Slider. Breathtaking spectacle!
PhotoPharm: Premium Photography and Blog Theme MORE INFO / DEMO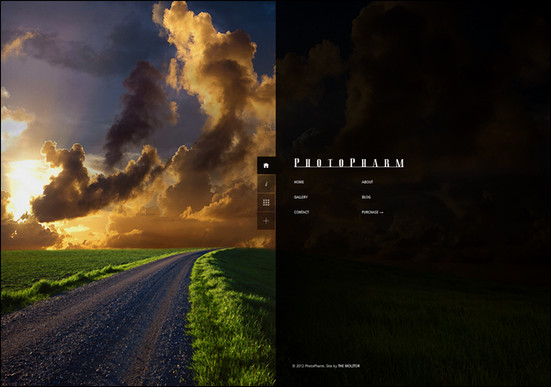 PhotoPharm is ideal for photographers and/or design studios. It utilizes a full screen slideshow feature for maximum impact. You can also easily upload 100s of images to create a gallery page in seconds.
Photolux – Photography Portfolio WordPress Theme MORE INFO / DEMO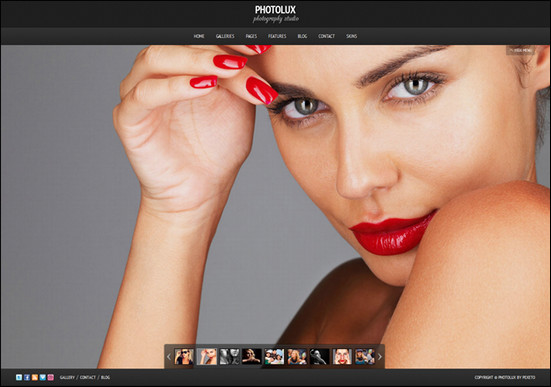 Photolux is a powerful and elegant Portfolio and Photography WordPress Theme which is best suited for photographers and creatives who use portfolios to showcase their work. Photolux theme is powered by the advanced Pexeto Panel, which provides tons of options to manage and modify any aspect of the theme – it is well suited for both beginners with no coding knowledge and developers. The theme comes with three base skin choices: Dark, Light and Transparent, as well as numerous of backend options for easy customization and building your skin.
Simpolio – Portfolio & Blog WP Theme MORE INFO / DEMO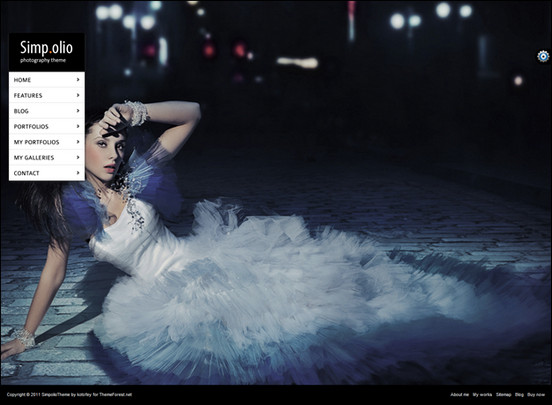 Simpolio is a multi-faceted photography theme with a clean and aesthetically look. It has WP multisite support, unlimited portfolios and galleries support with single image support for each page. You can play videos for background of each page and a great feature is the possibility to upload your photos from your phone to flickr and they will automatically be updated to your site – cool! Full background slideshows or single images with 7 amazing effects, 8 page templates, 6 custom widgets and many more things. A feature packed theme with great support!
Architectos – Blog & Portfolio WordPress Theme MORE INFO / DEMO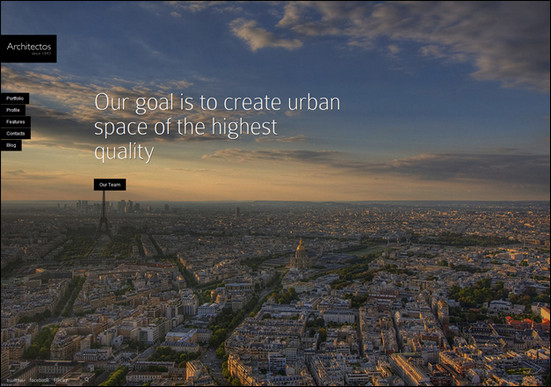 Architectos is perfect for architecture or design orientated blogs or for creative people/agencies who's tired of regular thumbnails grids layouts. Features full screen background slideshow, home sliders, masonry layout and video support. As a FREE Bonus you'll get the award winning Visual Composer plugin integrated into the theme, which lets you to create complex layouts with simple drag-n-drop interface – $25 value.
Duotive Fortune – WordPress Theme MORE INFO / DEMO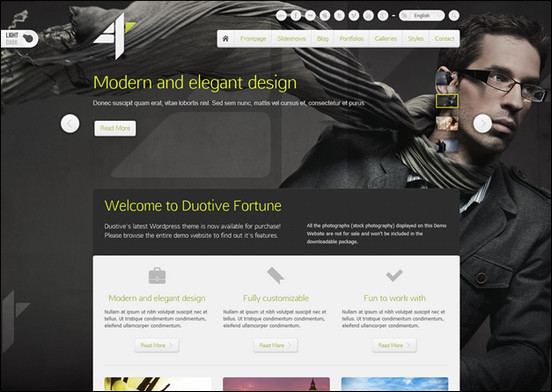 The new Duotive Frontpage Manager allows you to set up your home page the way you need it. Create multiple front pages that can be easily interchanged with a few clicks. Save settings for different types and store them in your database. Using an intuitive graphical user interface rearranging the front page modules is a piece of cake! Populate your front page with dynamic content using the portfolio and blog modules. Duotive Fortune comes with a vast number of styles and shortcodes that can be used to organize and give importance to your information in the right order. Make use of the multiple columns combinations available to get most out of your content and connect to you audience. Tables, lists, quotes, many buttons with and without icons, mp3 and video player are just a few of the possibilities that the theme tries to offer.
HD Photographer Premium WordPress Theme MORE INFO / DEMO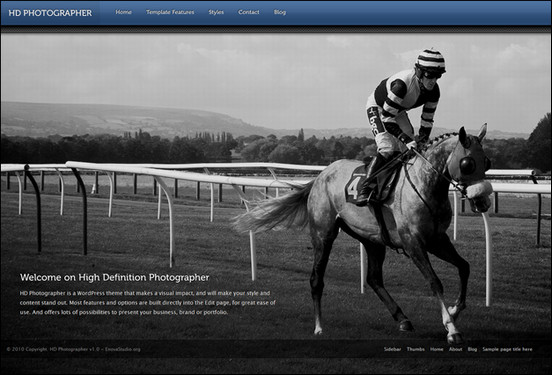 HD Photographer is a Word Press theme that makes a visual impact, and will make your style and content stand out. Most features and options are built directly into the Edit page, for great ease of use. And offers lots of possibilities to present your business, brand or portfolio.
Fullscreen Photography WordPress Theme MORE INFO / DEMO
This Fullscreen Photography WordPress Theme implies a high-quality template developed for the most eye-catching images presentation. Its exclusive design grants your website with a stunning look and will captivate the visitor's attention from the first sight. The theme is HTML and CSS coded and provides the background gallery scripts for all versions (Word Press, PHP and HTML). One of its most distinctive features implies the background manager due to which your photos will fit any screen kind without Flash involvement.
Self Titled – responsive & unique WordPress theme – MORE INFO – DEMO
Self Titled is responsive WordPress photography theme with unique custom-written slider. Works great for both portrait and landscape photography.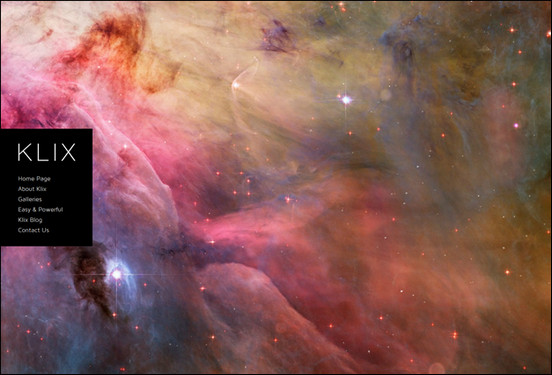 Klix is a fabulous nice and simple fullscreen wordpress theme with unlimited possibilities – great for portfolio or photography sites. It features 50+ theme settings via easy to use options panel, 120+ shortcodes, support for video backgrounds and self hosted videos. It's available in two versions either black or white.
Foxy is a unique WordPress theme that's perfect for fashion sites, businesses, or restaurants who want to impact their visitors with big, bold images. Immediately the full-size background images catch your attention and pull you into the site. The backgrounds are easy to customize and can be a slideshow (with 7 transition effects), a specific image, or a random image with every page load.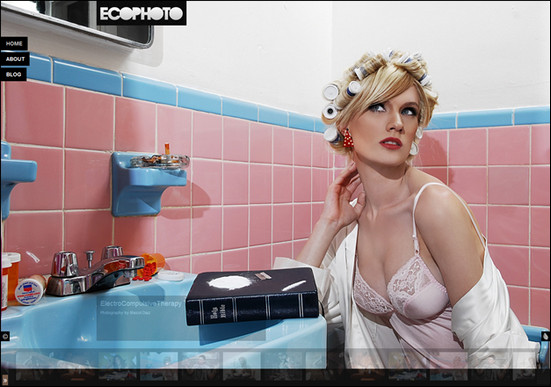 ecoPhoto is a ground breaking Word-Press theme tailor built for photographers! ecoPhoto lets you turn your WordPress into a stunning photo portfolio. It uses your high resolution photos to create a one of a kind, browser-wide photo slideshow automatically. Now you can spend your time being photo creative while ecoPhoto does all the work for you!
Delight Full Screen WordPress Portfolio Theme MORE INFO / DEMO
This is a powerful full screen WordPress portfolio theme with many features and customizations possible. It's shipped with many jQuery effect like cycle, tabs, accordions, drop down menu, tooltip, color box, auto alignment and more. It has unlimited skins and possibilities, many different page templates, google web fonts, drag and drop system, slideshows and a lot of shortcodes to choose from. And with the extended administration panel you have full control of all aspects of your theme. The author has implemented support for iPhone and iPad.
Village is an awesome fullscreen wordpress theme with a clean, simple and appealing look. It has 6 full screen sliders, 6 portfolio types including audio and unlimited slideshows, portfolios, walls, galleries and galleria sliders. You can upload hundreds of photos in very few easy steps making it a breeze to update your portfolio! It's compatible with iPad, iPhone and other mobile devices making the transition to mobile technology easy.
ANAN is a premium portfolio, personal, photography website Templates built with latest Word Press features. Custom Post Type, Unlimited Colors and Image Uploader etc.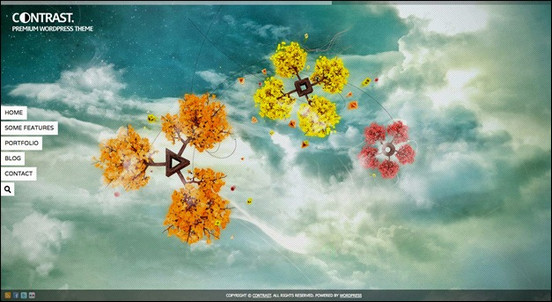 Contrast, a premium WP theme which is suitable for photo enthusiasts, graphic and web designers, corporates with a kickass features. If you are searching something different and out of the line check it out.
Pluto Full screen Cafe and Restaurant MORE INFO / DEMO
Pluto is a full featured word press theme for a Café and restaurant site. It's built with the latest WP features and has custom post type, 3 skins (transparent, light or dark), full screen image gallery with 7 slideshow effects, colors and an extensive admin panel with loads of settings. it's fully ajax driven and uses jQuery Nivoslider for homepage slider.
Looking for a powerful Premium Word-Press Theme for your photo gallery or portfolio website? Invictus might be a good choice whether you are a Photographer, Digital Artist, Designer or even a private person, who want to present your images in a unique way.
PictureThis – Portfolio WP Theme MORE INFO / DEMO
PictureThis is a very impressive full screen theme with an original and minimalistic design. As with all the other themes in this fullcreen wordpress theme showcase it sports a full screen image slideshow, unlimited colors, advanced portfolio options, 3 custom widgets, unlimited sidebars, 30+ shortcodes and much more. A very aesthetic and good looking theme with a nice feel to it. Perfect for photography, portfolio and creative artists.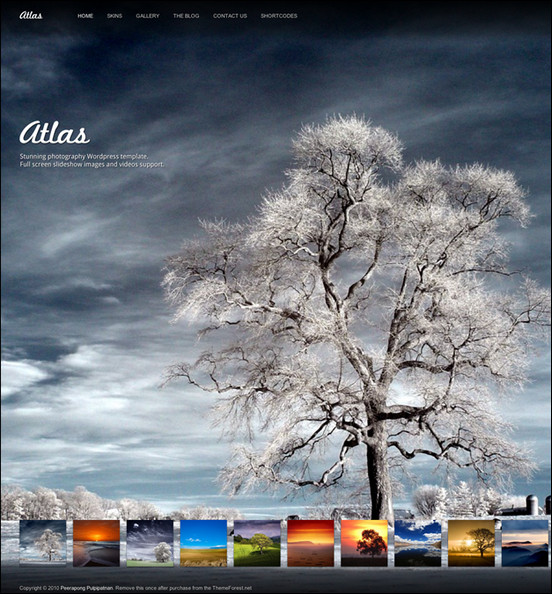 Atlas is just like "Core Minimalist" a great Premium Photo, Portfolio, Personal website Template built with latest Word press features and it has lot's of feature like Custom Post Type and Image Uploader, shortcodes etc.
James The Next Generation WP Theme MORE INFO / DEMO
James is a fresh and extravagant portfolio theme that speaks for itself and will definitely appeal to your audience. It has spectacular features in full screen mode to showcase your portfolio or blog the way it's meant. This theme contains everything you need to surprise and impress your clients. It also features an easy solution to sell your work online and offers integration options with the free ecommerce plugin eShop. It has very powerful and strong WP integration – just gorgeous!
Crea WP theme is a gorgeous looking theme that is more than just looks. It's built to use the full potential of HTML5 to create the most fantastic transition effects between pages, awesome backgrounds and 2 unique sliders with fade and carousel mode. So you can create as many different showcase pages as you like. It features smart tools to manage and customize the theme to your liking and has 3 custom content and taxonomy types (photo albums, portfolio and slides) to provide you with the best options to take full control of the content on your site. And with the unique and powerful background builder you can adjust and tweak virtually any setting you like.
Photoshot – photo blog portfolio MORE INFO / DEMO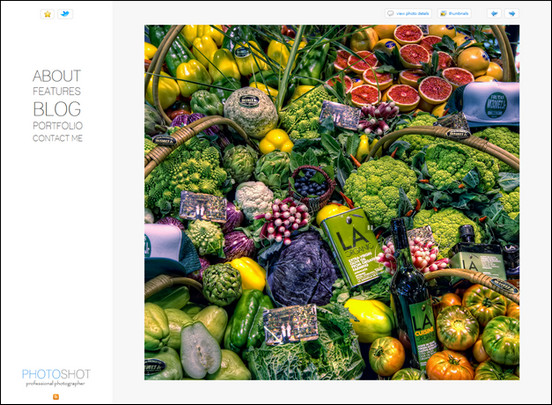 Photoshot is simply amazing and does stand out by the design, layout and functionality packed into the theme – very original! You can add images to a favorite box and view them later in a beautiful full screen slideshow. It has 3 home page variations – slideshow, photoblog and static page´, light or dark skin and a unique menu where all items are dynamically sized to display at the same width making it look much more appealing. it's packed with shortcodes and has an extensive options panel to tune every aspect of the theme.
Broadside – Premium WP Theme MORE INFO / DEMO
Broadside offers you an easy to customize and fully featured Word press theme that will show off your work in an elegant and organized way. It's very flexible and uses full screen background image, has unlimited menu and logo background colors and video support in a portfolio lightbox and video page template. A very cool Fullscreen WordPress Theme.