We are almost in the middle of December, and in a few days we will be celebrating Christmas. Before we know it the whole world will welcome the New Year with fireworks displays and rounds of entertainment.
With New Year just around the corner,  most people start looking for a new calendar. Instead of purchasing a black and white calendar you might consider a variation on the classic theme. After all, you will have to look at this calendar for a whole year so make sure to find a date keeper in a refreshing and creative design.
In this post, we are showcasing some calendar designs 2013 for your inspiration. Please feel free to share with us your opinion about these calendar designs. Also, if you have tips and pointers on calendar design, please come forward. We will of course be happy if you share this article to your friends. Enjoy!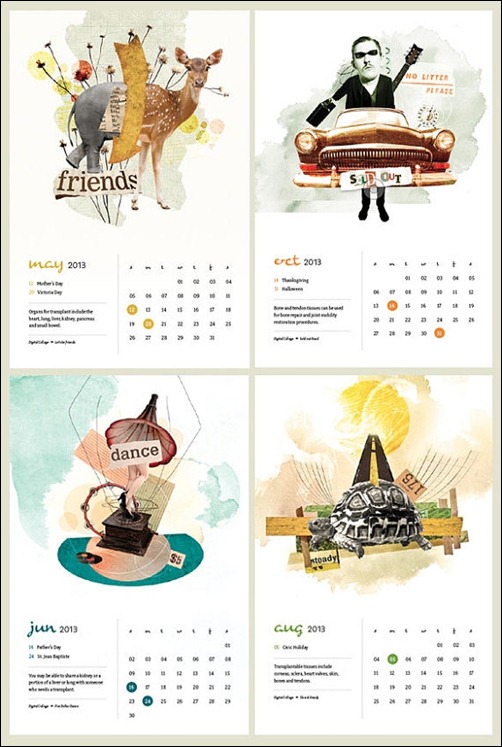 An unique calendar with cool illustrations that can catch everybody's attention.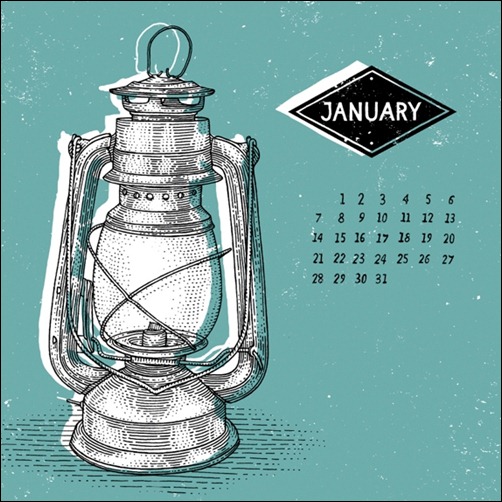 Set of postcards with a calendar.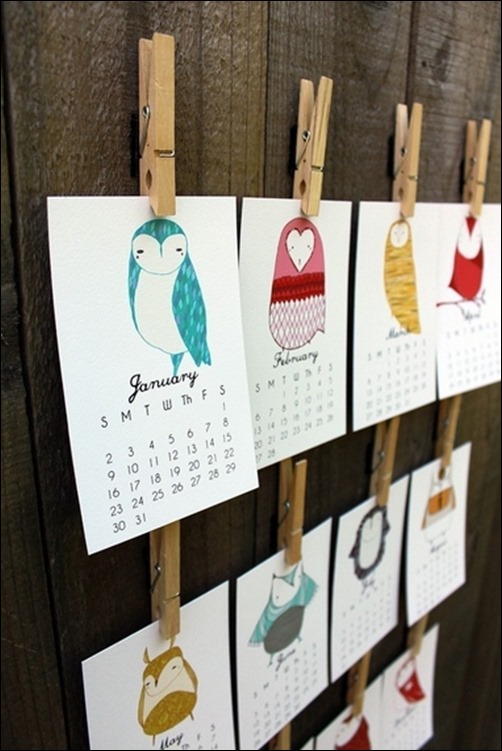 This calendar can make learning every month of 2013 great for kids. With its original owl illustrations, this calendar will make a perfect complement to any children's room or nursery. It comes with a display easel.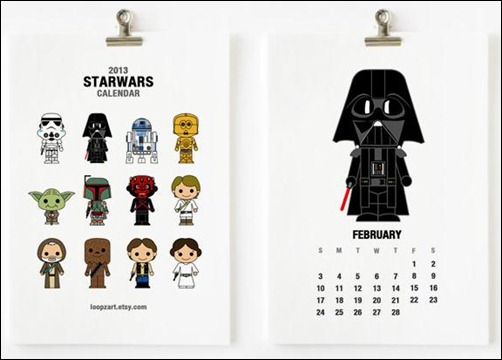 This calendar features 12 star wars characters illustration for each month of the year.
This calendar has page illustrations consisting of diagrams, formed as shooting targets.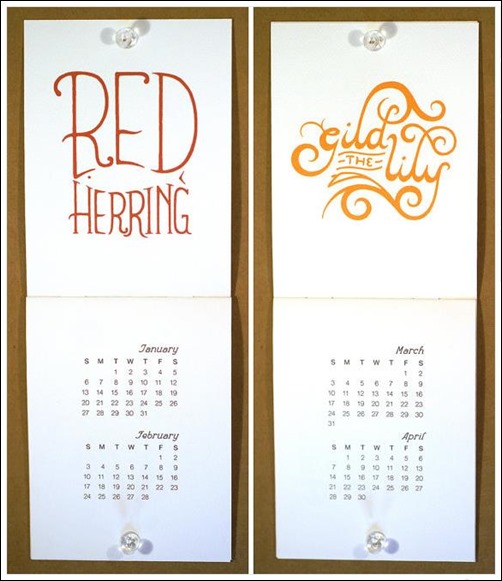 When opened, the idiom is on the top page and the calendar is on the bottom page. The calendar is made up of four sheets of paper that are stapled in the middle, and each sheet is punched at the top and bottom so it can be hung on the wall.
This calendar has each month individually displayed on a 4 x 6 card and represented by it's own little funny bird.
This calendar uses creative images from Ben the Illustrator. It is spiral bound and printed on high quality smooth 250 GSM paper.
Beautiful and creative calendar for 2013 with a huge sun and dates shinning from its core.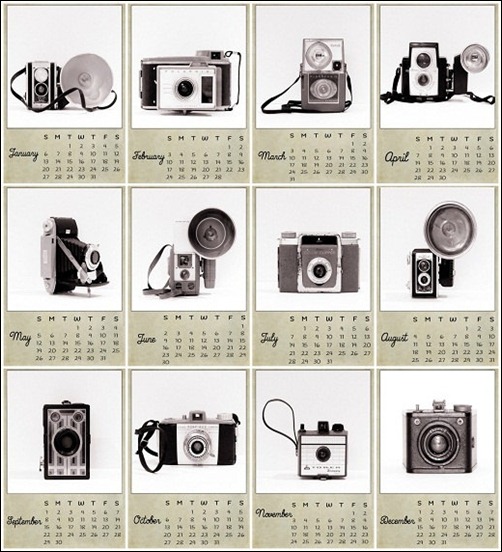 2013 Fine Art Photo Calendar, has 4 x 6, unbound & borderless prints featuring vintage cameras from the past.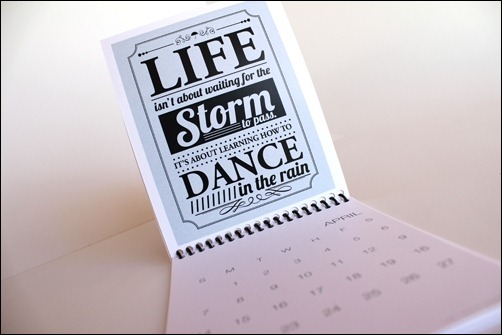 This calendar contains inspirational quotes in beautiful typography.
This special calendar is custom printed on archival satin paper that has a gorgeous finish, and yields deep, rich colors.
This calendar is collection of collage photographs with original architectural detail photography put into an animal silhouette.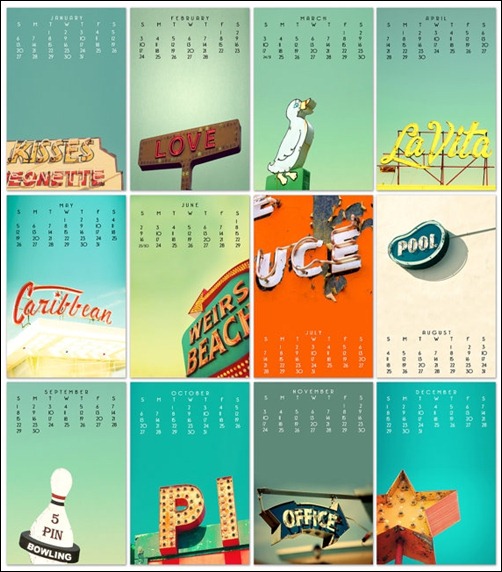 "Neon", features 12 photos of groovy neon signs.
This calendar has each color-ring represents one month of the year. Federal holidays (United States) are highlighted with an icon and white color. The tabular view at the bottom offers some space to fill in appointments or birthdays.
This spiral bound 12 month Art Grid Calendar features exclusive Paper Source designs to inspire you throughout the year.
One awesome black calendar for new 2013 year.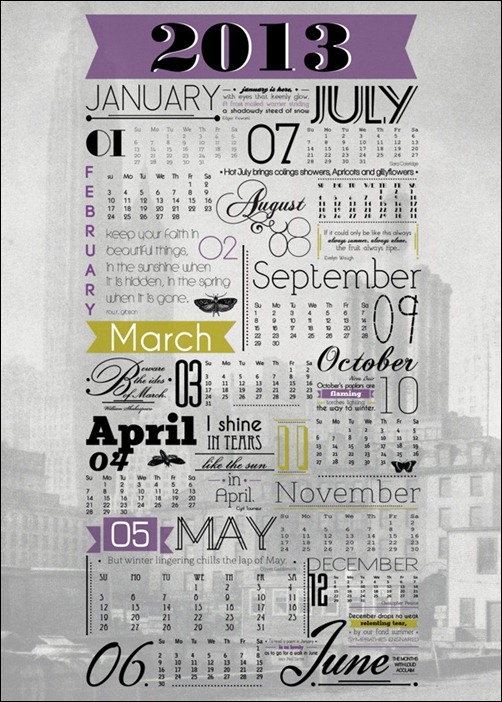 A beautiful typographic calendar in one page.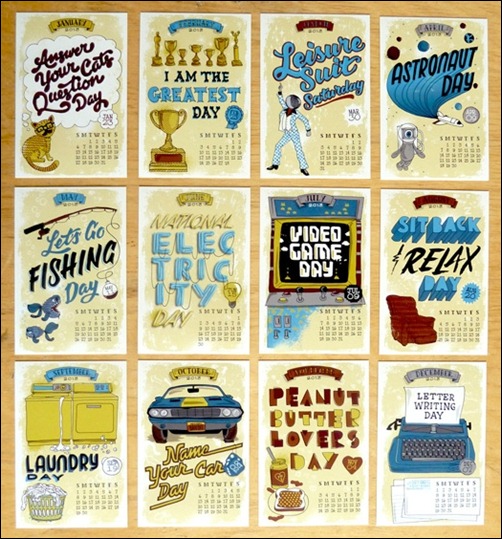 The author of this calendar illustrated the most absurd holidays that she can possibly can find. They are all real holidays believe it or not, including 'Answer Your Cat's Question Day.'
This is a calendar that will help you live each month of 2013 awesomely! It measures 6 x 9 inches and comes with a hard backing with hole for easy hanging.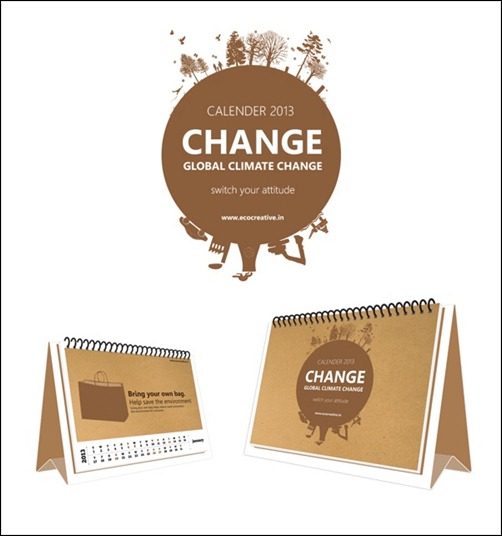 This Calendar called "CHANGE – GLOBAL CLIMATE CHANGE" is a deep insight into our environmental issues and how to override the present situation. Each page representing an idea to implement your routine life, it will help our nature & earth to extend their life.
A nice screen print moon calendar for 2013.
This cool calendar design is composed of building blocks that will allow your creativity to come forth. You can rearrange the blocks to change the monthly look and use icon blocks for special dates and events.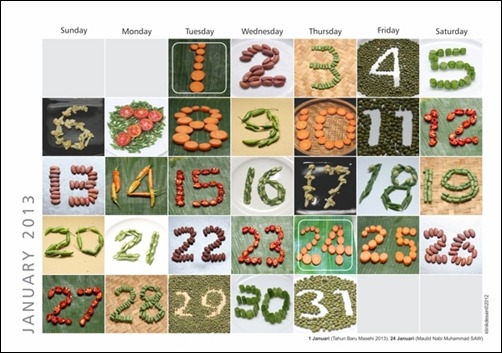 The concept of this calendar is to combine several objects in order to form figures, which re compiled into this unique calendar.
The web's big question " What are you doing right now? " is incredibly useful for tracking your daily activity.This is a calendar where you can write your daily "status".
This calendar full of Bible verses is perfect for starting the New Year right. It is ideal for both your wall and desk.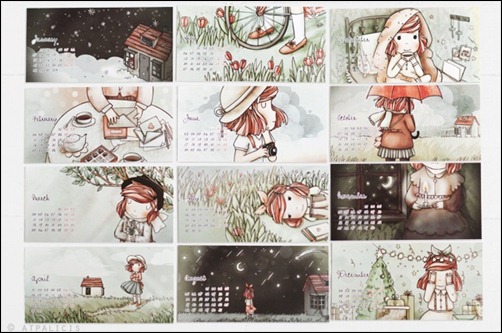 Oh, so cute, bright and colorful illustrated 2013 calendar, features a story of a lovely girl that lives in her house with red roof in a green field with flowers.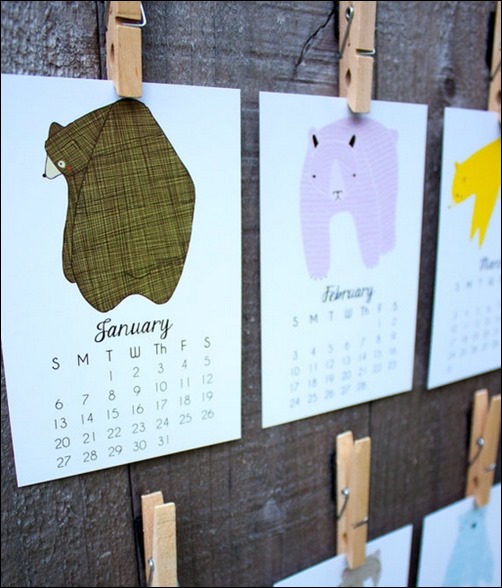 This is a charming calendar with a dozen original bear illustrations made by Stacy Bloomfield. It comes with a display easel.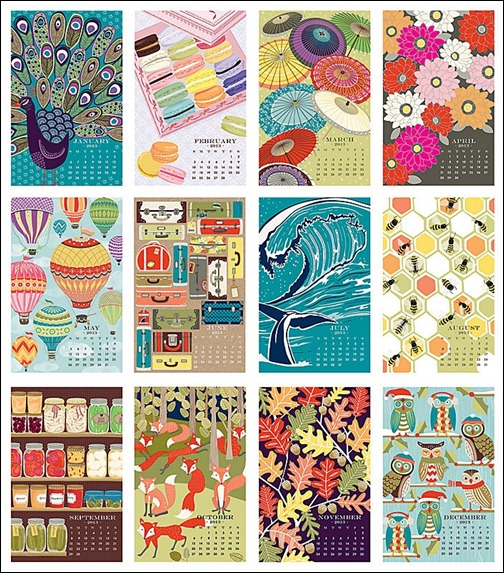 12 exclusive Paper Source designs make this monthly calendar a distinctive and elegant addition to any wall.
This is a calendar that is composed of twelve individual and original pages. The cards are packed in clear plastic envelope so you can give it as gift easily.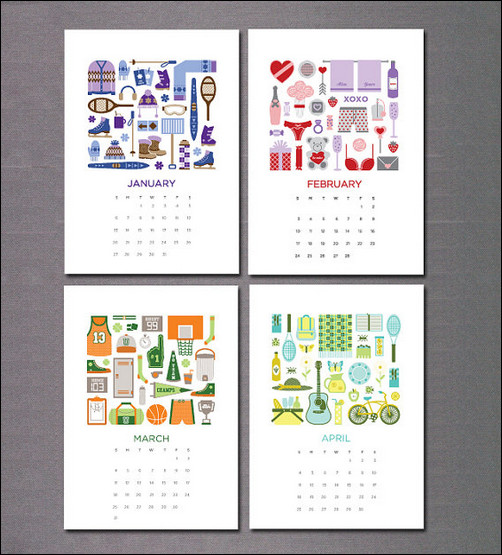 This calendar will allow you to frame, put in a stand or pin in your cubicle or office each month of 2013.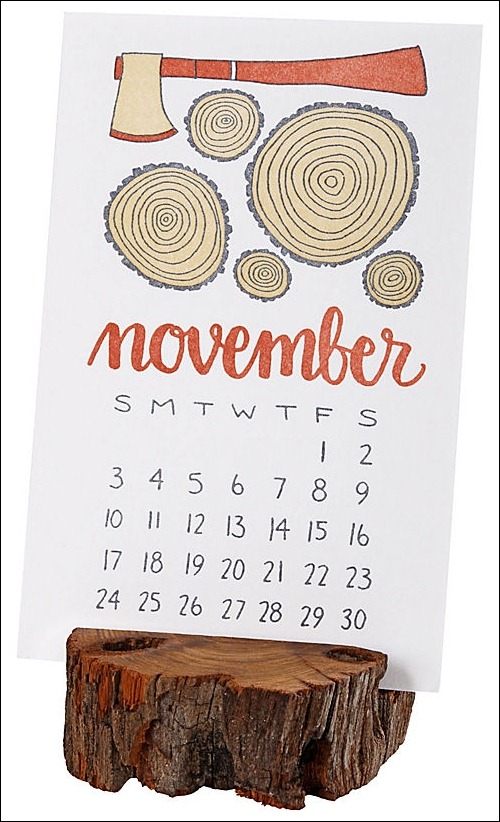 Bring the outdoors in with this whimsical calendar featuring a natural wood tree stump holder.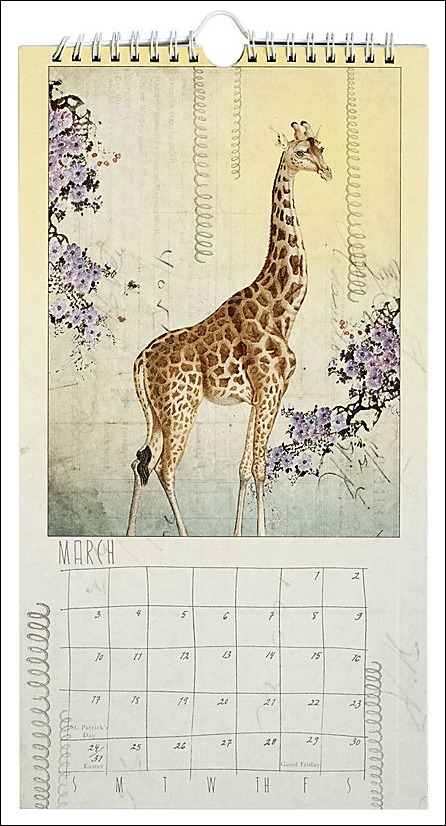 Artwork of birds, animals and flowers done in a romantic color palette makes this calendar a beautiful piece of art for any home or office.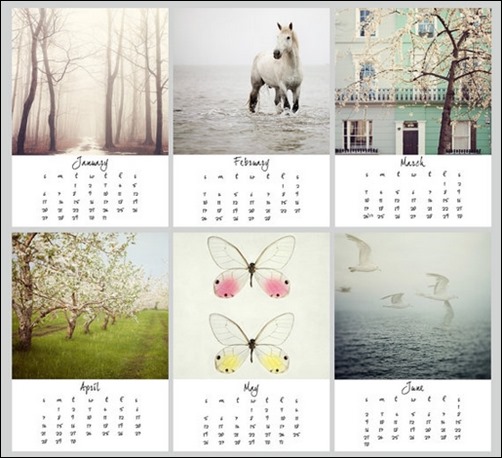 This calendar features great photos for each month of the year.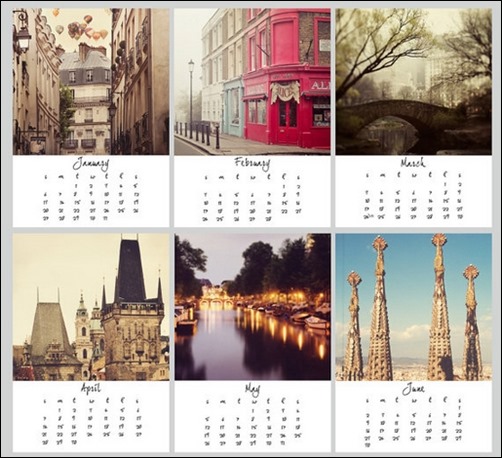 This calendar is perfect as a gift. It can be displayed on a mini easel, plate stand or frame. You may also mount it on inspiration boards.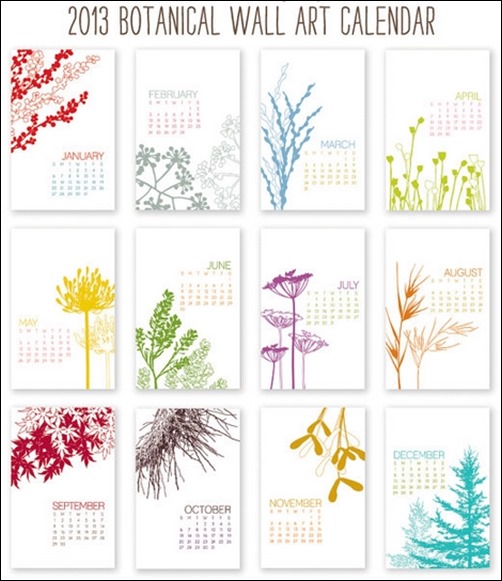 This calendar is a collection of original botanical illustrations. It is wire coil bound and comes with a hanger for easy mounting on walls.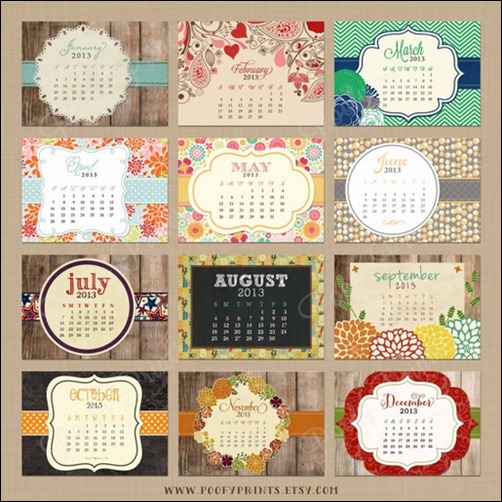 This calendar is perfect for kitchen counters and desktops. It also makes an excellent gift option for your friends.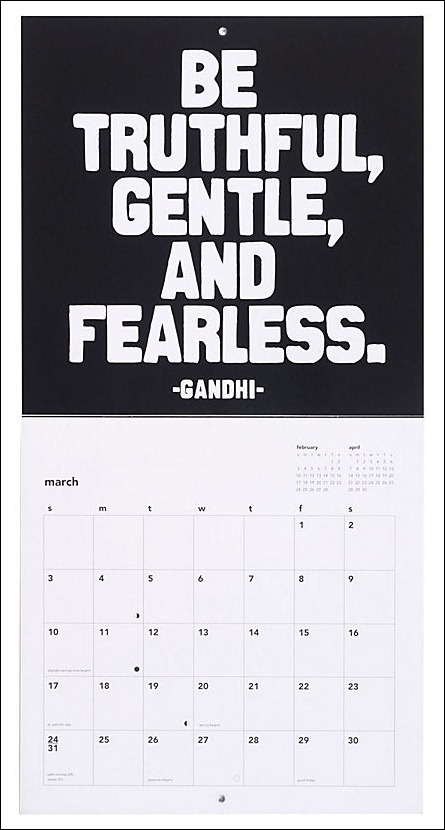 Stay inspired all year long with this 2013 Quotable Calendar. Features 12 black and white quotes, along with clean, organized monthly grid calendars.
This is a creative 2013 calendar. Just punch out the day's dot to expose the vivid color underneath.
This calendar has a dozen love quotes for every month, with cut out cards that can be folded and given away.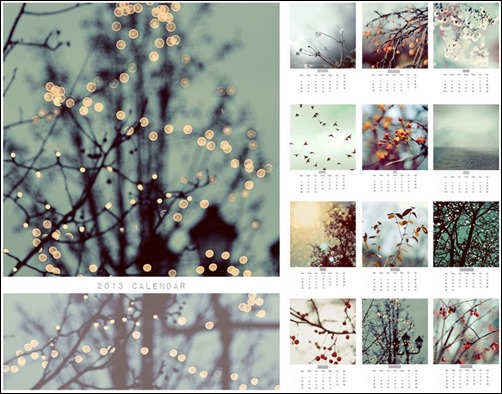 This calendar is composed of 13 surreal landscape and nature images.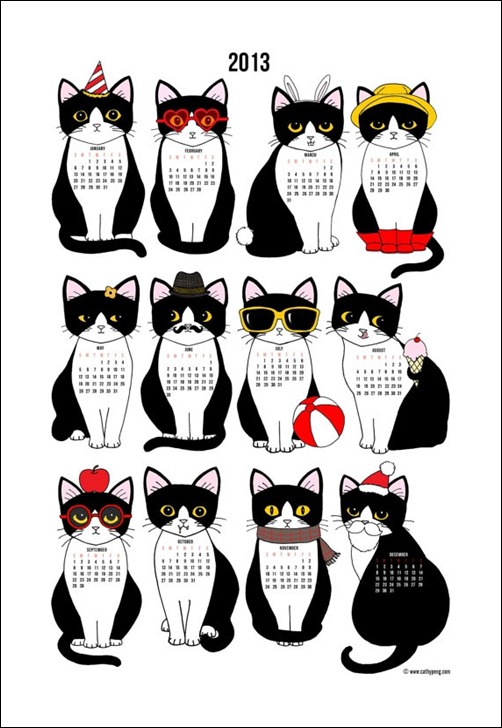 A brand new calendar print featuring 12 new tuxedo kitties.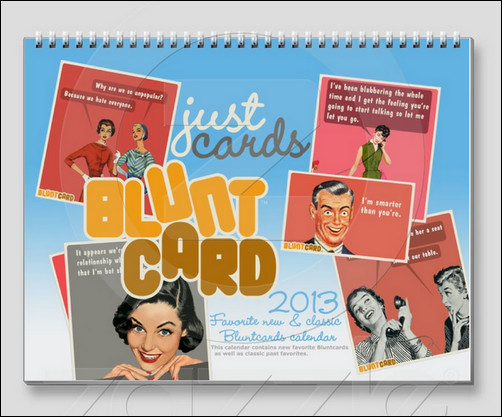 This custom calendar will allow you to add special images, texts and photos to each month.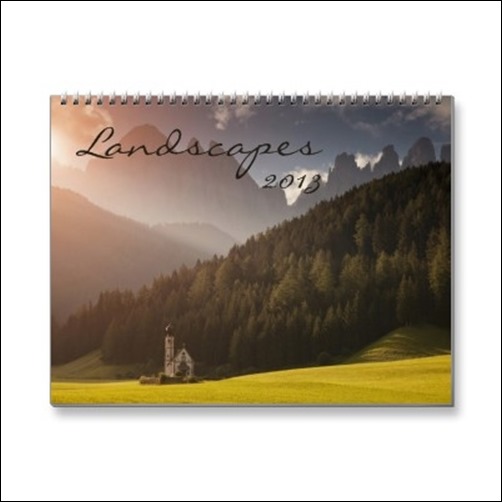 This is a full color, high quality calendar that will allow you to choose from 13 distinct styles for important dates and holidays.
A cool music inspired calendar.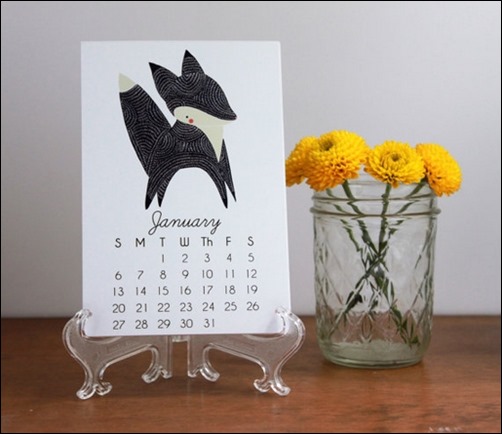 The year 2013 is the year of the fox and it can be found in every month of this calendar. The adorable illustrations are from Stacie Bloomfield, perfect for any kid in the house. It comes with display easel.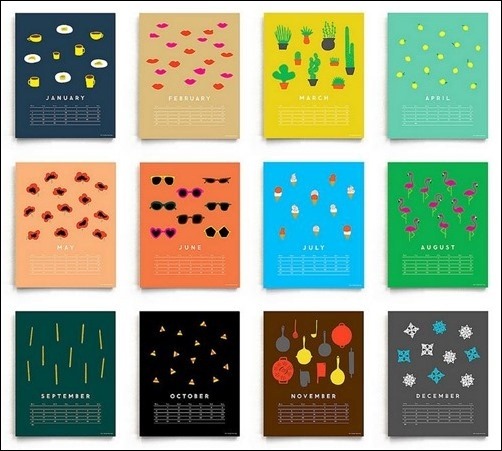 Each month features a colorful, whimsical illustration to brighten up your desk or wall. Twelve 8×10″ prints are included in each calendar.
This limited edition calendar is composed of twelve unpublished and charming illustrations, which can fill your days with optimism and color.
This is a cool, quality calendar consisting of 12 mini card and a mini binder clip. Each month is a separate card, each 3″ x 5″, printed on both sides of heavy paper stock in a beautiful matte finish.