The Christmas season is just around the corner, and before we know it, snowy decorations, Santa Clauses, jingle bells and Christmas shopping will be everywhere. It's a joyful time of the year where most people like to send greetings to friends and family or even better, get together for the holidays.
As a website or business owner you probably also want to send Christmas style email newsletter to your registered users, subscribers or customers. While you can hire a designer to create a unique email template for you, it can also be done by using pre-designed Christmas newsletter templates. With a such a Christmas newsletter template, you just have to add your content and logo to generate a seasonal greeting or Christmas email newsletter.
Christmas email template designs are available online in a wide variety of styles and colors, but before choosing one, you need to make sure your email newsletter system allows you to import and use templates.
To simplify your task of finding the perfect template for the coming Christmas season, I have compiled a list of 24 Christmas newsletter templates. Each of these templates have unique characteristics and features, so make sure that you check each of them out. Please let me know what you think by adding your comments below. Or perhaps you might want to suggest a newsletter template that is not included in my list?
Disclosure: Please note that some of the links below are affiliate links and I will earn a commission if you purchase through those links (at no extra cost to you). I recommend that you do your own independent research before purchasing any product or service. This article is not a guideline, a recommendation or endorsement of specific products.
FeastMail – Christmas and Corporate Email Template – MORE INFO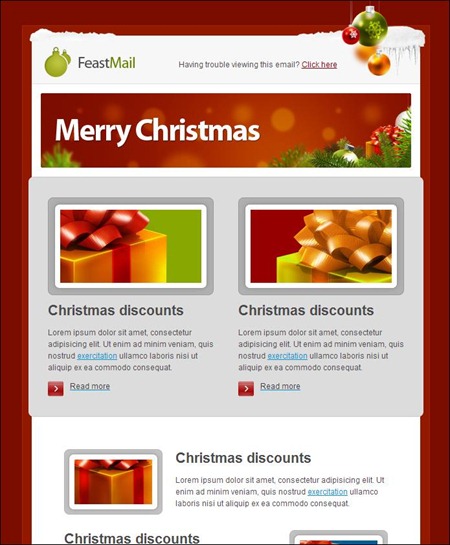 This is an email template for Christmas designed in a business style. Its snowy style has been designed with Christmas collages, which is an excellent possibility for creating warm client relations.
Holiday 2 – HTML Email – MORE INFO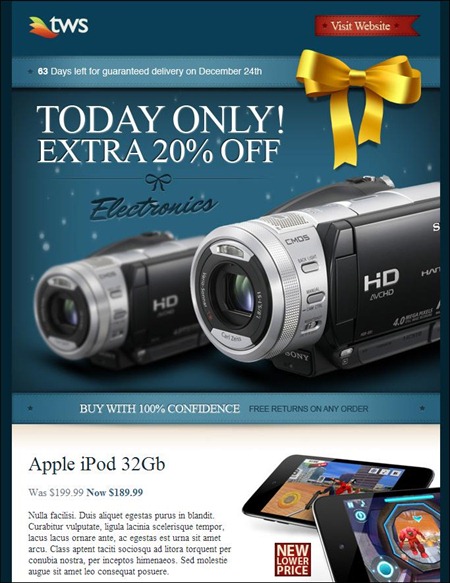 This template provides an almost endless layout options. It contains templates, Photoshop files as bonus and others.
4 Free HTML Email Templates – MORE INFO
HAPPY HOLIDAYS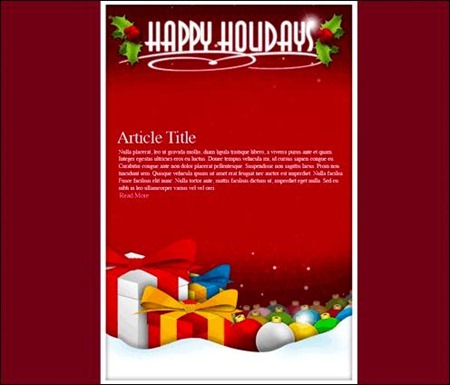 A completely free template, Happy Holidays features a white and red color scheme with
festive design.
SEASONS GREETINGS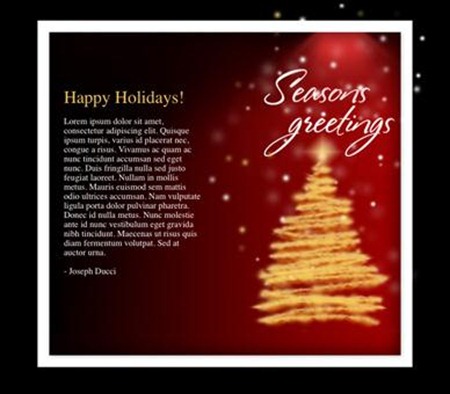 If you want a template that has a sophisticated gold, black, white and red design, Seasons
Greetings is for you. What is more, it is completely free so you do not have to spend
anything on your Christmas template. You can get
Holiday – Snow Hills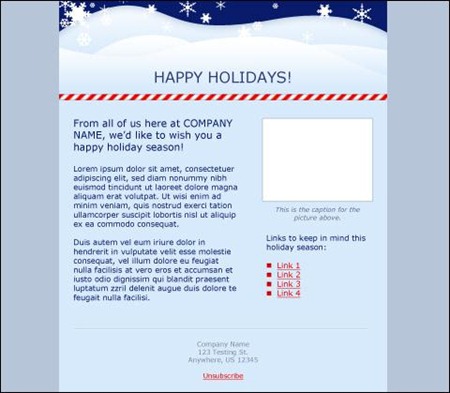 This is a snow scene email template that will elicit the feeling of winter and a white Christmas. The blue color scheme will help add the feeling of winter.
Holiday – Holly Jolly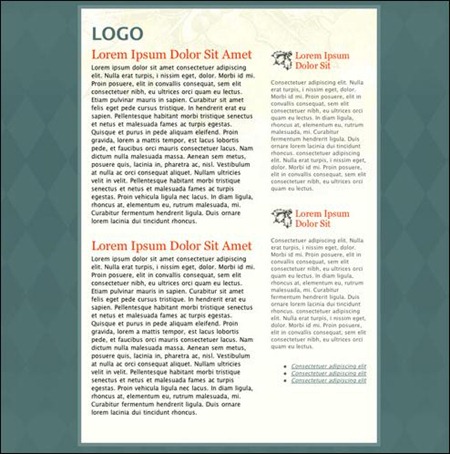 This template gives you holly sprigs stamped on a parchment paper background with bold red headlines to highlight your holiday message. This template is both a festive and professional way to say "seasons greetings.'
Simply Christmas 2 – MORE INFO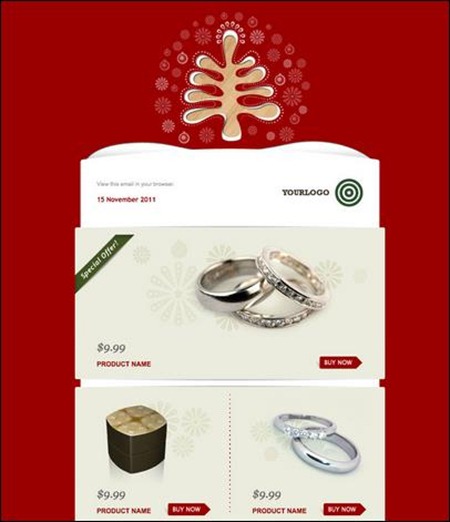 A flexible and user friendly template, Simply Christmas 2 can be used as it is or you can customize it according to your needs.
Gift Box – Email Template – MORE INFO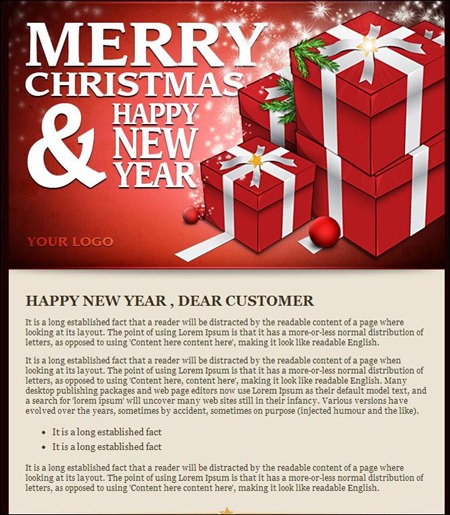 This template is perfect for Christmas or New Year. Created with a professional Christmas design, you can use Gift Box for promotional business emails.
Exclusive New Year Newsletter – MORE INFO
This newsletter template has three exclusive designs for its header. It features original custom icons that were made especially for the template and 3 PSD files for every graphic, including complete source.
Festive – NewsLetter Template – MORE INFO
Send your clients beautiful Christmas greetings by email with this template. You can also use it for delivering product updates, rich content, special offers, social events details and news.
Holiday mailings Free HTML Newsletter Template – MORE INFO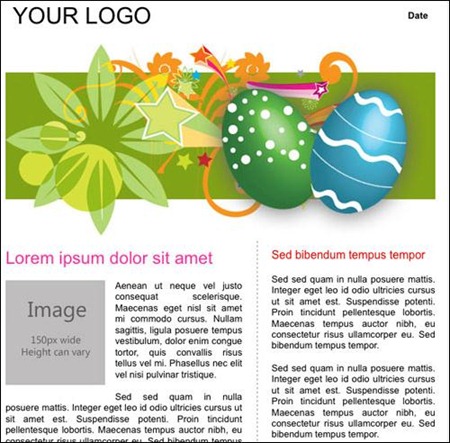 Happy New Year – 3 COLORs – MORE INFO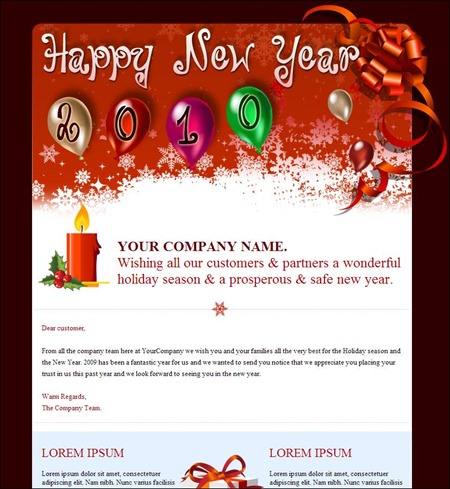 Easily customizable, packed with features and done in 3 colors, this Christmas template is email ready and contains proper PSD layers and slice with proper names to make it easy to edit different items.
New Year Greetings / Birthday Greetings – 3 COLORs – MORE INFO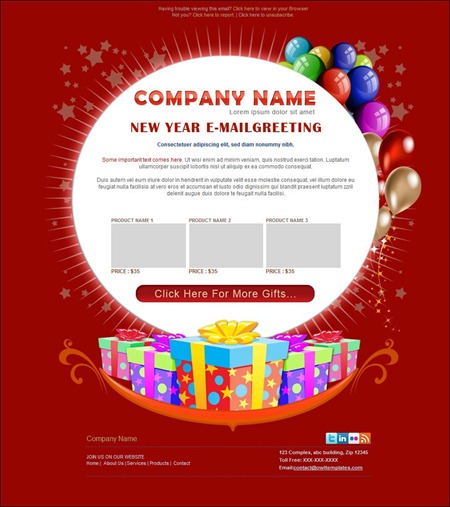 This template is useful not only for Christmas, but also for New Year and birthday as well. It is email ready and well documented with screenshots that explain the various aspects and configuration of the site. The template is available in 3 colors.
SantaMail – Newsletter – Email Template – MORE INFO
This template is documented and commented to make extensive customization easy. A Christmas tree drawing is included with this template. It also has slice with proper names and proper PSD with layers.
Professional Greetings – Newsletter – Email – MORE INFO
This template is ideal for Christmas, New Year and for daily purposes. It has proper documentation with screenshots that explain the aspects and configuration of the site.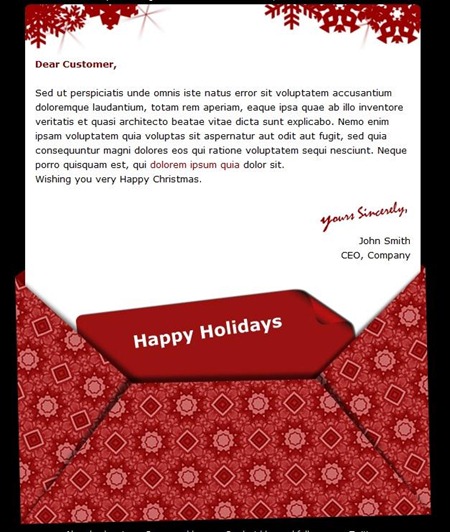 This is an email template that is highly customizable. It has multiple modules that you can stack over one another to obtain different layouts.
Holiday HTML Email Template – MORE INFO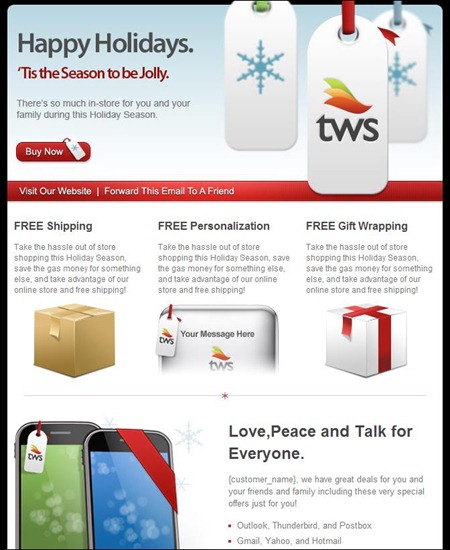 This is a premium HTML template that is email ready. It has been designed specifically to send season greetings, promote a product and be used as company newsletter during the holidays.
Seasons Greetings – Email Postcard – NewsLetter – MORE INFO
This template is documented and commented to make extensive customization easy. It is email ready and the package contains a Christmas illustration.
Humana – Holiday Greetings/Email Newsletter – MORE INFO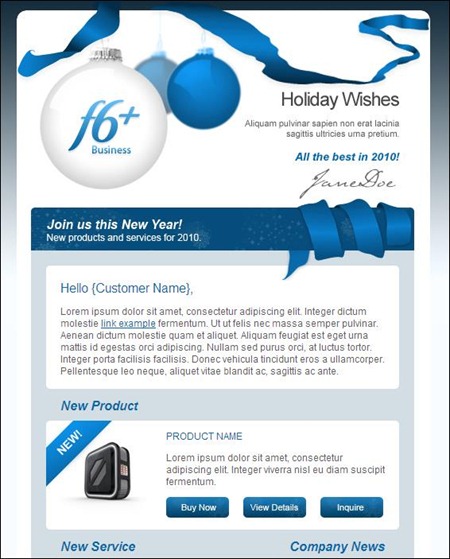 This is a combination greeting card and email template. It includes a small corporate newsletter for announcing anything special or new to your subscribers.
Periodic Newsletter 5 in 1 – MORE INFO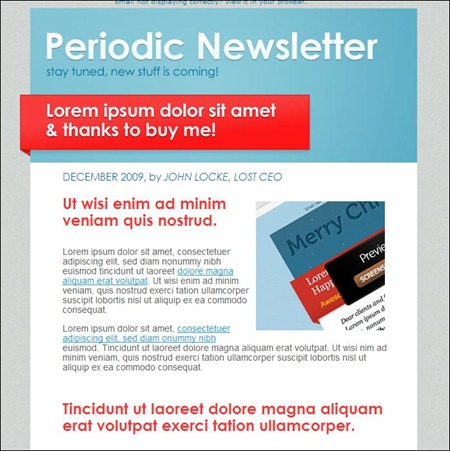 With this template you will get five layouts that have different colors and look.
Marketing board – Newsletter template Christmas & Holidays – MORE INFO
This template can be use for sending holiday postcards, photo newsletters or flyers. You will need basic knowledge of Adobe Photoshop to make changes in template.
3 Free Flash Christmas Cards – MORE INFO
Merry Christmas and Happy New Year free flash card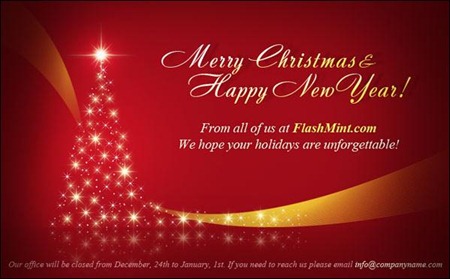 Light free flash christmas card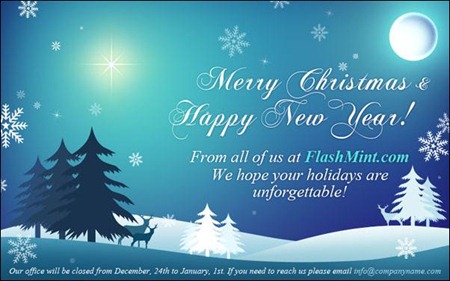 Free flipbook flash greeting card