WordPress menu plugins can be used to change the navigation of a WordPress site and to add new features. While most professional WordPress themes have cool menu layouts build in you may find that some requirements are not meet, check this post for a collection of simple themes with great navigation. This could be the situation where an otherwise perfect theme does not have a mega menu system, and you need this as part of the overall design of the website navigation.
Most WordPress menu plugins today work with the WordPress menu system introduced in WordPress 3.0 and this is the solution I think most webmaster should go for. However, you can also integrate a plugin, but it required more technical skills and may not give you the same level of automation concerning maintenance of the menus.
In this article, we are sharing with you some of the best WordPress Menu Plugins available now. You will find various types and layouts among the available WordPress menu plugins and I think you should be able to find what you are looking for here. I have also included a few plugins you can use to improve your navigation in the WordPress administration area. Please leave a comment if I missed a good WordPress menu plugin and I will consider adding it. You are also welcome to post your comments and suggestions and to share this article to your friends.
Disclosure: Please note that some of the links below are affiliate links and I will earn a commission if you purchase through those links (at no extra cost to you). I recommend that you do your own independent research before purchasing any product or service. This article is not a guideline, a recommendation or endorsement of specific products.
Responsive WordPress menu plugins
Ubermenu WordPress Mega Menu Plugin – MORE INFO / DEMO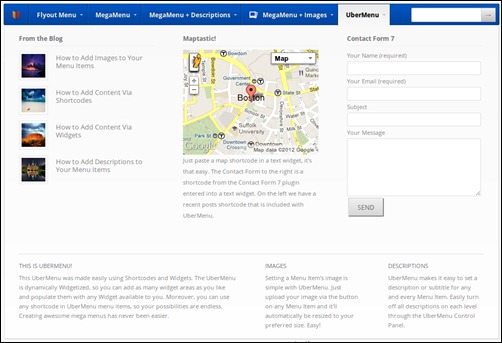 UberMenu is a user-friendly, highly customizable, responsive Mega Menu WordPress plugin. It works out of the box with the WordPress 3 Menu System, making it simple to get started but powerful enough to create highly customized and creative mega menu configurations.
Ubermenu Conditionals Extension – MORE INFO / DEMO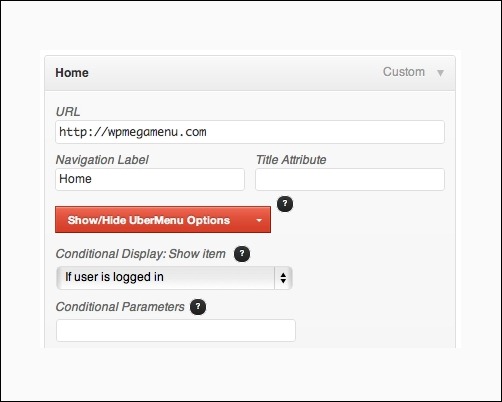 This plugin is an extension for UberMenu – WordPress Mega Menu Plugin. UberMenu Conditionals adds the option to conditionally display or hide any item in your UberMenu. It adds a new option to each menu item, where you can select which condition must be met via a select box.
Ubermenu – Sticky Menu Extension – MORE INFO / DEMO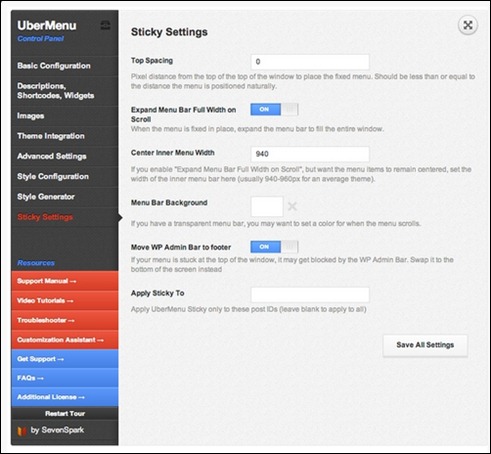 Ubermenu sticky extension adds the ability to make ubermenu "Sticky " meaning it'll stick to the same spot in the viewport as your users scroll down your page. Sticky menus allow your users easy access to your menu at all times, without having to scroll back to the top of the page to navigate to a different part of your site. The Sticky Menu Extension will stick your menu in place even if it doesn't start off at the top of your site, and hold it there while your users browse your content.
Responsive Searchable 3 Level Accordion For WordPress – MORE INFO / DEMO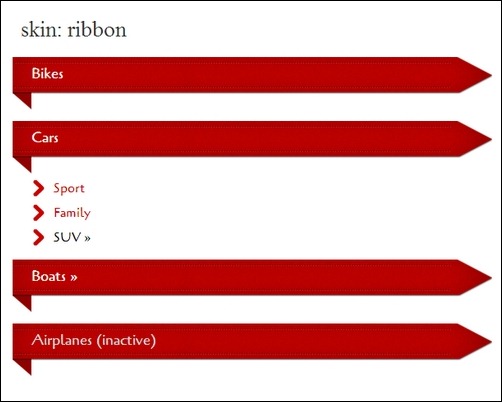 Just another accordion. Only better. Now for WordPress! It offers tons of features like search functionality, fully W3C compliant (XHTML 1.0 strict!), may work as a menu or as a content holder, easily configurable in admin panel, widget mode & shortcode mode, configurable animation and with up to three levels nesting with 4 skins included.
Responsive Select Menu – MORE INFO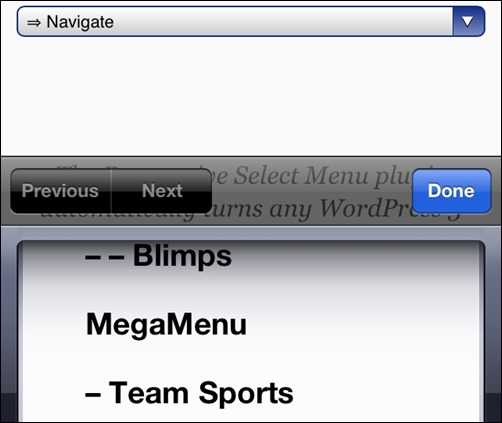 The Responsive Select Menu plugin automatically turns any WordPress 3 Menu into a select box / dropdown on mobile devices.
WordPress navigation plugins Without Responsive Layouts
Sticklr WP Sticky side Panel WordPress Plugin – MORE INFO / DEMO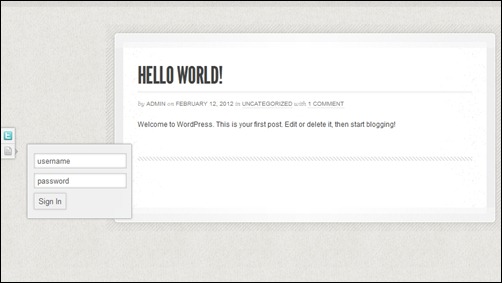 Stickr WP, a sticky side panel menu WordPress plugin features are similar with jQuery version, only WordPress version has an intuitively easy administration panel, so you don't have to know the coding behind it.
jQuery Mega Menu Widget – MORE INFO | DEMO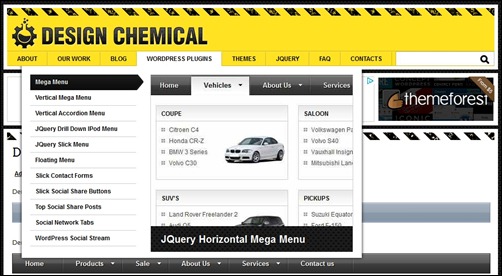 Creates a widget, which allows you to add drop down mega menus from any WordPress custom menu using jQuery.
PBK Mega Menu for WordPress – MORE INFO | DEMO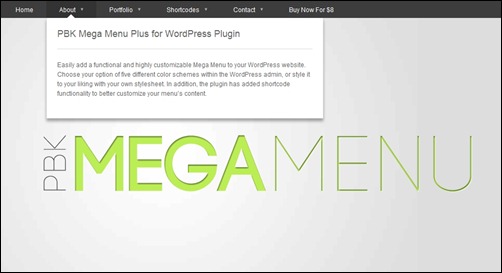 PBK Mega Menu Plugin for WordPress is your easy way to add a functional and customizable Mega Menu to your WordPress website. Adding menu items and content is just like adding posts or pages. If you know how to use WordPress, then you already know how to use the Mega Menu plugin.
This widget adds a beautiful vertical/horizontal CSS only dropdown menu of Pages, Categories or Custom navigation menus of your blog.
Multi-level Navigation Plugin – MORE INFO | DEMO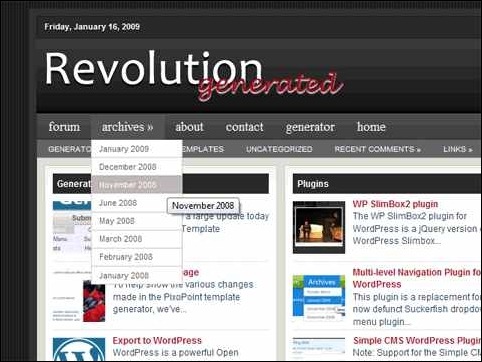 Adds a CSS based dropdown/flyout/slider menu to your WordPress blog.
WP Sticky Menu Plugin – MORE INFO | DEMO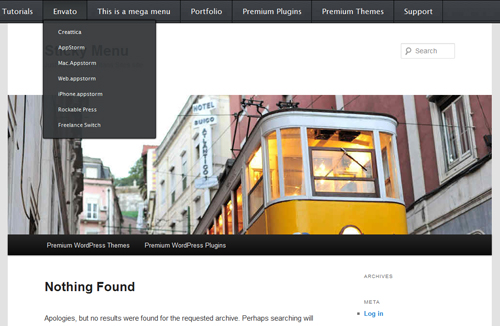 This sticky Menu Plugin comes with 8 different styling options, plain, shiny and transparent. When you do want your own style based upon your theme then you only have to change a few css lines and it's just as you wanted it. Each style can be selected through the Sticky Menu Option panel.
Sticky Menu Plugin has it's own option panel from where you can select your styles, the alignment of the menu (Top or Bottom), the width of the menu (980px or Full Width). You can also select the animation effect for the sliding out and in of the menu.
Advanced Menu Widget – MORE INFO |  DEMO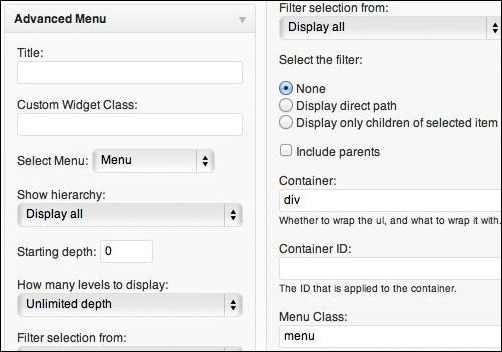 This plugin adds enhanced "Navigation Menu" widget. It offers many options which could be set to customize the output of the custom menu through the widget.
Scroll Menu / Tag Vertical Navigation – MORE INFO / DEMO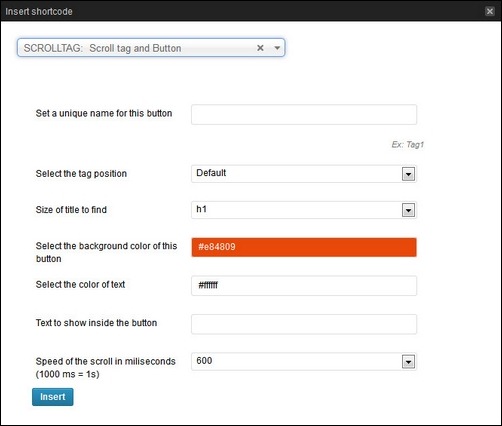 Scroll menu lets you insert tag points on the document as shortcode. Every Tag point it will automatically added to the Scroll Menu as a button, giving users of your site a better experience and navigation control on large or medium pages.
Add Descendants As Submenu Items – MORE INFO | DEMO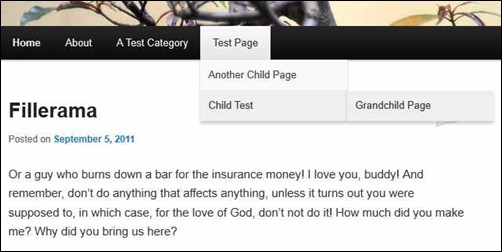 Automatically all of a nav menu item's descendants as submenu items. Designed for pages but will work with any hierarchical post type or taxonomy.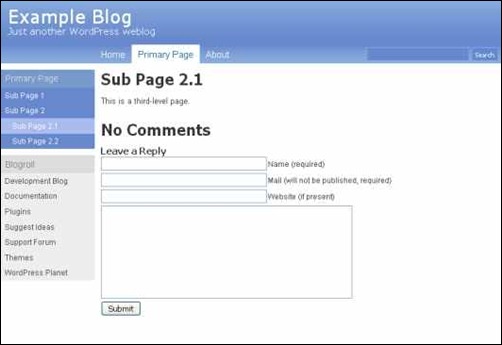 SLMenuWidget is a plug-in for WordPress. It provides an easy to use submenu widget that can be used for WordPress themes which doesn't deal with sub pages. It renders nothing if the current page does not have sub pages.
AllWebMenus WordPress Menu – MORE INFO | DEMO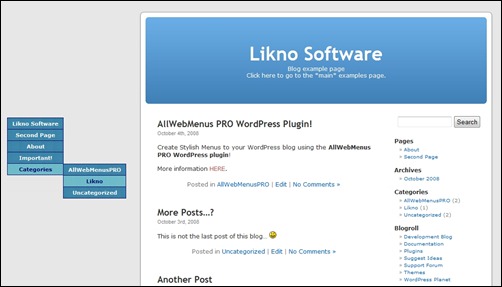 The AllWebMenus WordPress Menu add-in & plugin combination is designed to retrieve information from your blog (such as posts, pages, etc.) and import it into the AllWebMenus application to create stylish, feature-rich navigation menus. This is a different approach and may not be the optimal pick since it is created using a separate menu engine.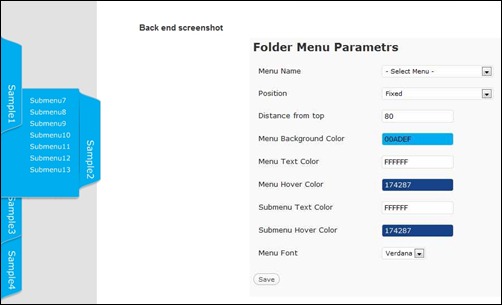 Folder Menu Vertical is a flash dynamic menu module for your WordPress 3.0+ website, designed to meet your needs and preferences.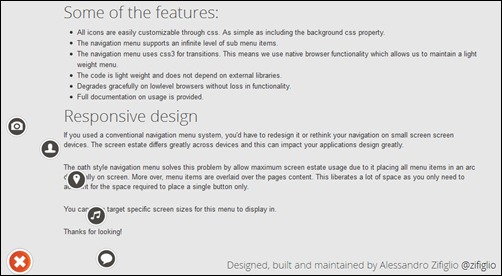 This is a multi-level menu inspired by Path 2.0 UI which has sky rocketed the Path application in the App store, proving that a distinctive UI can really give you the edge in a competitive marketplace with similar products. When the user presses or clicks the button, menu items expand and place themselves around the main button forming an arc. To close the menu the user needs to either selects one of the options presented or press the main button again. If a menu item has submenu items, then the user can either navigate back to the previous level or select one of the choices presented.
Fading Menu with Notification Bar and Social Icons – MORE INFO | DEMO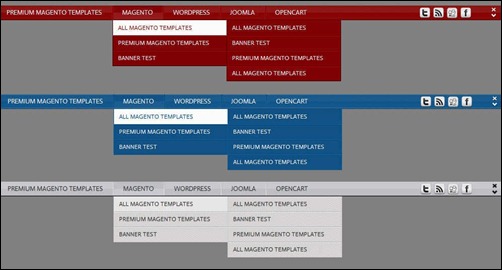 Fading Menu with notification Bar is a WordPress Plugin that will allow you to add your navigational menu (main menu or custom menu defined by you) along with notification bar at the top of your browser.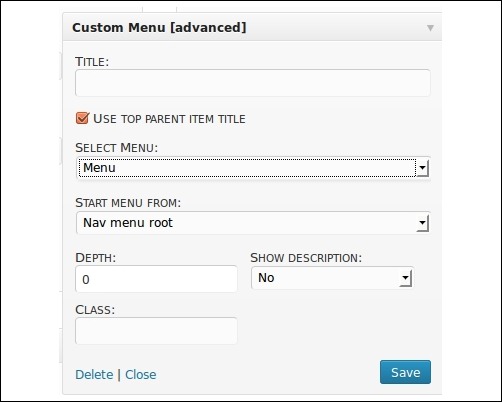 Submenu autopopulates any nav menu page item with its children and allows to put menus, or portion of menus, anywhere in your site.
Advanced Pages Widget – WordPress Premium Plugin – MORE INFO | DEMO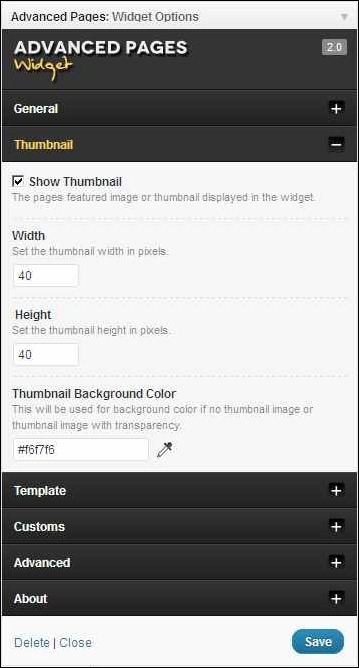 An advanced widget that gives you total control over the output of your pages. This widget replaces the default WordPress pages widget. and gives you the output to the user by allowing the input of all the arguments typically seen in the wp_list_pages() function.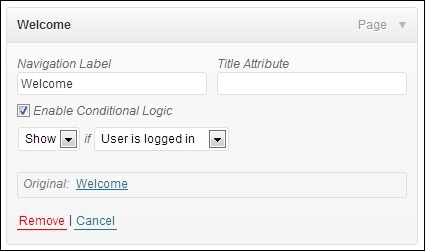 Simple plugin that adds extra functionality to Menu Items. The plugin will allow to show or hide menu items based on condition statements (Is single page, User is Logged In, etc).
WordPress menu plugins for Admin improvements
Menu Management Enhancer For WordPress – MORE INFO / DEMO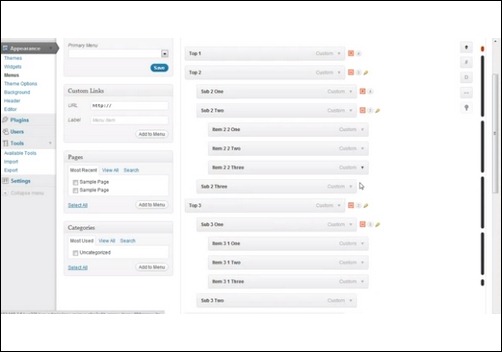 WordPress 3 Menu Management System is excellent, but it can be a bit cumbersome if you're managing many menu items. The Menu Management Enhancer for WordPress aims to improve the menu management user experience.
Adds a tree of all your pages or custom posts. Use drag & drop to reorder your pages, and edit, view, add, and search your pages.
Juiz Smart Mobile Admin – MORE INFO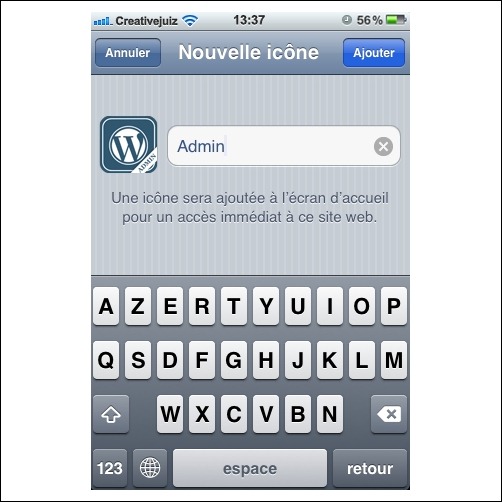 Used with the default administration theme, this plugin offers you a smartphone support for your dashboard.
Admin Menu Tree Page View – MORE INFO | DEMO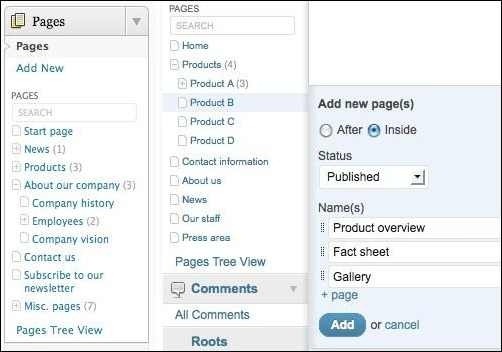 This WordPress plugin adds all your pages to the admin menu, so all your pages will always be available within just one click, no matter where you are in the admin area. You can also add pages directly in the tree and you can quickly find your pages by using the search box.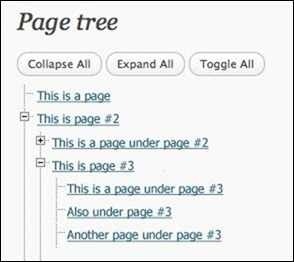 This plugin creates an expand/collapse tree for showing all your pages on your site or in your administration "pages" panel. This is useful for WordPress CMS purposes where you have many pages.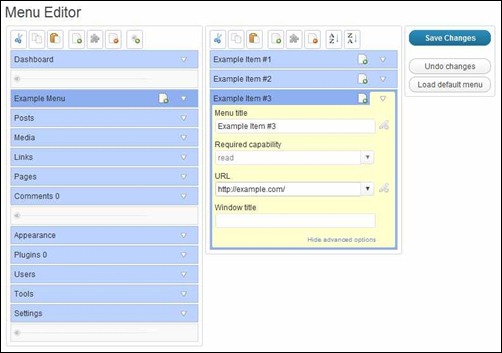 Admin Menu Editor lets you manually edit the Dashboard menu. You can reorder the menus, show/hide specific items, change access rights, and more.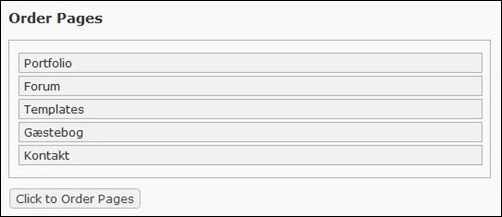 My Page Order allows you to set the order of pages through a drag and drop interface. The default method of setting the order page by page is extremely clumsy, especially with a large number of pages. The plugin also installs a replacement widget that exposes all the options of the wp_list_pages template function.
WordPress Hide Admin Menu Plugin – MORE INFO | DEMO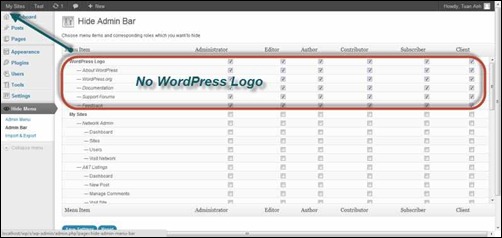 The Hide Admin Menu plugin helps you hide admin menu items and hide admin bar items in WordPress admin area based on user role. Simply select the checkboxes corresponding to menu items and user role and Save. You'll have a minimized or simplified menu for your clients, users. That will help you hide some important menu items that you don't want them to access, like settings page, account detail page, etc.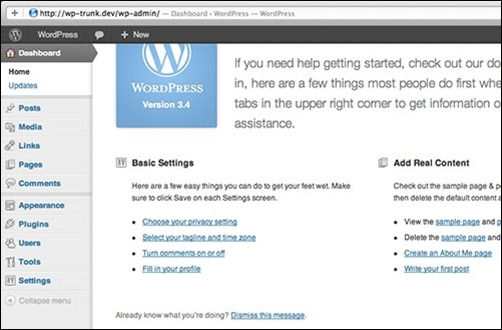 Stop scrolling, save time! Have the admin menu stay in place, no matter how long the page may be and you happen to have scrolled.
Menu by User Role for WordPress – MORE INFO | DEMO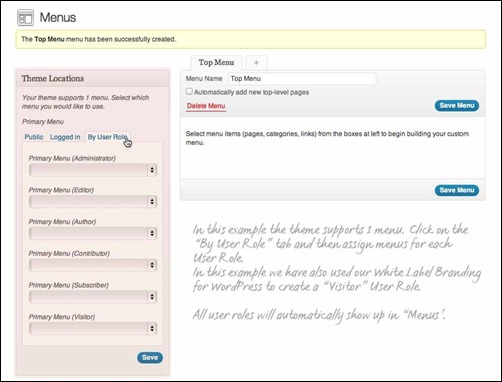 Menu by User Role for WordPress is a great little plugin that gives you the ability to create a Public Menu, a menu for users Logged in and menus for each User Role defined in your WordPress website. The plugin gives you complete control over the menus in your WordPress powered website.