Recently it has become quite popular and many designers and business owners find each other and work together through design contest websites. It is a radical new way of working and some claim it force designers to work free and that it speeds up the process of moving regular design consulting jobs to low cost regions. The winner in the end seems to be the customers that easily browse through competing items and select a perfect matching design at a highly competitive price. In any case, the development is impossible to stop and if you are a freelance designer, finding new clients to maintain a steady stream of income can be hard. It is a time consuming task where you are away from the creative work you love to do. The design contest websites may help you fill in the gaps and do more creative work overall.
Besides making it possible to set up contents and deliver candidate designs some design contest websites also offer cool features that makes it possible for designers and clients to collaborate more efficiently without meeting physically.
One problem with this model is to trust people you never looked in the eyes and it can be very hard if you have a important project with a tight deadline! One way the websites with design contests address this is to help building trust through other people's feedback and experience. Most sites have the ability to provide ratings and reviews of both employers and freelancers. Finally, some also take care of all aspects of agreements and payments.
In this article, I have collected the best design contest websites I know for running projects to get unique designs for logos, t-shirts, products, web designs, WordPress themes etc. If you are a freelancer, you should familiarize yourself with them and try it!
Please take time to share your opinion, experiences and comments about these design contest websites below.
Freelancer is one of the largest (if not the largest) online platforms for hooking freelancers and employers up together. This site have all kinds of job caetgories, but also offer a special platform for running and participating in design contests.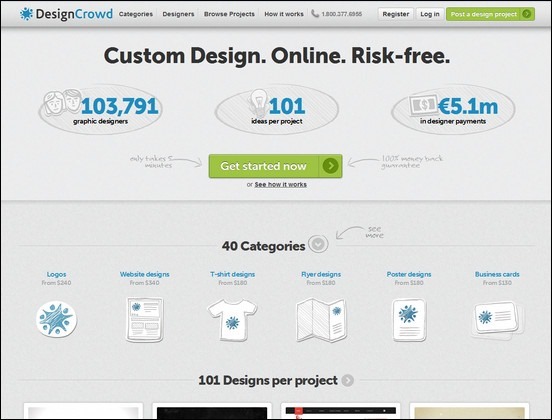 DesignCrowd is a website that works like an online marketplace. It helps you get access to logo, website, print and graphic design services offered by freelance graphic designers and design studios around the world. DesignCrowd gives you access to a 'virtual team' of 100K+ designers from around the world  – helping you to tap into the very best international design talent available, at a low cost. Post a project on DesignCrowd and watch designs pour in from around the world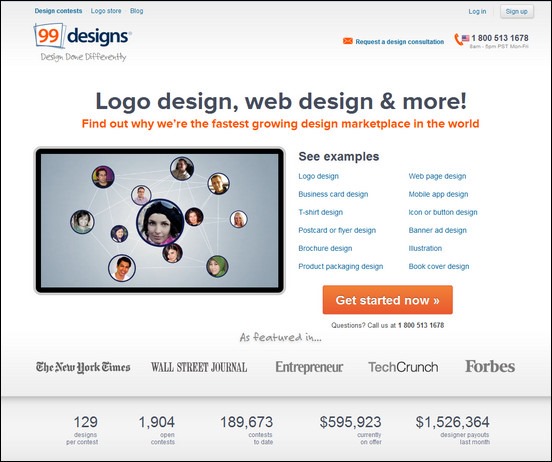 99designs is a website dedicated to crowdsourcing your graphic design projects. It connects designers from around the world with customers seeking quality, affordable design services. It works in three easy steps. First, you launch your design contest. Clients do this by simply giving a clear outline of what you need designed. Second, you collaborate with the designers. Designers then submit concepts to compete for your prize. By providing continual feedback you can help the designers deliver a concept that match yout needs! Third, at the completion of your contest, you'll need to pick your favorite design and award a winner. You'll then receive the final design along with copyright to the original art work.
LogoMyWay connects clients needing logo designs to a large community of more than 15,000 logo designers. The site follows the contest process in this wise: First, you describe your business and give the designers a few key points that will help them get started. Once you have filled out the contest brief and launched your contest the designs will start to roll in within hours in real time.
You will then be assigned a dedicated design specialist that you can call or email at anytime with questions or concerns you might have during your contest. You can rate the designs and give feedback to the designers, this will help you find that perfect logo design for your business. At the completion of the logo design contest you will choose a winning design. The designer will then upload their completed designs so you can download it from your account.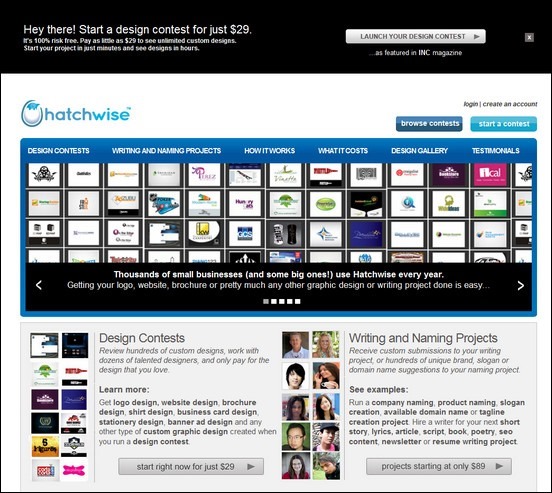 Hatchwise is also a design contest websitewhere you can run your design contests and where you can rate, review and provide constructive criticism on the custom designs you receive. Here you can make contests for such projects as logo design, writing and naming projects for brands and companies, tagline and slogan creation. With many design projects around, you can post your project for only $29. Pay the prize amount only when you have found a design that you are totally satisfied with!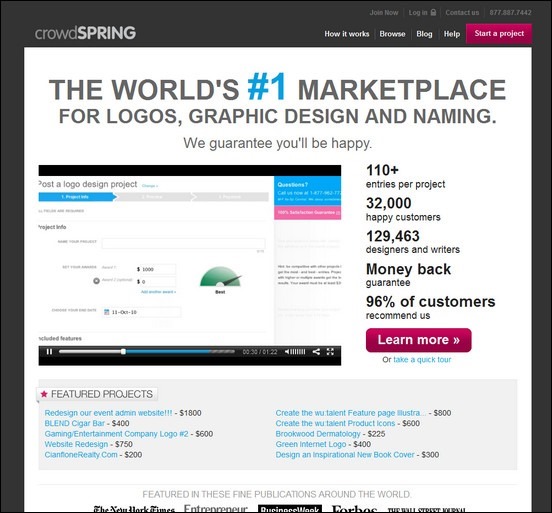 CrowdSprng is a crowd sourcing marketplace where you can run projects in the areas of logo design, web design, industrial design and copywriting. The site charges a listing fee plus a 15% commission to host the project and in return they give you access to about 130K designers and writers. Also, instead of working with one or two designers and choosing from a few designs, you get to work with dozens of designers, choose your favorite from an average of 110+ custom designs, and get full rights to the design you choose at the end.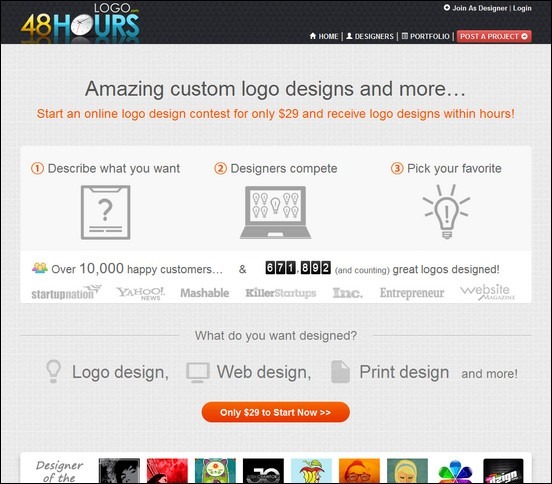 48hourslogo is a place where small business owners can have their company logos created in just 48 hours. It takes only 3 simple steps: Fill out a logo questionnaire and set a prize amount for your logo project. The minimum prize for your logo is only $89; you can even start your project with initial payment of just $29, and pay the remaining balance after you have seen the logo concepts created by our designers. After that, designers submit their logo ideas while you provide feedbacks. Once your project is live, designers will submit their logo design concepts. You can rank each concept and provide feedbacks for improvements. Lastly, you select a winner and download your logo files
After your project ends, you have up to 7 days to select a winning logo design. The designer will be notified, and you will receive the final design in a logo package.
MycroBurst is a community of more than 30,000 graphic and logo designers from around the globe who compete for your business. Competition drives results. Just like EBay, you can name the price you want to pay for your graphic or logo design project. Then you can invite designers to participate in your design project, easily evaluate and give feedback on your designs on one simple platform. Since the designers want to win your business you'll receive diverse, original, custom graphic and logo design concepts.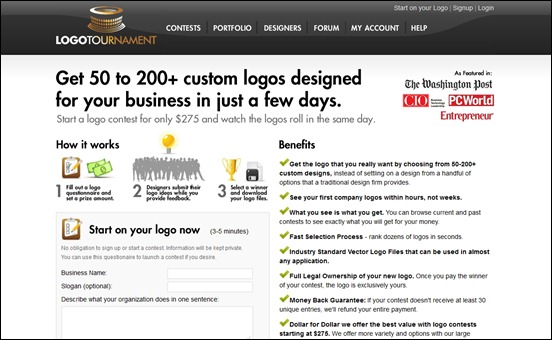 In Logo Tournament the contest runs after clients fill out the logo brief and prepay the prize through their Visa, Mastercard, or Paypal account. The contest will go live instantly once payment has been completed. A contest will run over a 6 day period, and will consist of two phases. First is the Open Phase – 3 Days. This is the initial "audition" part of the contest where all designers will be able to submit their logos. Designers need time to develop their initial ideas, so most of the entries won't start showing up until the last day or hours of this phase. Next, comes the Top 5 Designer Phase – 4 days.
In this phase the field is narrowed to allow to work your five favorite designers, which can be changed at anytime. Limiting submissions to the top 5 designers ensures more personalized attention and dedicated service. A designer is much more likely to go the distance with you if they are only competing with four others, instead of dozens and dozens.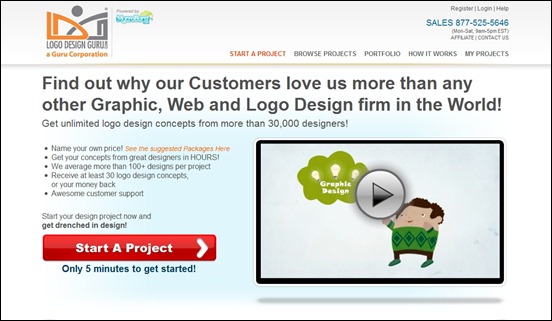 One of the amazing features of Logo Design Guru, is you can name your own price! The more you invest, the more designs you'll receive from designers. Prize amounts vary from affordable rates as $199 to over $5000!. Logo Design Guru will charge you 20% of the prize money for holding the project. You can also add additional services to your Project. Once your project begins, the global design community attached to Logo Design Guru will submit design concepts based on your creative brief. You can rate the uploaded drafts and communicate directly with our community. Designers will happily provide revisions based on your feedback. Your Project will be complete after 7 days, unless you decide to extend your project for 3 days for only $29. Once your project is complete, you will have 7 days to pick a winning design. After you select the final design through your panel, Logo Design Guru will receive the final files (EPS, AI, JPG, GIF, etc.) from the designer, and will then email your final designs to you. Logo Design Guru will then release the designer's payment from escrow to pay
the winning designer.
To get started at Choosa, use our easy-to-use design brief to describe what you need designed. At the same time, you can tell the design community how much you wish to pay for the design work. Designers will then start to submit concepts to compete for your prize money. Make sure that you provide ongoing feedback so you get a design that exactly meets your requirements. Once the contest deadline has been reached and you are happy with the entries, you simply choose your favorite design and award the winner. The designer will then send you the design and will provide you with complete copyright to the original artwork.