In our fast paced lives that usually involve working with various gadgets whether it is the office computer or personal notebook or even your own mobile phone, we always want the best wallpaper that matches our mood, lifestyle, and taste. Some people want to capture and even relive a certain season based on their liking. Whether it is for sentimental purposes or simple fondness, wallpapers have always been a sure hit.
Because winter somehow marks the start of the holiday season, beautiful winter wallpapers and amazing winter screensavers are always on top of the most searched list during this season. People want to capture the amazing holiday season feeling through gorgeous winter desktop backgrounds, winter wallpapers, and winder screensavers.
To help you in your quest for the best winter desktop wallpaper for your computer, here are those that made it to our top list.
There is simple beauty and joy coming from this winter desktop wallpaper as it captures a winter night as snow falls from the sky as it slowly covers the trees against a post light.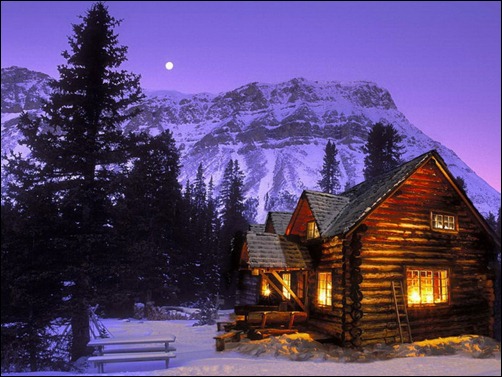 Lighted cabins during a winter night have always been a favorite winter wallpaper theme ever since. This is because of the homey feeling of warmth winter backgrounds like this gives during cold winter nights.
Great winter wallpapers are known to be shot by photographers who hope to have a good fall shot but ends up having a winter shot. This is a perfect example as it almost borders winter and fall time with the showcase of colors making it perfect for winter screensavers.
Winter Evening Light – MORE INFO
This is one of the popular subjects of winter photography that are favored as winter desktop backgrounds. We sense a flicker of hope peeping out of this winter wallpaper with the sun in the background against the snow-covered trees.
Beautiful Tree Alley – MORE INFO
The snow-covered road in between the trees makes this a highly appealing winter wallpaper. We love the antique color effect on the trees that made it even more an amazingly unique winter wallpaper for computer.
Berries in Winter – MORE INFO
Macro shots are another winter wallpaper theme favorite as the snowflakes look amazingly good. Berries and branches slightly covered in snowflakes undoubtedly make it even more wonderful as this winter desktop wallpaper reminds you that Christmas is just around the corner.
Beautiful Winter Scenery – MORE INFO
What better way to remind us of the beautiful landscape that winter brings than this beautiful winter scenery captured in full beauty with sun sharing a bit of its light to the snow-covered trees. This is truly one of the best winter desktop backgrounds.
You simply have to love the colors in this winter wallpaper. We love the snow-covered road against the blue sky background peeping in between the snow-covered trees making it very picturesque for winter desktop backgrounds.
Winter Village Lights – MORE INFO
A great winter wallpaper can only either be nature in its most powerful form or a picture depicting Christmas in its most lovely state. This winter wallpaper for computer is definitely the latter that would make you go home and spend Christmas with family.
Earth Winter Tree – MORE INFO
This could be the simplest yet absolutely gorgeous winter wallpaper. Being a lover of macro shots, I love the partially snow-covered pine tree in all its grace. This is one of the winter backgrounds that remind me of Christmas morning.
Beautiful Blue Winter Sky – MORE INFO
Who does not love clear blue skies after an evening of snowfall? It also provides photographers a perfect background for stunning winter horizon shots like this. The blue skies make the snow-covered trees stand out even more making it a perfect winter wallpaper.
Earth Winter Lake – MORE INFO
The winter elements that constitute a perfect winter picture are all present in this winter wallpaper. It is the perfect winter wallpaper for computer as it features the trees, icy lake, and blue skies.
Bea
Beautiful Winter Frost – MORE INFO
This is another one of the gorgeous winter wallpapers that give the feeling of being enveloped by snow-covered trees and branches. What makes it even more wonderful is how the sun peeps through the blurred horizon.
Aspen Trail Winter Wallpaper – MORE INFO
This is one of the best winter desktop backgrounds that give a little twist to the usual tree scenery. It highlights the wooden trail and the sun shining brightly on top of the trail.
Winter Landscape – MORE INFO
This winter wallpaper features mainly the trees, mountains, and the blue skies but it is nevertheless very gorgeous. It is perfect for winter backgrounds and winter screensavers as the sun starts to shine against the beautiful landscape.
Winter Road Trees – MORE INFO
This is another one of the simple winter wallpapers but oozes with appeal. It almost looks like it is in a black and white setting because of the road tree color against the blanket of snow but with a blue hue on the sides.
This winter wallpaper is almost unreal with some tweaks on the photography setting and editing but it is undoubtedly gorgeous and perfect for winter desktop backgrounds and winter wallpapers.
Shine of Blue Snowflake – MORE INFO
This is another one of the simple winter wallpapers that scream winter in its simplest form. We all pretty much love snowflakes for its unique shape and form and how it reminds us of the beauty of winter.
Berries Winter Wallpaper – MORE INFO
Those who love berries at any given time of the year will love this winter wallpaper for computer even more. It is simple but the macro shot is amazing as it was able to capture the snow partially covering the berries, touches of red in the white landscape.
There is definitely something about the forest that makes it the perfect location to shot winter photos that are perfect for winter backgrounds and winter screensavers. This particular shot takes us back to Narnia days.
This is one of our favorite winter desktop backgrounds. It is very picturesque and you just have to love the landscape reflection in the lake and the contrast of the red color of the house against the bluish white background.
For a change of scenery, we love this shot as it highlights the amazing building structures in the midst of a snow and what seems to be a cold night. This is another favorite among the winter backgrounds today.
This is a simply but cute winter wallpaper design that seems to be a hit as almost every person gets emotional near the Christmas time. It features the Christmas color red, snowflakes, and gloves that make its simplicity perfect for a winter wallpaper for computer.
This is a gorgeous winter wallpaper that anyone would truly love to set as their winter desktop backgrounds. It gives the feeling of being enveloped in tall pine trees covered with snow that can put anyone in the mood for the holiday spirits. This is posted by Kari Liimatainen who is from Finland and believes that photography is his new direction in life.
There is something about snow and sun being captured in a single photo that makes it extremely interesting. We love how this winter wallpaper will make an outstanding winter desktop wallpaper. If you take a longer look, it is like hope emanates directly from the photo. It could be the sun shining brightly at the end of the road but whatever it is; we and a whole lot of others love this winter wallpaper for computer.