Nonprofit WordPress themes have made it easy and less expensive for nonprofit organizations to build a strong online presence. It is easier than ever to setup beautiful websites and give people the opportunity to start following your activities. It is even possible to start accepting donations online without having to code anything.
WordPress is a free open-source content management system (CMS). It is easy to manage, and it is a cheap and fast way to get started. Beside all the beautiful and feature-rich WordPress themes available, you can also get an enormous amount of powerful WordPress plugins to help you achieve the functionality and features needed.
In this article, I have collected more than 25 high quality nonprofit WordPress themes that you can use for promoting your online charitable work. These nonprofit WordPress themes have all been created by professionals, and they where specially designed for nonprofit organizations. This include involving people in charitable work and finding like-minded individuals.
Bear in mind that a beautiful design in your website will demonstrate professionalism, and show people that you care for the brand of your organization. It's not wise to scare potential donors away with a poor website design. Take a look at each of the nonprofit WordPress templates I have compiled for you. Afterwards, provide us with your thoughts through the comment section below. Kindly share this post with your friends, as well.
Disclosure: Please note that some of the links below are affiliate links and I will earn a commission if you purchase through those links (at no extra cost to you). I recommend that you do your own independent research before purchasing any product or service. This article is not a guideline, a recommendation or endorsement of specific products.
ChurcHope WordPress Theme – MORE INFO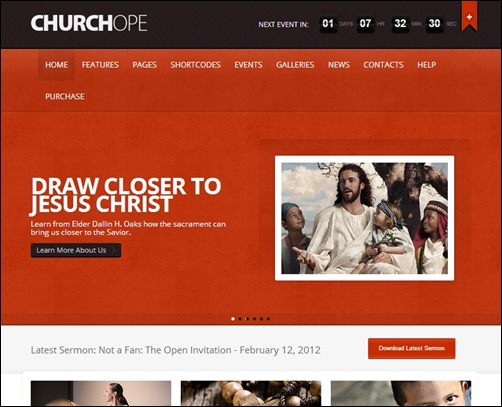 Every pixel of this theme can be controlled by you. You can set your colors, background patterns, change fonts, change layouts for different pages.
Advocate Nonprofit WordPress Theme – MORE INFO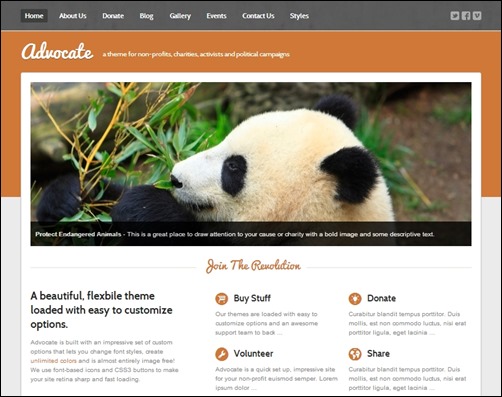 Advocate is a WordPress theme ideal for nonprofits, charities, activists and political campaigns.
WordPress Politico – MORE INFO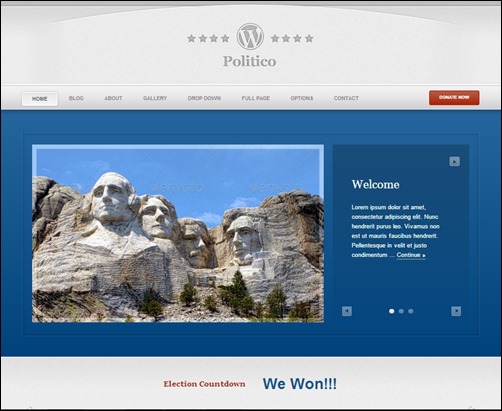 The premier political theme on Theme Forest! WordPress Politico is ideal for political campaign sites. The slideshow is great for drawing attention to important issues or promoting a candidate into office.
Ecclesia Church WordPress Theme – MORE INFO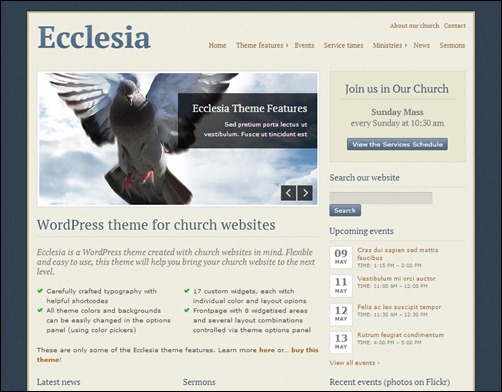 Ecclesia is a WordPress theme created with church websites in mind. Flexible and easy to use, this theme will help you bring your church website to the next level.
Foundation Theme – MORE INFO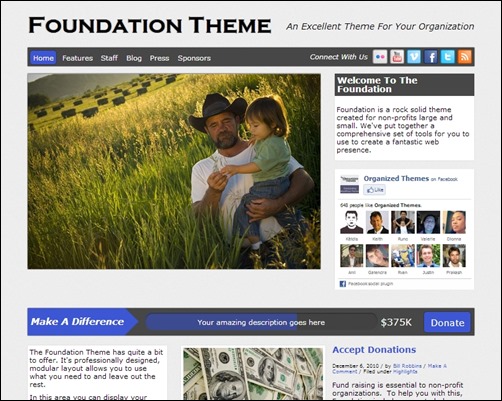 Foundation is a rock solid theme for WordPress. It has been designed from the ground up to meet the needs of non-profit organizations both large and small. Here's a quick look at the theme's features.
Progress WordPress Theme – MORE INFO
Progress is a versatile, responsive WordPress theme that's hand crafted for non-profits and businesses. It has a lot of useful features.
Charity WordPress Theme – MORE INFO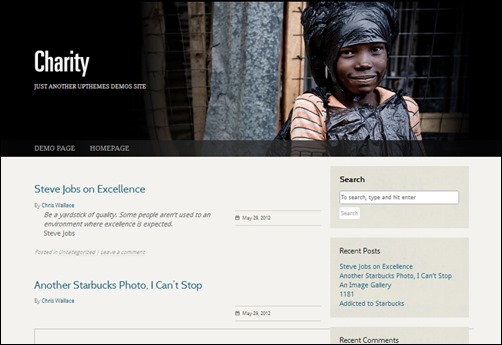 A powerful, easy-to-use CMS WordPress theme aimed at making life easy for charities and non-profits to get up and running in a snap.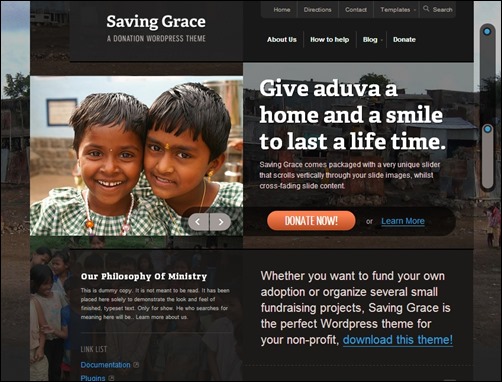 Saving Grace is a theme specifically for charities & non-profit organizations. Designed by Matthew Smith, the theme features stunning typography and attention to detail. We've also included donation functionality so you can accept donations through PayPal and let visitors see the progress of donations in the theme.
Risen Church WP Theme – MORE INFO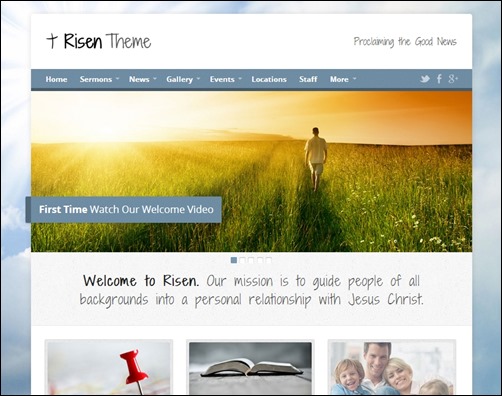 This church theme for WordPress has the features a church website needs — a mobile-friendly responsive design, sermon archive, photo and video gallery, church events calendar, support for multiple locations, staff profiles and church news. Risen is also useful for non-church websites that need rich multimedia publishing capabilities for audio, video and photos and that want to promote events. The sermon archive can be fully renamed using the theme options, making this a WordPress theme not only for churches but also parachurch ministries, nonprofits and charities, conference websites and multimedia presentation archives.
Light of Peace Church Theme – MORE INFO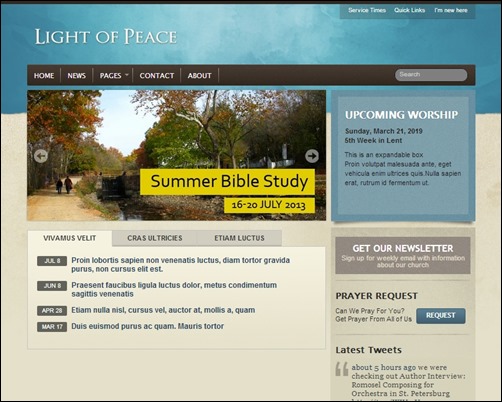 This is a church theme WordPress Template. Some people use it for wedding and non-profit website. There are four color scheme included in this template. This wordpress theme also has an admin panel.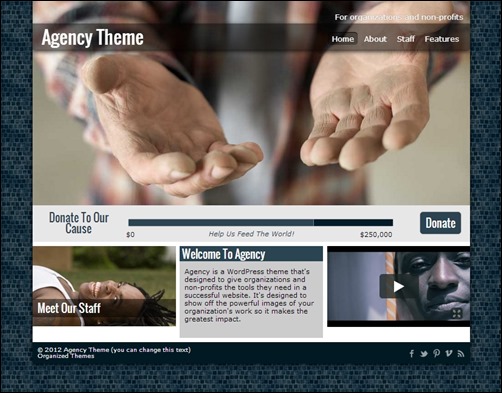 This theme is designed with non-profits in mind, though it can be used on any general business, church or organization site as well. It features a prominent header slideshow where you can use images and or videos. Take a look around and be sure to check out these great features.
Earth – Eco/Environmental WordPress Theme – MORE INFO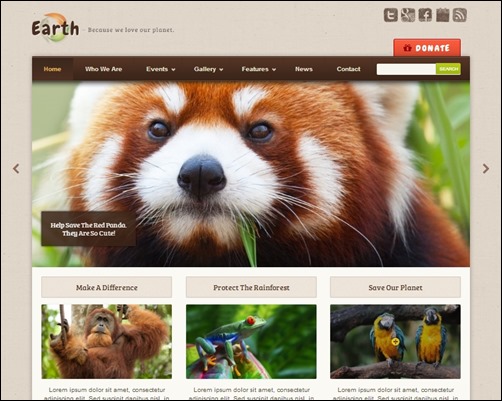 Earth is a premium WordPress theme created with Environmental/Eco-Friendly websites in mind. It's the perfect solution for all types of business and non-profit organizations that want to add an earthy touch to their online presence.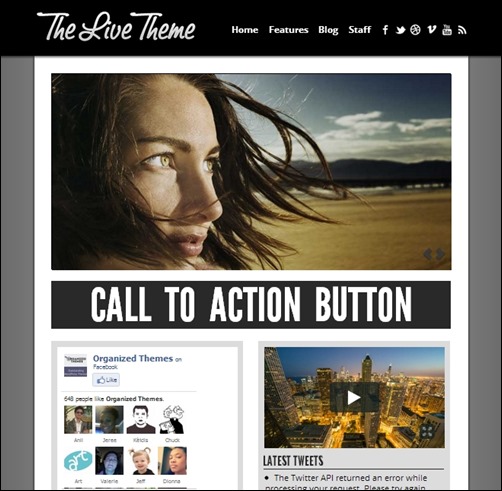 The Live Theme is a versatile and easy to customize WordPress theme. It's good for businesses, organizations or even individuals who are looking to take their web presence to the next level.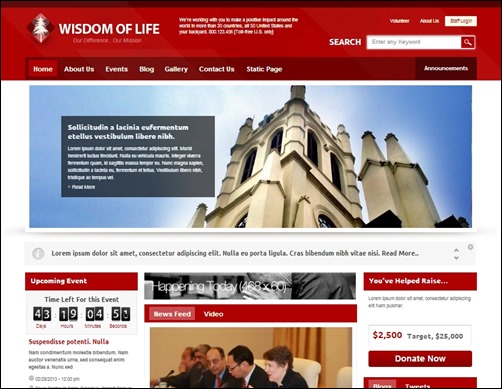 WISDOM of Life, it's a clean and elegant theme, developed mainly to setup NGOs, non-profit orgnizations and corporate websites. Using the color scheme of your choice by using the color picker make it elegant and high visual impact experience. This theme is best suitable for a small to large NGO Organizations to setup reference website. Theme works in all the major browsers, and has massive features to use for your next projects as well.
Non Profit Theme – MORE INFO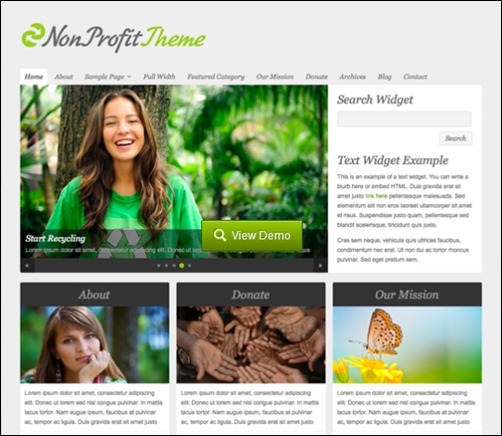 The NonProfit Theme is a well rounded business theme that was created with non-profit and environmentally conscious organizations in mind. The design is clean and inviting, while the layout allows for a variety content to be displayed on the home page. Raising awareness for your cause is made easy using the NonProfit Theme.
Outreach Church Theme – MORE INFO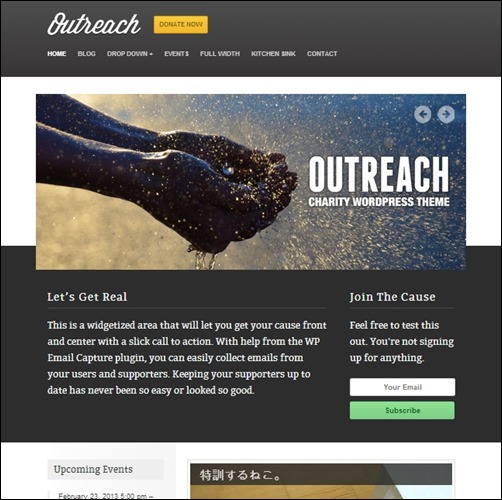 Outreach is a theme that's made with non-profits and charity organizations in mind. It's built with the WP Email Capture plugin in mind to collect names and emails of your supporters and The Events Calendar plugin to display all of your upcoming events. There's also an easy to set up donation button in the header. Outreach is also responsive and Retina Display ready. Your iPad has never looked so cool.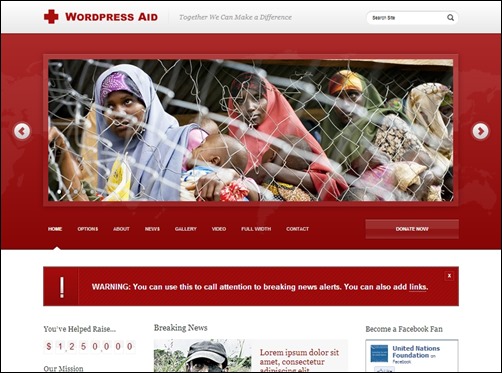 WordPress Aid is ideal for charity organizations. It's focused on raising funds for your charity and alerting visitors to important issues happening in the world.
Kindness WordPress Theme – MORE INFO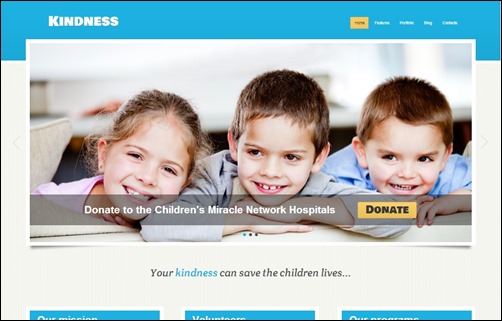 Kindness is the best responsive wordpress theme for nonprofit organizations and charity foundations. Looks great on any device with any screen resolution. Supports Post Formats, has awesome widgets and a wide variety of useful shortcodes.
The Cause Theme For WordPress – MORE INFO
The Cause is a clean and elegant non-profit WordPress theme that can be used for a variety of purposes and causes. From standard non-profit, charity and activism websites, to religious and political organizations The Cause is a must have theme.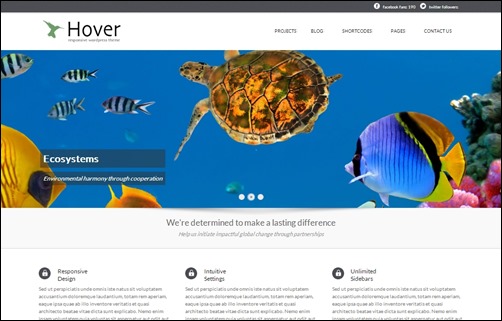 Hover is an elegant responsive WordPress theme created for specifically for nonprofits.
Bhinneka Nonprofit WordPress Theme – MORE INFO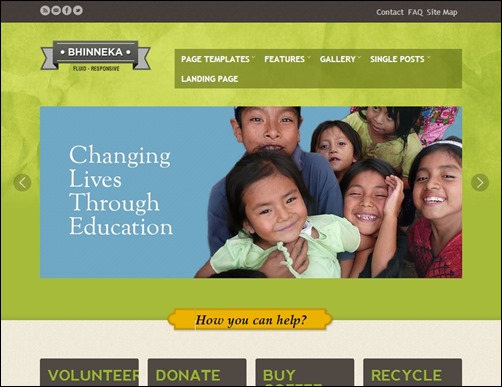 Bhinneka is a responsive WordPress theme with two-column page layouts, slideshow support, three alternative styles, widgets and drop down menus. Perfect for non-profit organization, charity, or corporate websites.
Green Earth WordPress Theme – MORE INFO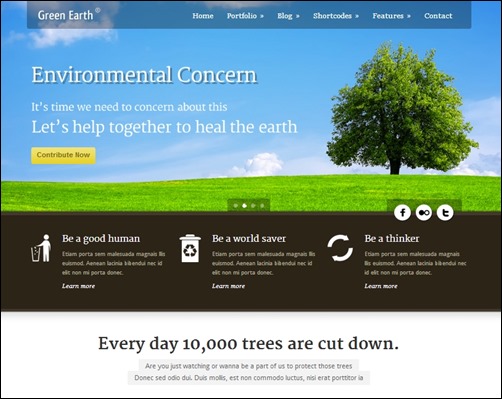 Green Earth is a non-profit WordPress theme. It's really well designed to best fit the business and non-profit organization that need environmental style. It comes with a new feature 'Custom Slider' which allow you to manage slider freely.
Relief WP Nonprofit Theme – MORE INFO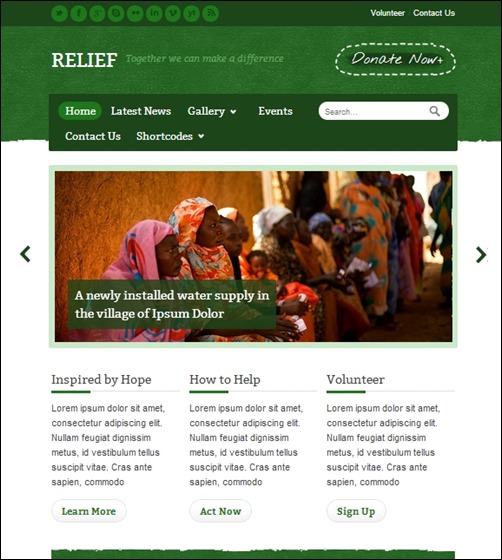 Relief is a highly customizable Responsive WordPress Theme designed with Charities and other non-profit organisations in mind.
Blessing Church Theme – MORE INFO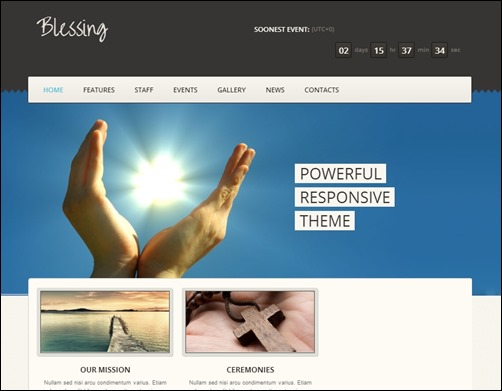 Blessing Responsive WP Theme is the high quality web-masterpiece. The main destination of this theme is to serve religion and charity organizations, churches, parishes, etc. It also fits in many business branches.
Incarnation WordPress Theme – MORE INFO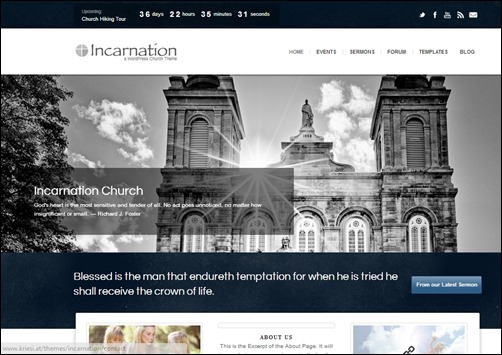 Incarnation is a responsive WordPress Church Theme (try resizing your browser), suited for any kind of Church Website that wants to provide a community site to its visitors. It comes with support for audio and video sermons, a fully fledged event calendar, a community forum and many other options. The Theme is built on top of the fabulous Avia Framework and offers support for the WPML MULTI LANGUAGE plugin, just in case you need it.
Mission – Responsive WP Theme For Charity – MORE INFO
Mission is a premium responsive WP template for charity and foundation website. After purchasing this theme, you will receive the WordPress version as well as the full HTML version and 6 PSD files. They are all layered and well organized in folder for easier use.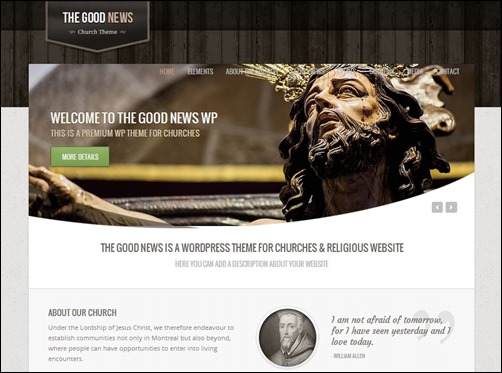 The Good News is a premium WordPress theme designed mainly for churches and religious website. It can also be used for any other type of website, especially for environmental, spa, charity etc.