Right now, WordPress themes come in different styles, layouts and color schemes. While minimalist and simple WordPress themes have become very popular, there are a handful themes on the other hand, which are less popular but still beautiful and creative website templates . These are the dark and grungy WordPress themes. Unlike traditional themes, grunge have an old, dirty, and dark texture that makes it appear to be messed up. Also grunge themes designs do not have glossy buttons and navigations but instead some soiled and weathered interfaces. All these elements play up to establish the reputation of grunge WordPress themes as something creative, artistic and personal, as opposed to rigidly professional and businesslike corporate templates. That being the case, grunge WordPress are commonly used in personal websites and in some firms whose business has something to do with art and creativity like music artists, photographers and graphic designers. For this type of businesses it is also recommended to look out for dedicated WordPress portfolio themes as they are constructed specifically to showcase projects, photos, art ect. online.
Here in this article, you can find beautiful grungy WordPress themes that you can use on your website to exude the characteristic attitude, look and feel you've wanting to have. These are all premium items coming from some reputable template providers. We hope that this article can help you in your search for an ideal grunge WordPress theme. Enjoy!
Dilapidated – Blogging Grunge WordPress Theme
This is a 7-in-1 grunge style WordPress theme primarily designed for personal blogs and general content websites. It is ideal for a metal/rock music website or really for anyone who is looking for that grunge look.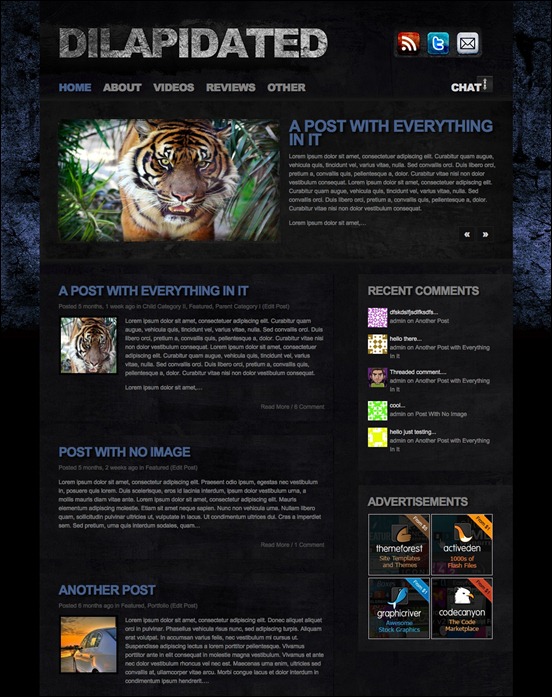 MORE INFO  |  DEMO – by Themeforest (Premium WordPress Theme)
Music Pro – Music Oriented WordPress Theme
Music Pro is a music oriented wordpress theme, perfect for a band, a label, or a webzine. It is fully customizable, easy to use and well documented. It can be used for any other purpose as well.
MORE INFO  |  DEMO – by Themeforest (Premium WordPress Theme)
Smallfolio — WordPress Theme
Smallfolio is a simple theme with dark grunge character for designers or photographers portfolio, games websites, business or small corporate websites.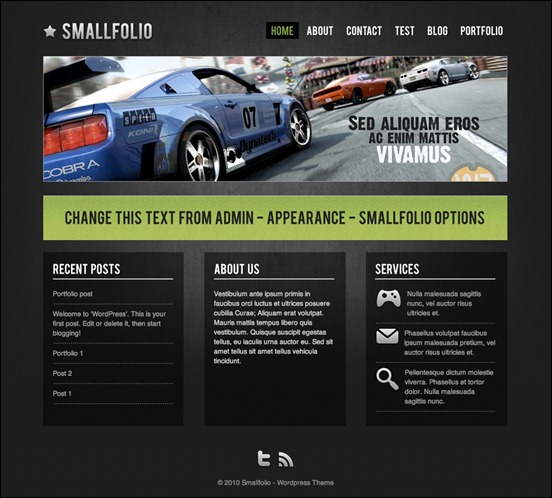 MORE INFO | DEMO – by Themeforest (Premium WordPress Theme)
Grungexperience – Premium WordPress Theme
Grunge experience is an awesome WordPress theme that features 4 Different Sliders, Unlimited Sidebars, Flicker gallery widget and a lot more.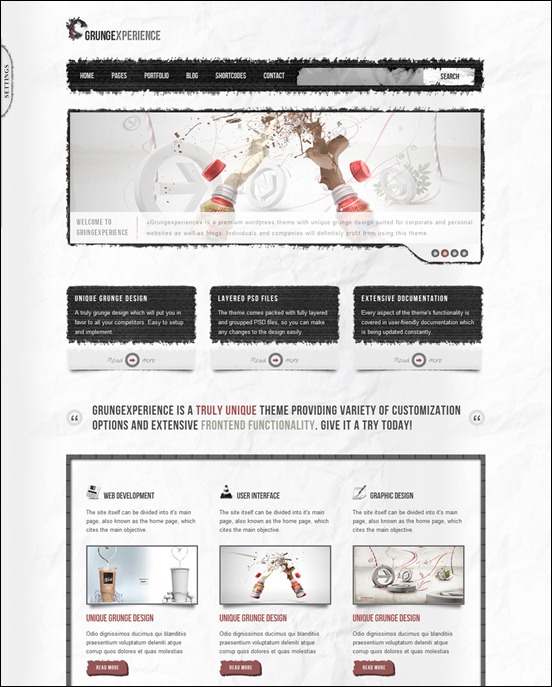 MORE INFO | DEMO – by Themeforest (Premium WordPress Theme)
Blender WordPress Portfolio Theme
Blender is a WordPress Portfolio Theme for both creative professionals and businesses. Literally limitless options. Comes with several Sliders you can use for the Home Page, also Vimeo or Youtube Video, perfect for a Trailer or Demo Reel. Blender is perfect for both beginners with little or no coding experience and also developers. No matter what kind of website your creating Blender will showcase your business in the most creative, professional manner.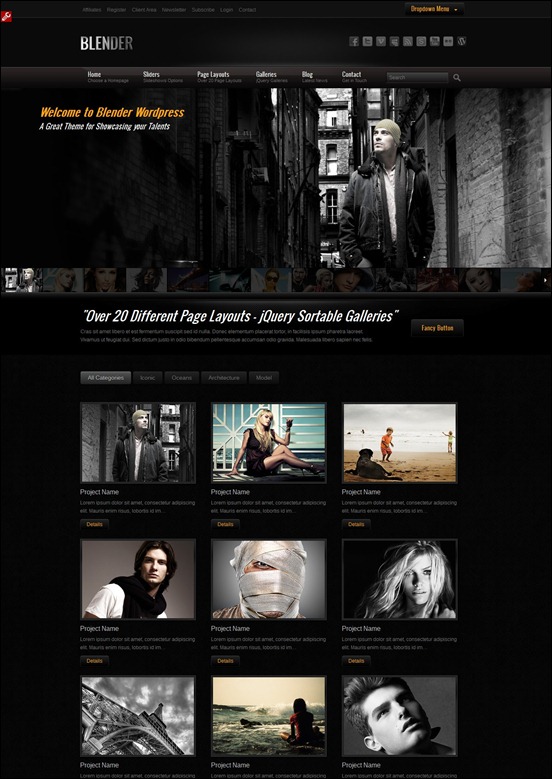 MORE INFO | DEMO – by Themeforest (Premium WordPress Theme)
SuperMassive
SuperMassive is a powerful professional WordPress theme. The aim from the beginning was to create a great looking theme that would allow you to make your own unique and abstract layouts in minutes. Your theme will not look like a generic "premium" WordPress theme, it will look edgy and different. SuperMassive achieves this by incorporating a ton of easy to use shortcodes, all of which you can view in the live preview. It also comes with excellent support for videos and audio.

MORE INFO | DEMO – by Theme Forest (Premium Theme)
The Network – Magazine WordPress Theme
The Network is the complete news network & magazine template that allows you to create your own IGN .com or BBC .co.uk. The Network is designed to generate page views and encourage discussion and contribution while also incorporating social network sharing. The Network features self hosted MP4 video support and a customized Nivo Slider. Perhaps the crowning jewel is the easy to use clickable background advertising that allows you to blend eye catching advertising into your websites design.
MORE INFO   |   DEMO – by Themeforest (premium theme)
Strings Music and Art Magazine WordPress
Strings is a powerful wordpress magazine style, provided with many options. You can put a unique background in each page, blog post, portfolio item, albums, gallery you create. With more than 70 customization options you can improve your look and be unique on the web!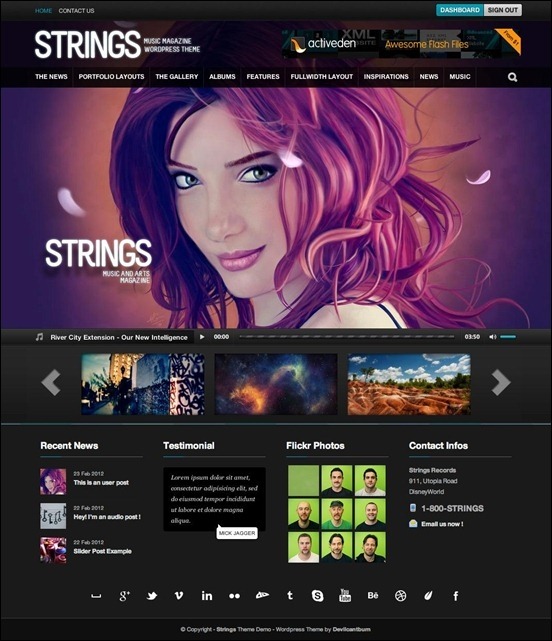 MORE INFO | DEMO – by Themeforest (Premium theme)
RockWell – Portfolio & Blog WordPress Theme
RockWell is a powerful theme with unique features. It's easy to use, easy to customize and most importantly – it allows you to unleash your creativity. Fun, loud and versatile = that's RockWell. Doesn't matter if you are a photographer, business, blogger or a designer – this theme will suit all types.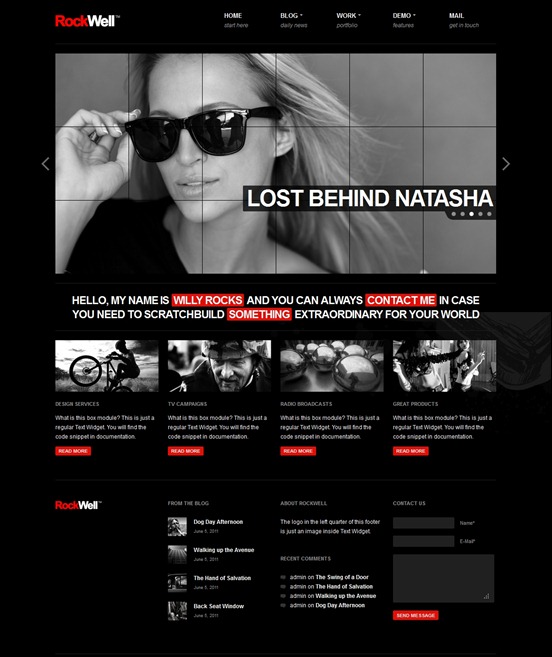 MORE INFO | DEMO – by Themeforest (Premium theme)
Pendulum
Pendulum – it is modern template which was prepared with the thought about people loving the music: DJs, producers, musicians, musical clubs as well as for everyone which are fascinated by a music. It is possible also to use the template for construction of the modern portfolio.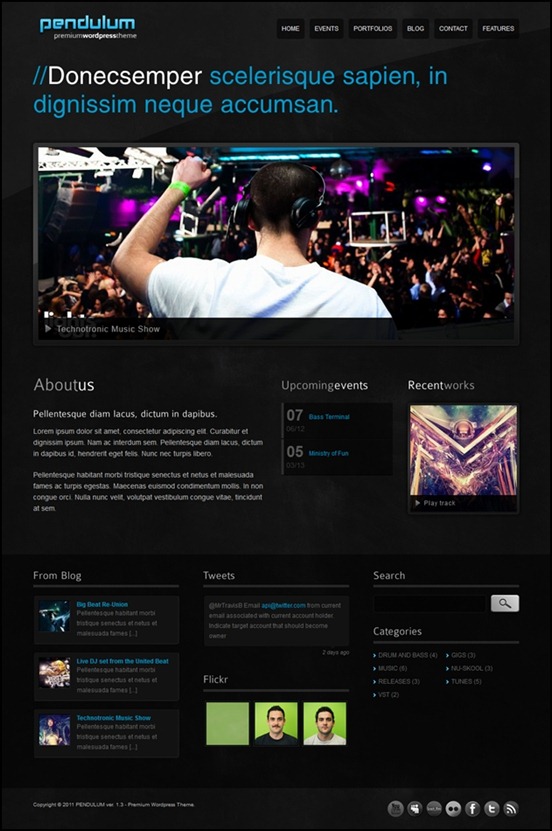 MORE INFO | DEMO – by Themeforest (Premium theme)
Backstage
Backstage is a powerful niche theme design for musicians and artists showcasing their media, upcoming shows and music using hugely flexible custom widgets and audio players. This beautifully crafted layout was designed by Elliot Jay Stocks and boasts 7 alternate styles.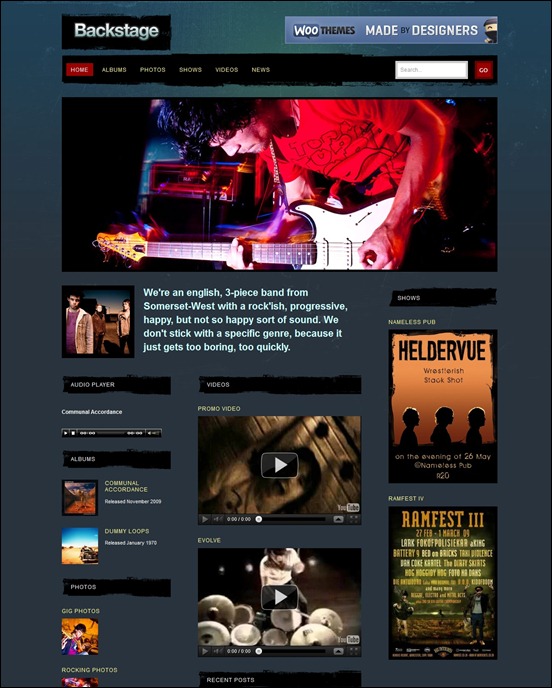 MORE INFO | DEMO – by WooThemes (Premium theme)
Tribal Music Theme WordPress Theme
Tribal is a great urban WordPress music / media theme. The theme is fully compatible with WordPress and Dynamic menus, automatic integration with your Facebook and Twitter account, Sidebar Widgets and a gorgeous featured article slideshow. Add your own music or video player to the theme with the ability to have different layout configurations for full screen and left or right sidebar automatically done by the WordPress admin. Localization and translation is provided with the theme with spanish PO files already bundled in the Developer package.  It is big city meets grunge meets music. Be different. Get Tribal.
MORE INFO | DEMO – by Gorilla Themes (Premium theme)
Magnifica – Blog, News & Magazine Theme
Magnifica is an elegant, powerful and flexible theme that focuses on providing functionality for blogs, magazine and news sites. The theme's main characteristic is it's ability to be layout and color customizable. Every color for every background, text, and area on the site can be modified from the included options panel with just a couple clicks.
MORE INFO | DEMO – by Themeforest (Premium theme)
Dark N Gritty 2.0
Foxhound's Dark n' Gritty is built for bands looking for something to be as gritty as their tunes. Whether you're the next Gallows, August Burns Red, or erm…Metallica—this theme's got what you need. It comes in 4 different colours (Turquoise, Blue, Red, Green), the ability to upload your own promo pic into the header, and link to your other social media hubs. Now includes a slider, updated social media icons functionality, GigPress stying, and many other improvements!
MORE INFO | DEMO – by FoxHound Band Themes (Premium theme)
Amped Theme – Music WordPress Theme 
You're busy touring, writing, and signing autographs on everything put in front of you. You shouldn't have to worry about the nuts and bolts of your website. Amped was built to spotlight your latest video, showcase your music and the show dates you need to promote… all at your fingertips and built on the rock-solid Genesis Framework for WordPress.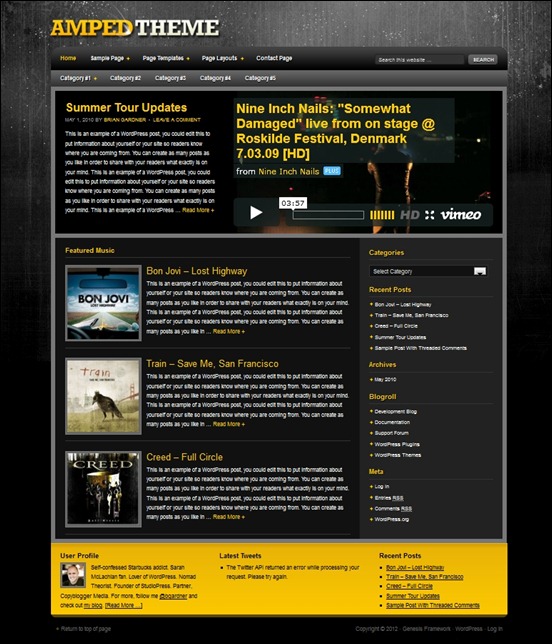 MORE INFO | DEMO – by StudioPress (Premium theme)
Sport Grunge
The Sport & Grunge WordPress theme is designed for websites in the skateboarding, surfing, or even music industries where a dirty grunge style theme is needed.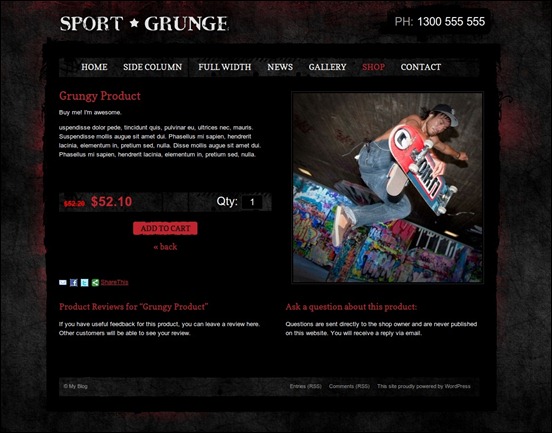 MORE INFO | DEMO – by ThemeForest (Premium theme)
Juggernaut WordPress Theme
Juggernaut is an all purpose and highly customizable premium WordPress theme. Choose between 2 skins, 17 backgrounds, 2 sliders and multiple page templates.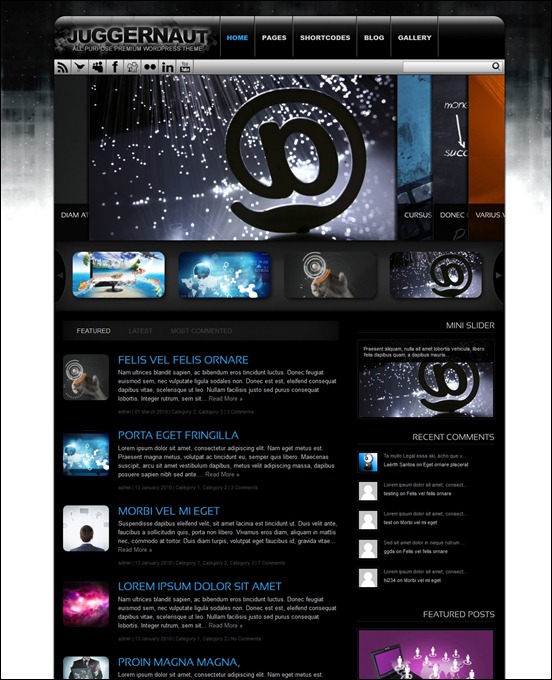 MORE INFO | DEMO – by ThemeForest (Premium theme)
365Life – WP Theme For Blog
A beautiful and stylish dark WordPress themes for blogs.
MORE INFO | DEMO – by ThemeForest (Premium theme)
WordPress Milky Music/Business/Portfolio Theme
A super versatile and easy to use theme for your blog/portfolio/business website. Just effective options, no complication added!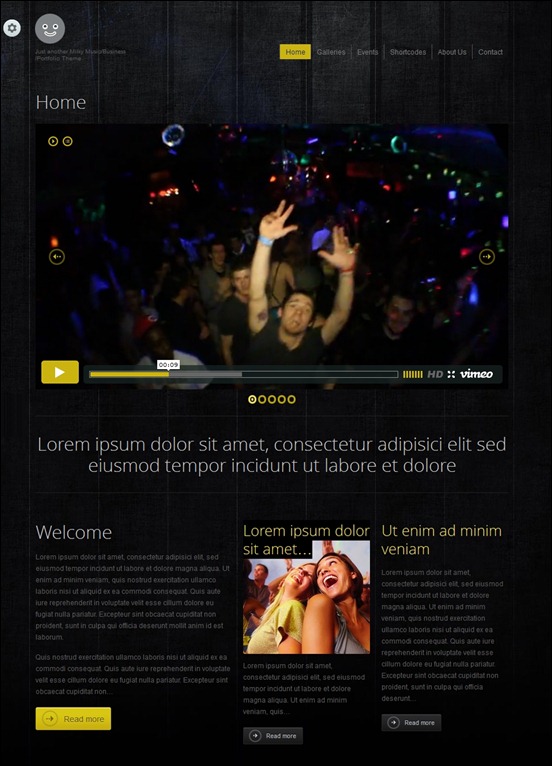 MORE INFO | DEMO – by ThemeForest (Premium theme)
Slash WP
Slash WP is a Premium WordPress Theme that has unique modern design as well as powerful and robust functionality. It was created to serve you as a portfolio, photo-gallery and blog with native support of WP v.3.2. and v.3.3 post formats. Slash WP will become an effective showcase of your works.
MORE INFO | DEMO – by ThemeForest (Premium theme)
Design Showcase
Design Showcase is a highly customizable WordPress Showcase Theme with a lot of Javascript goodies and administrative options.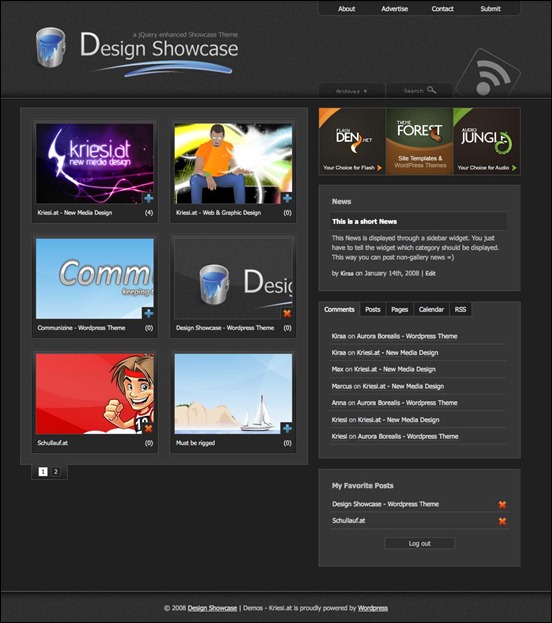 MORE INFO | DEMO – by ThemeForest (Premium theme)
Black Aperture
Black Aperture is an all-in-one news and reviews theme specifically catered to video games.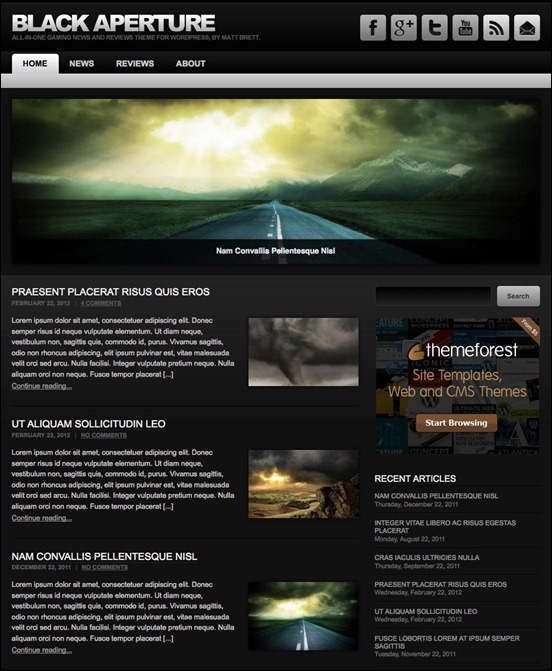 MORE INFO | DEMO – by ThemeForest (Premium theme)