It is generally known that there are two major types of WordPress themes and these are the paid premium themes and the free WordPress themes. However, online bloggers and marketers, especially first timers or beginners, frequently vacillate between the two. After all, premium themes are generally better maintained and have company affiliations. This usually means that you will have technical support whenever you need one. In addition, paid themes are constantly updated with the newest technological advances such as widgets and other similar features.
However, free WordPress themes were not created for nothing. They are there because people find them useful. There are plenty of free WordPress themes that are effective and functional, and can help you create a good online presence without spending money on your web design. To help you understand free themes better, take a look at the featured free simple WordPress themes that are listed below. Some of the features you might want to concentrate on is the theme flexibility, customization options, functionality, responsive layout and cool features like threaded comments, featured sliders and custom menus. As in many other aspect of life it is good to keep things simple in web design. It helps visitors focus on what is important. To implement a website with a clean look and feel, you can among simple WordPress themes. They are also good starting points to build your own unique website.
Underneath this huge list of well crafted, up-to-date free WordPress themes we will talk more about the qualities of free themes. You should also check Splashmagazine.com for a free photography WordPress theme round-up.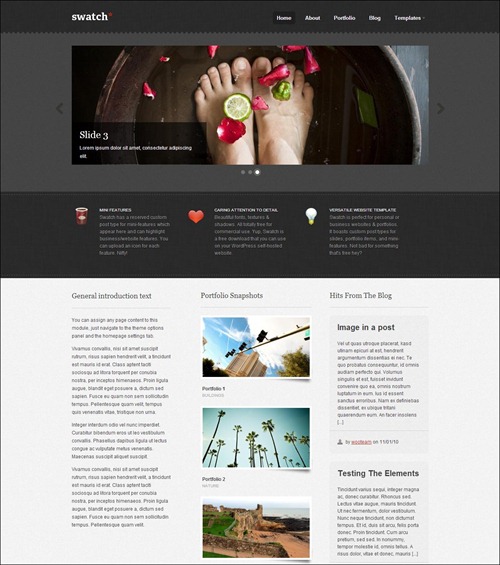 Swatch is business theme that is offered for free by Woo Themes. It has the typical features that you can expect from Woo commercial themes and powered by Woo Framework. This free theme has a portfolio module that allows totally diverse usage.
Lightweight, adaptable, box shaped and simple – the Catch Box free WordPress theme is for both professionals and bloggers. The theme is based on CSS3 and HTML5 while a responsive web design allows viewing from different devices. Catch box is among the free WordPress themes that has the WPML or Multilingual Ready feature, and is presently translated into Danish, Spanish and Brazilian Portuguese. Among the various reasons for using Catch Box are responsive web design, theme options, custom menus, featured sliders, social links, webmaster tools, custom backgrounds, adspace widget, popular plugin support and custom header.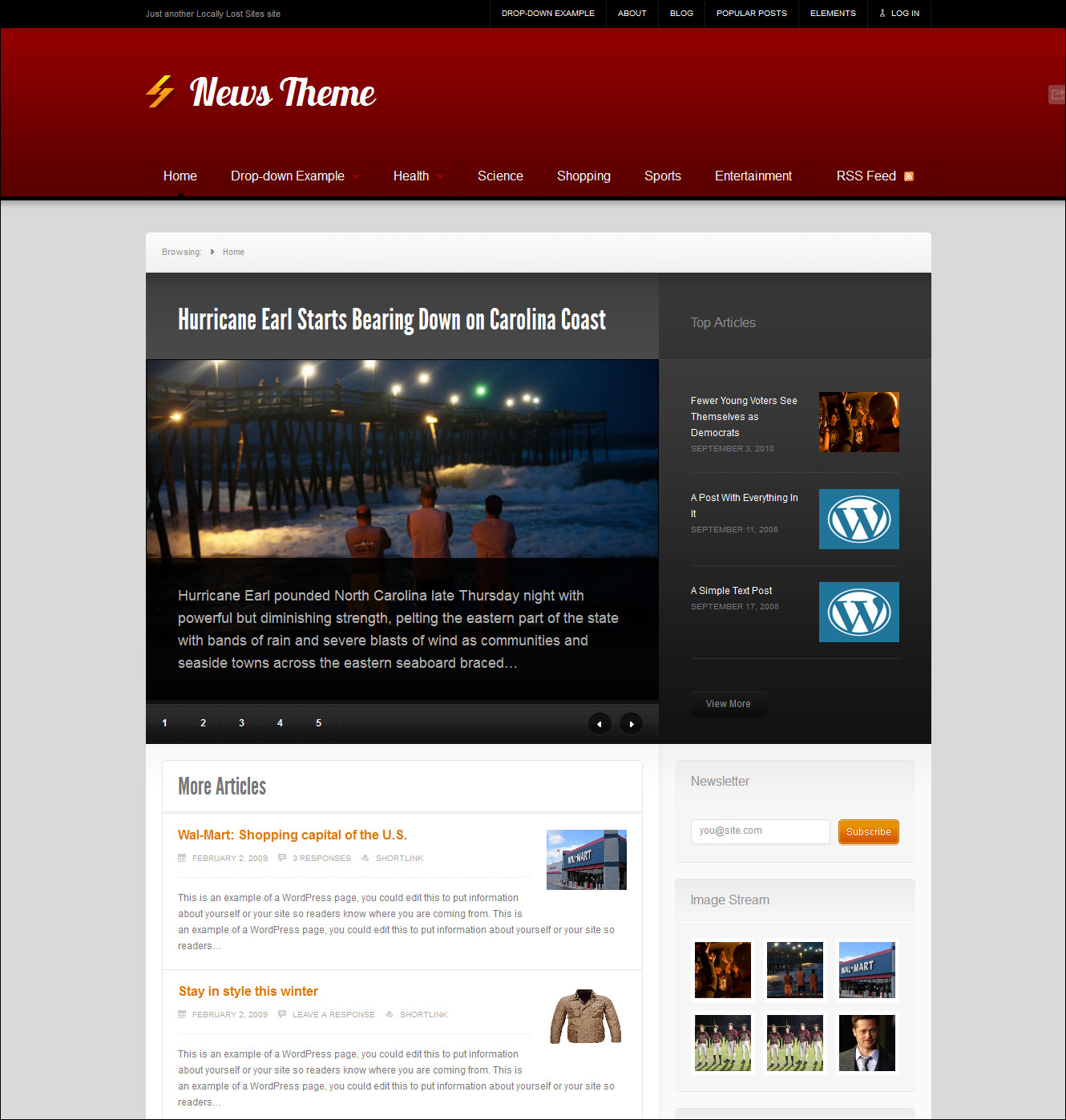 This free theme from WordPress is a clean design developed by DevPress. You could use it for a blog, online magazine or news. Your important videos and articles can be showcased in the beautiful slider featured on the homepage.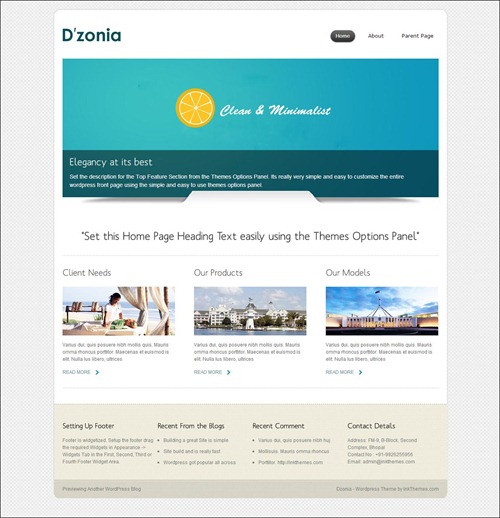 This free theme is the light version of a paid theme. However, it should not stop you from enjoying its individual virtue, which is its extreme good looks. Clearly, it has been aimed for corporate and commercial users, so if you have an online business and you are searching for a free theme solution, this may be it.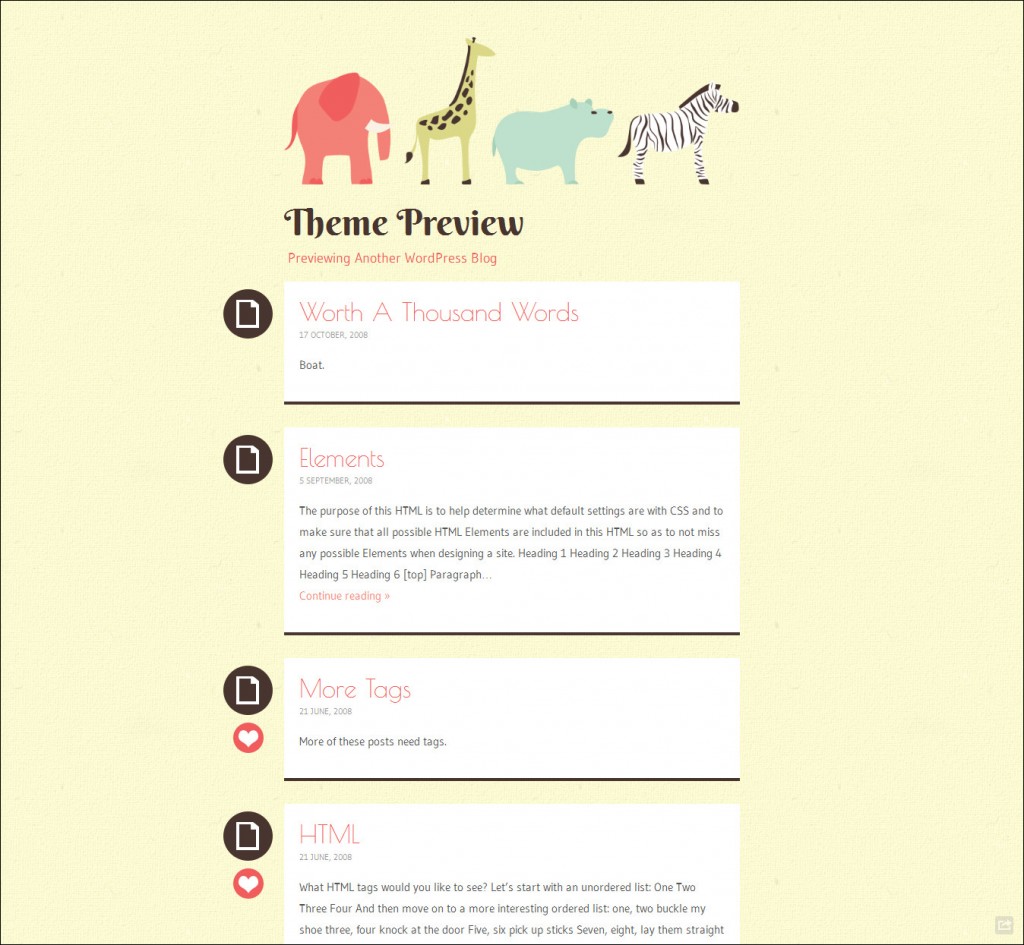 If you like something that is colorful and whimsical in your website, the Pachyderm free theme from WordPress would be perfect. However, do not be fooled by its playful appearance. This free theme is full of functionality. It allows all kinds of post formats and has a header image that is flexible, custom backgrounds and an optional sidebar.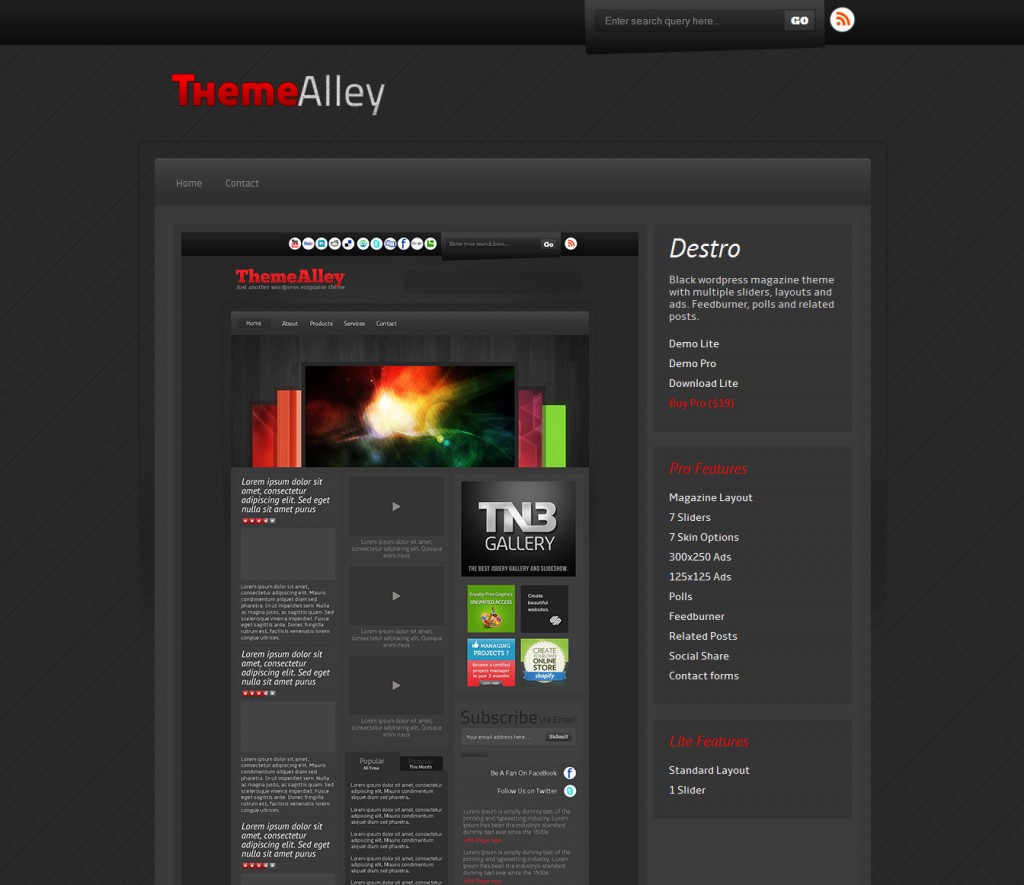 This free WordPress theme includes 4 pre-configured skins that include, blue, black, green and red. It features social icons, threaded comments, widget support and social icons.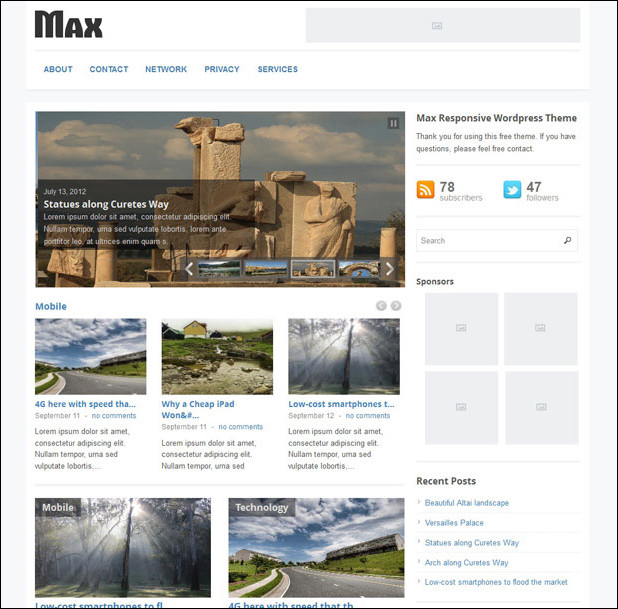 If you are looking for a responsive free theme that is super awesome for your online WordPress magazine or newspaper site, Max Magazine is definitely worth a try. The options panel is very user friendly so you can easily customize your layout. The theme also has an attractive jQuery slider and carousel posts, and the homepage can feature up to four categories.  A couple of sections that are in the footer and sidebar are "widgetized", allowing you to use custom or default widgets that are within the theme. If you have a mobile device such as an iPad, the responsive layout will really look great.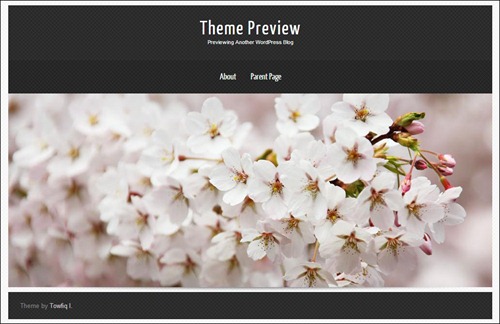 This free theme is packed full of features such as slider, 3 amazing fonts, background image and a theme option panel that is very easy to use. In addition, Theron Lite has 3 widgets built in and 5 shortcodes that can be very useful. This free wp theme has a lot of easy to use options and is SEO friendly. Other features that can be found in this all in one free theme include a full width page, blog page and left sidebar page. A template for your contact page can be used without setting up anything. Theron Lite is ideal for personal and business websites, and is optimized for browsing while on to go – perfect for iPad, Android and iPhone users.
Responsive Theme is very flexible and the fluid grid system will adapt your website to look great on any device. This is important with more and more people surfing from mobile phones and tablets. It is a feature rich theme with 9 page templates, 11 widget areas, 6 template layouts, 4 menu positions and more. You will get powerful but simple theme options for full CMS control with easy logo upload,social networking and webmaster tools etc. Responsive is WooCommerce compatible, multilingual ready (WPML), Retina-Ready and currently translated into 28 languages. Cross-Browser compatible and FREE Support.
D5 Corporate Lite – MORE INFO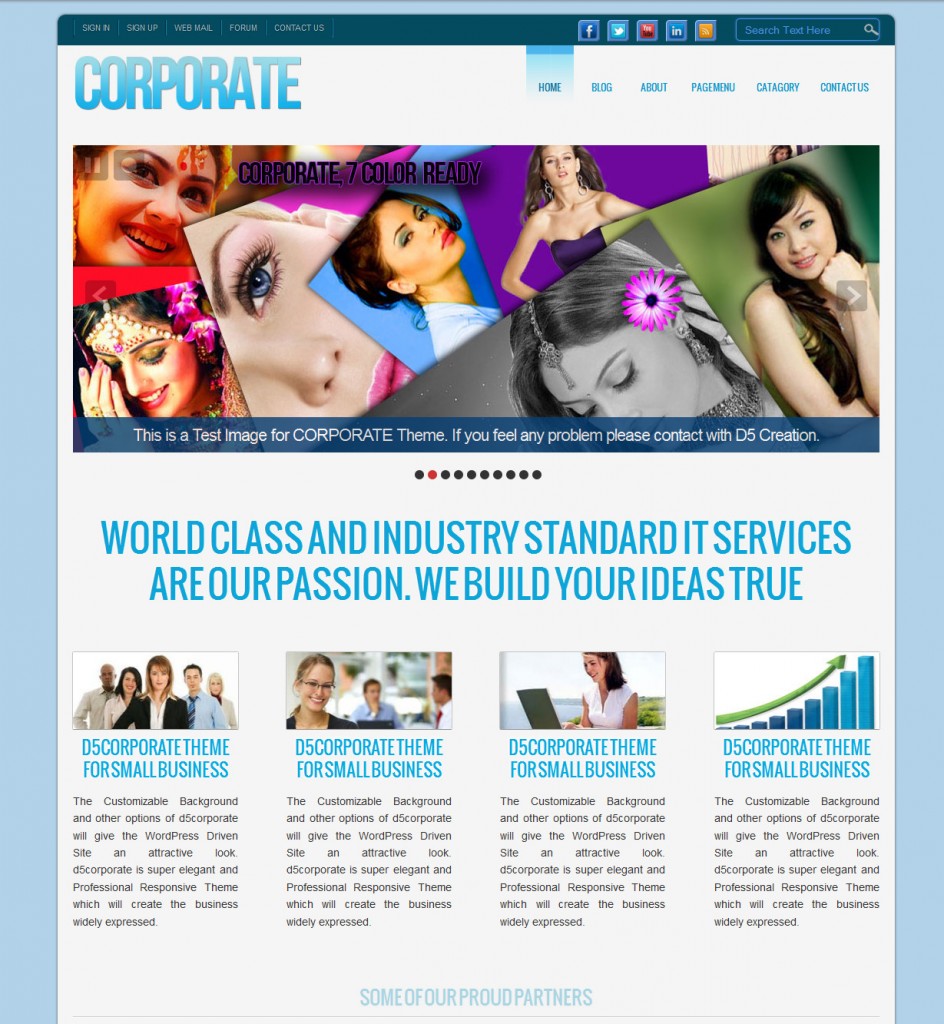 This free theme from WordPress would be perfect for your online business. You can create an attractive page by using a customizable background as well as other features that will create an amazing look for your website. D5 Corporate Lite is very professional and elegant. Your plugins and widgets can be shown on the footer and right sidebar while other pages can be showcased in a full width page.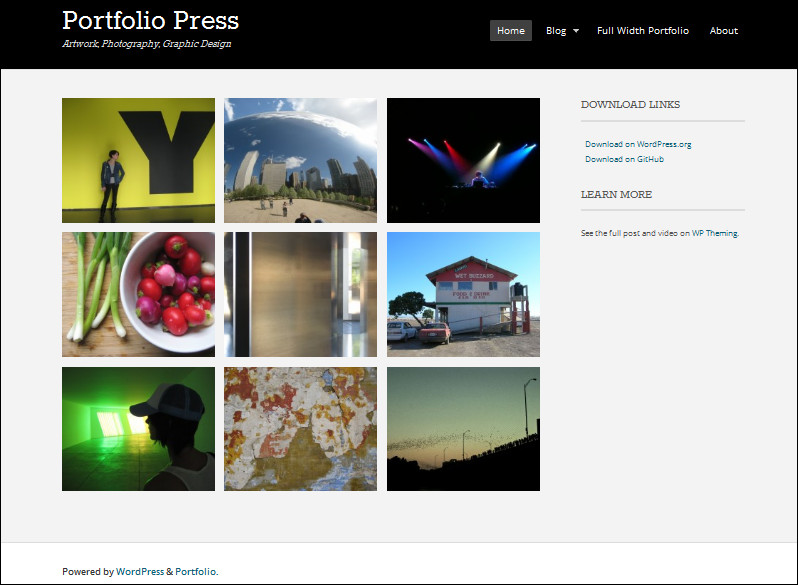 This is a free responsive theme that is ideal for showcasing art, websites, photography and other projects although you can also use it for regular blogging. Changing the layout and uploading logs can be done in the built in options panel. Support for gallery, quote posts and imagery is also included. Instructions for setting Portfolio Press can be found by watching the video screencast or visiting the demo site. This is a classic portfolio style wordpress theme with image grids for showing off creative stuff. If you want more themes like this you should check this collection of portfolio templates.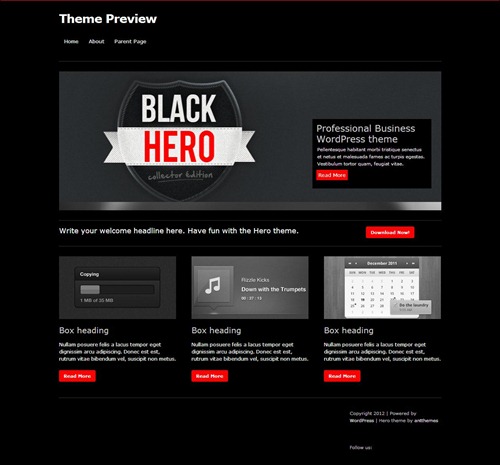 Hero is characterized by a very clean and neat business theme in red and black. The theme features a neat and simple typography and supports widgets. Theme options are included as well as a dropdown multilevel menu and threaded comments.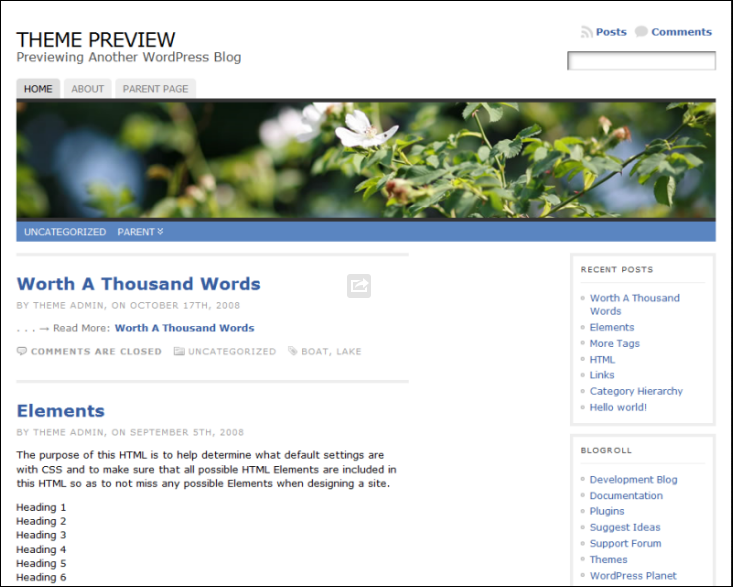 Atahualpa is a very customizable and browser-safe (incl. IE6) theme: Choose between fixed or flexible width layout, with min/max width, set between 0 and 4 sidebars on a per-page basis, create custom widget areas, import and export styles (several styles included), choose colors with pickers, adjust over 200 options. Atahualpa is #1 in total downloads and maintained since 2007. Active community at forum.bytesforall.com.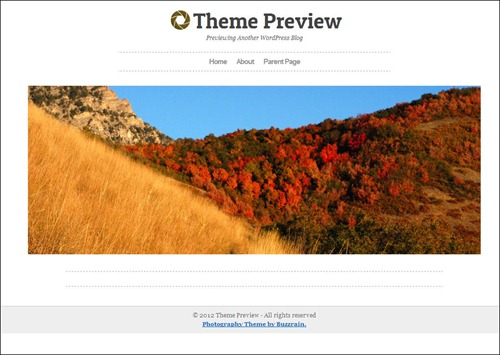 As its name suggests, this is a free photography theme from WordPress that could be utilized as a blog theme and portfolio by photographers. The design is minimal but clean and focuses on images. Photolistic is created on marketing principles, which allow photographers to attract more clients.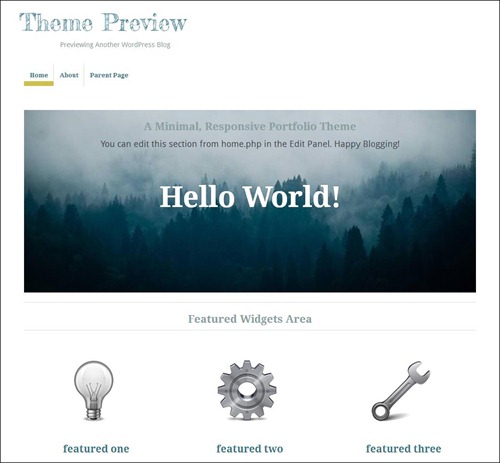 An elegant portfolio free theme that is minimalistic in design, Pilot Fish features a custom post type that can be used to highlight work and projects. It also has parallax scrolling incorporated on the front page for displaying a featured image. It is easy to adapt this theme to mobile device because of its responsive layout. Pilot Fish supports post formats and custom menus, and is available in Spanish and Japanese.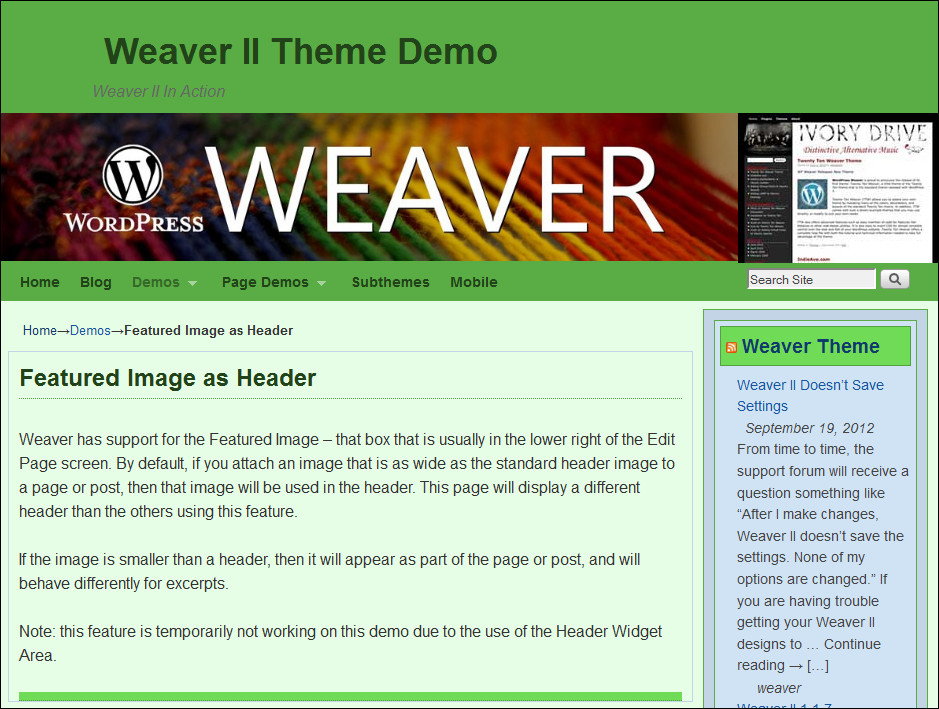 If you want to make your very own site design perfectly, using the Weaver II free theme is the easiest method. You can start your task by using one of the various sub themes that are incorporated with Weaver II and tweak it with the checkbox interface. This theme is great for beginners and professionals alike. Almost every aspect of the site can be controlled – even the individual pages. The different features that make this theme so great are translations for over a dozen popular languages, IE support, popular plugins, active support forum, WP multisite features and context sensitive help. It is really one of the best free WordPress themes that are currently available.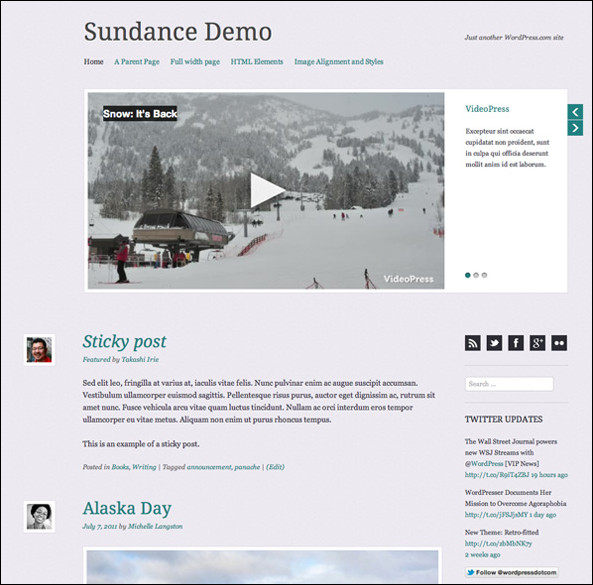 This is a video theme that is offered for free by folks from Automattic. Although its design is minimalistic, the theme has been designed with elegant and clean typography as well as keen attention to detail. A video carousel can be found in the theme home page. Sundance supports custom background, custom menus, video post format, custom header, widgets and custom link for social media pages.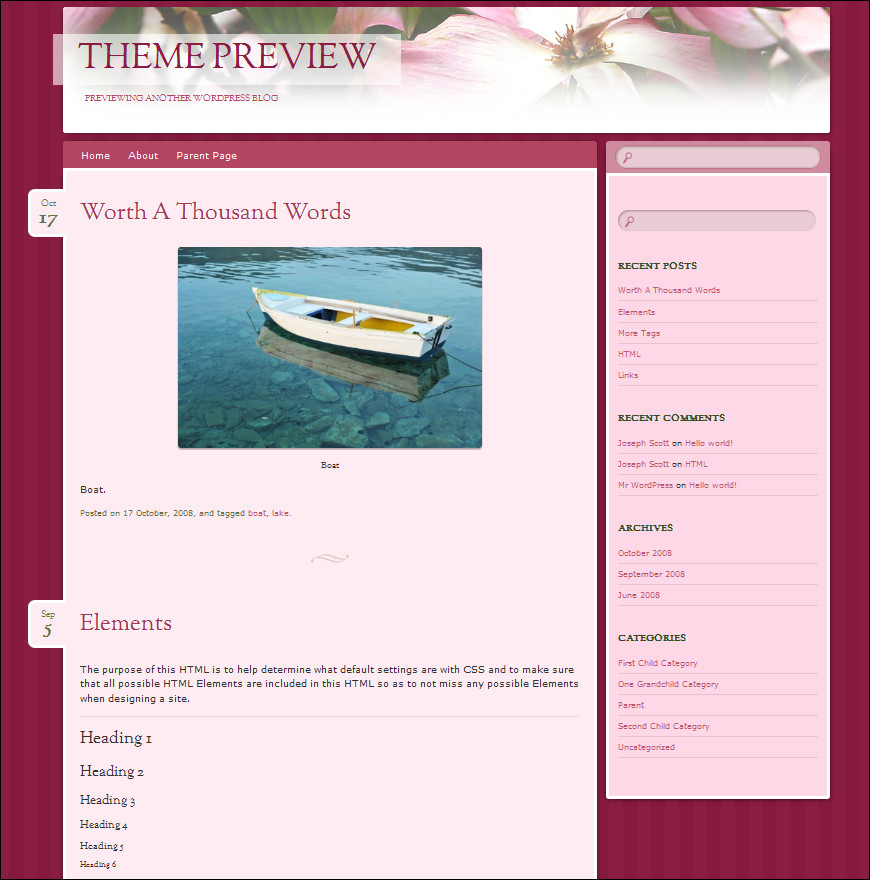 This is a simple and elegant free WordPress theme that took its inspiration from beautiful flowers. The prominent features of this theme include a responsive layout that can be adjusted for smaller devices, full width template, right sidebar, custom header, custom background, post format support and a couple of floral schemes.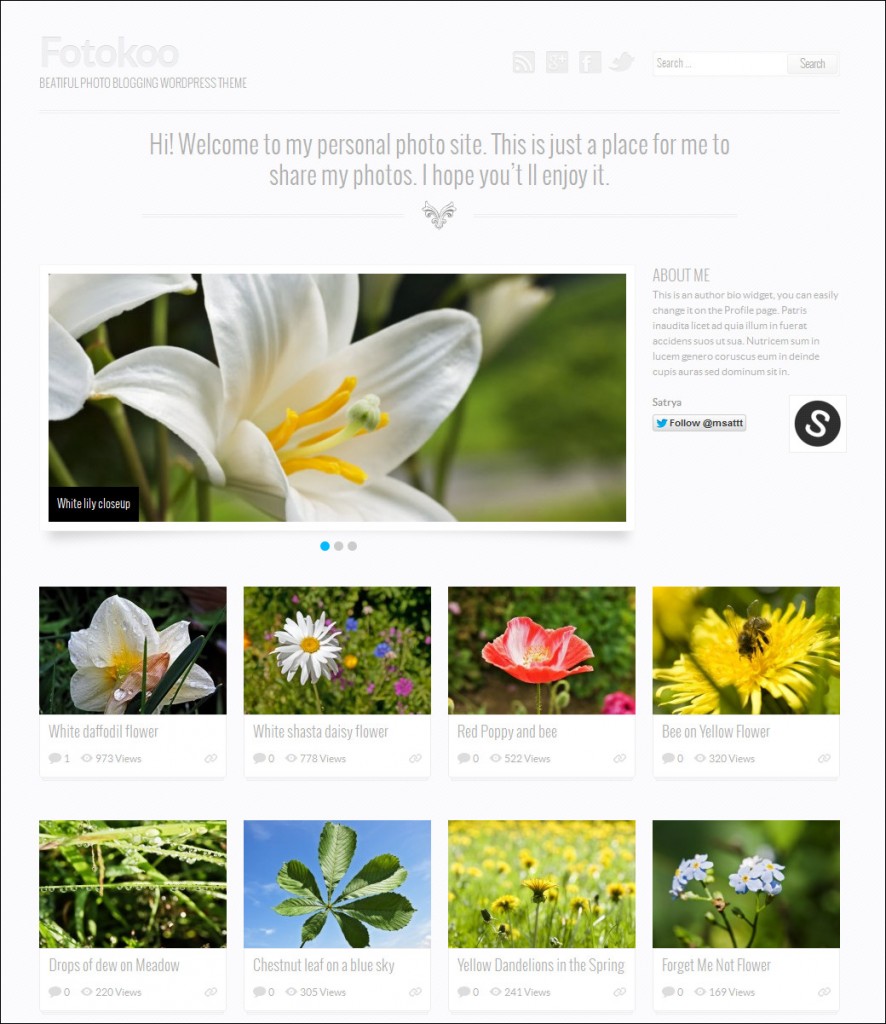 Do you want a photo blogging free theme that has a modern and appealing look? Look no further than Foto.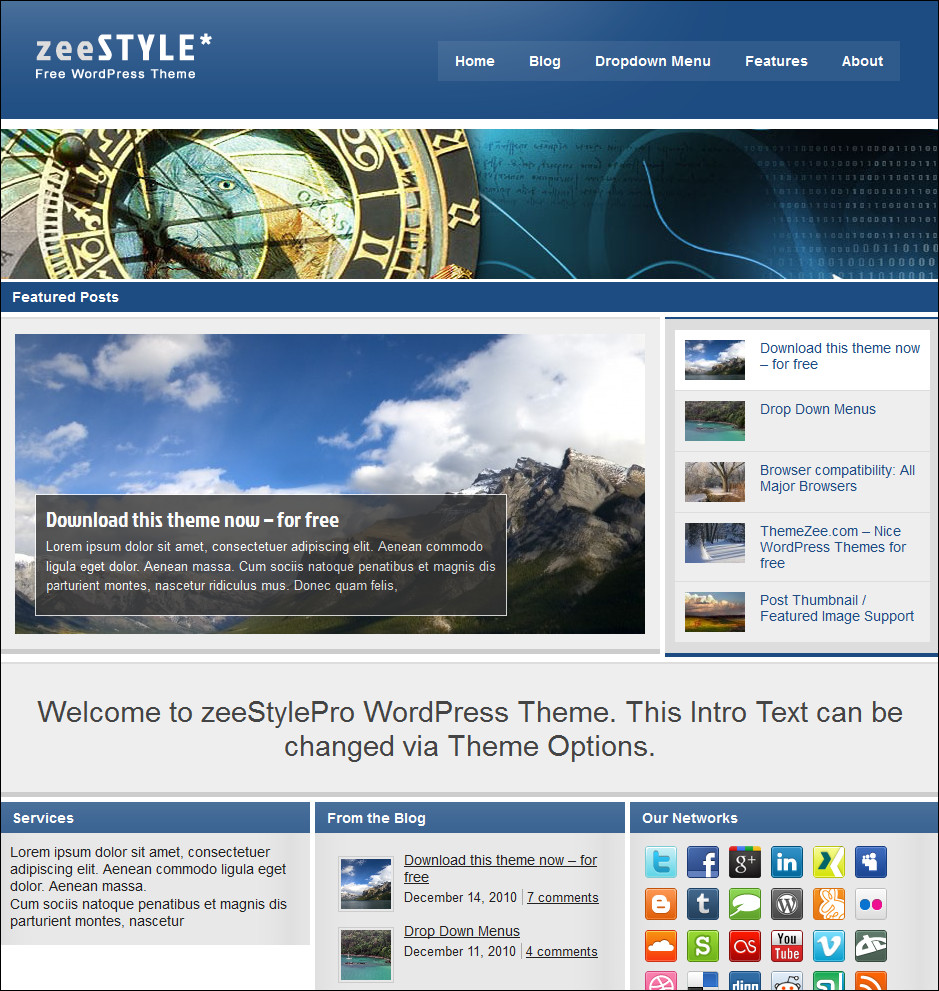 A colorful and flexible free theme, zeeStyle has a professional and unique layout – perfect for magazine, blog or news websites. There is an extensive theme option that allows users to configure the colors, slider for featured posts, jQuery dropdown navigation and custom logo. The theme also has custom widgets, custom page templates and a number of sidebar areas.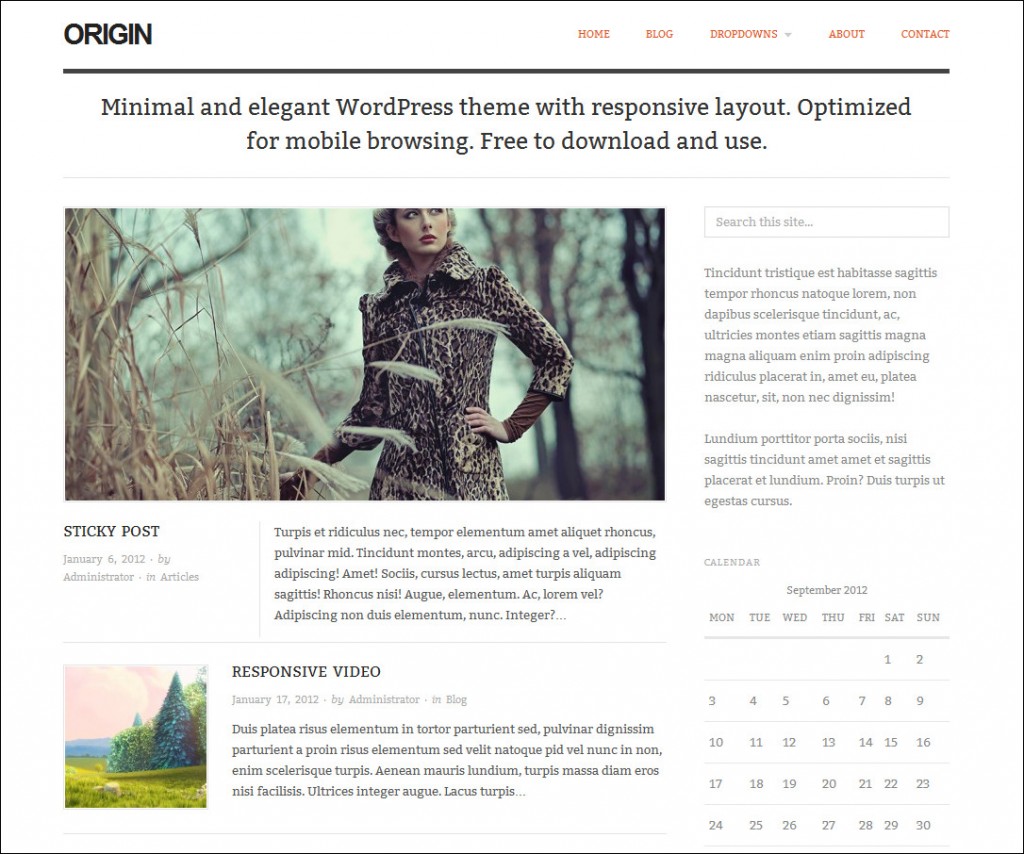 Origin is a responsive and minimalistic theme that is optimized for mobile application. The settings that can be found within the theme include uploading options for logo images and favicon, typography settings, a collection of Google fonts and color picker.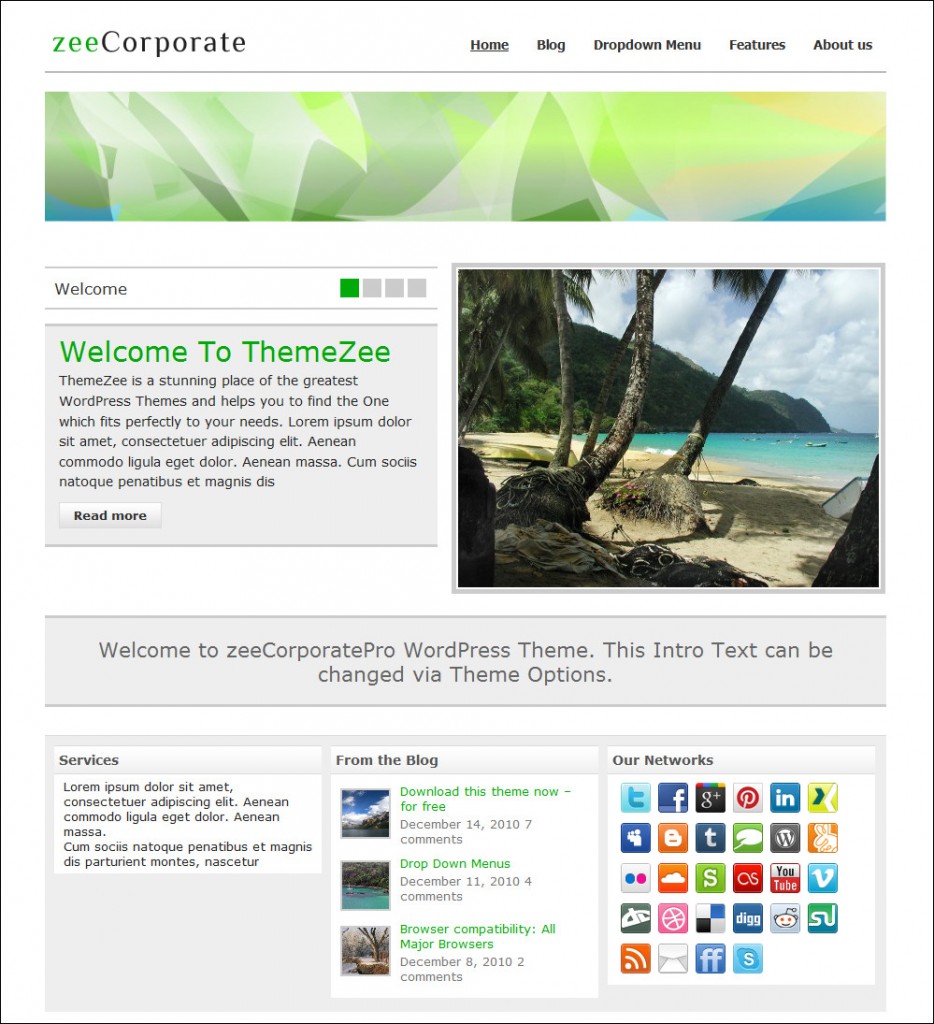 zeeCorporate is a two column theme that is clean and smart. Its great features include several color schemes that are predefined, custom log, content slider, Colorpicker unlimited colors, social media buttons, theme option panel, dropdown navigation, banner widget and other useful features.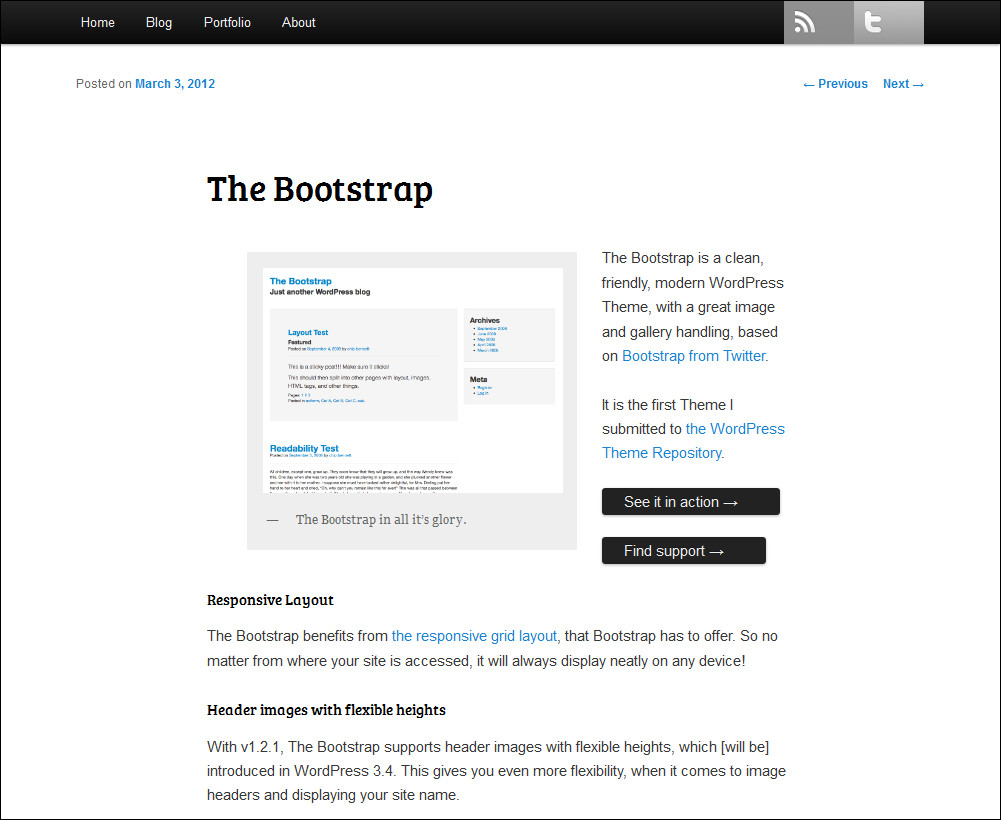 This is a free theme featuring 100 percent responsive layout that was inspired by the Twitter Bootstrap. The Bootstrap has a simple and clean design and runs onCSS3 and HTML5. The features of this theme include meta widget for custom image; gallery post formats carousel and an excellent gallery.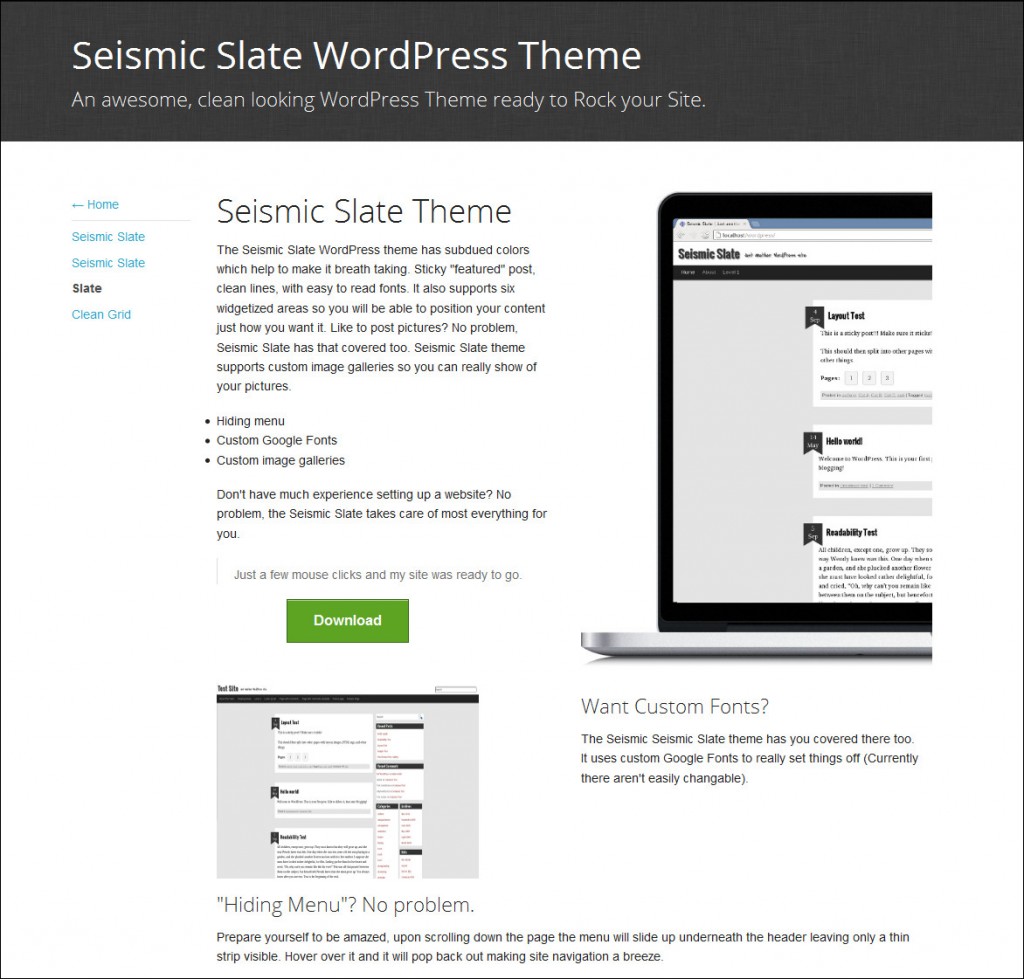 A great minimal theme, Seismic Slate features a hiding scroll menu and custom Google fonts. Settings for customizing the background are available.
This is a parent theme that is full of fun – the ideal theme for online bloggers. Retro-Fitted has a number of widget areas, allows layouts of every post and supports WordPress navigation menus.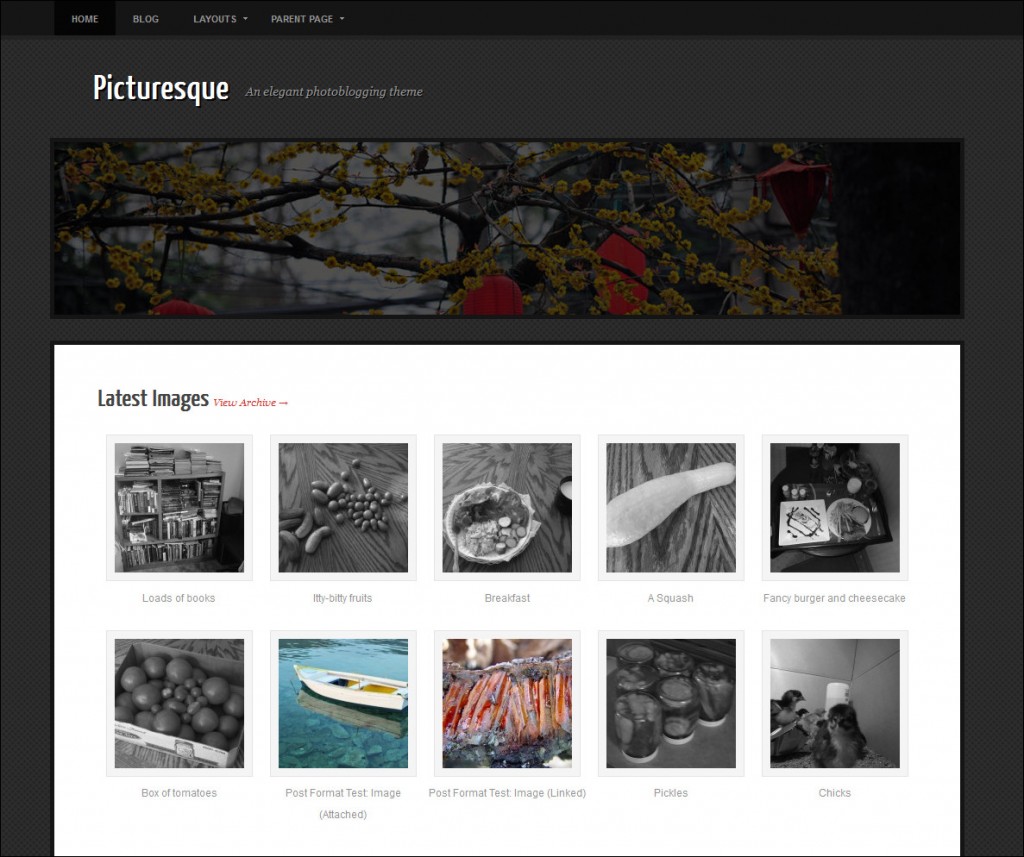 This free theme is perfect for people who want an elegant site that highlights their photography. Picturesque utilizes the built in gallery and image post formats of WordPress to the fullest, making it a complete photo blogging experience.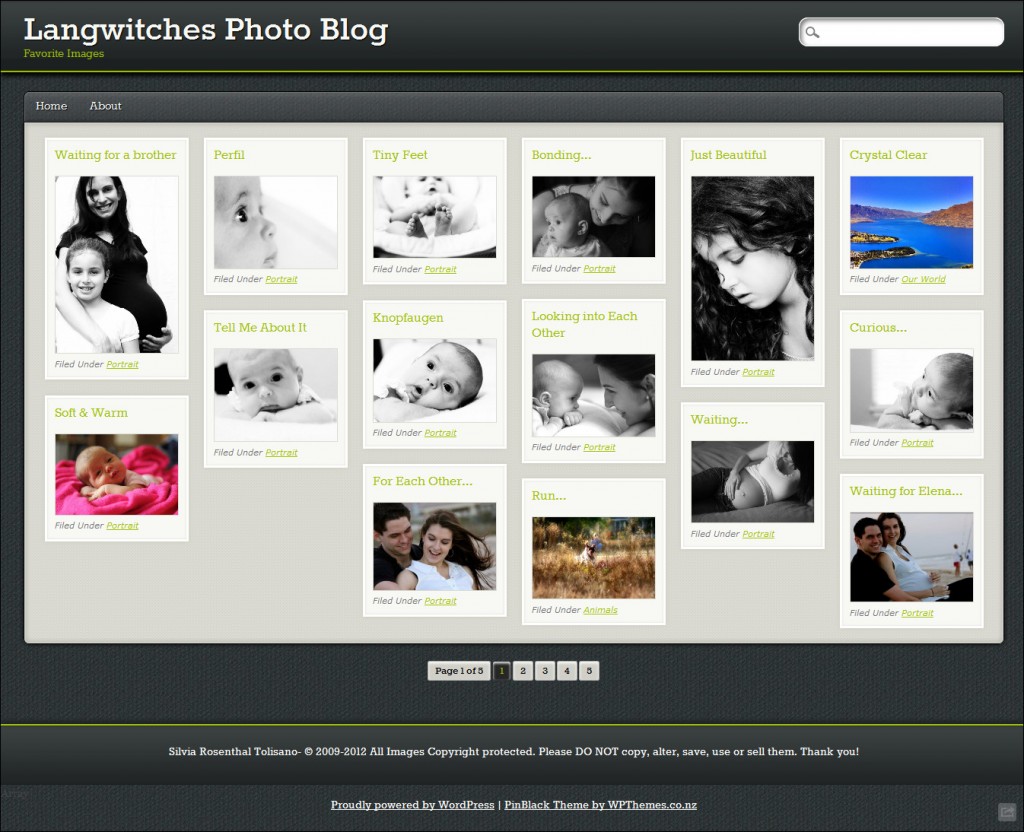 This free WordPrerss theme is for people who have portfolio and photo gallery blogs or websites.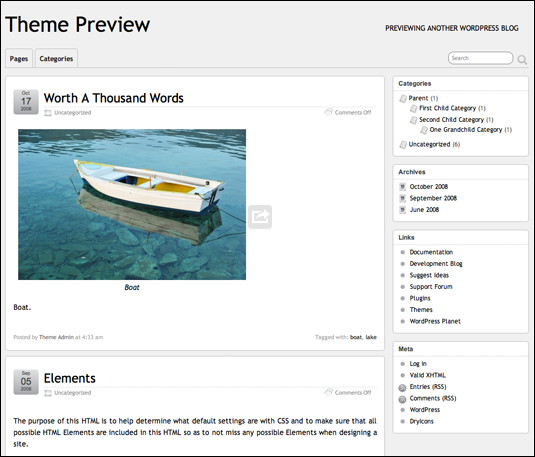 If versatility and elegance is your aim, you cannot go wrong with Suffusion. The markup is based on sematic HTML5 and it supports various awesome features such as custom layout templates, mega menus, tabbed sidebars, featured sliders and magazine layout. Custom post types have advanced support and you can have a variety of optimized widgets for Flickr, Google and Twitter. There are also 19 predefined color schemes, 8 predefined templates, 19 widget areas, RTL support and language translation. There are fixed and flexible width layouts that can be set up to three columns. Suffusion has a support forum, which can be found at aquoid.com/forum.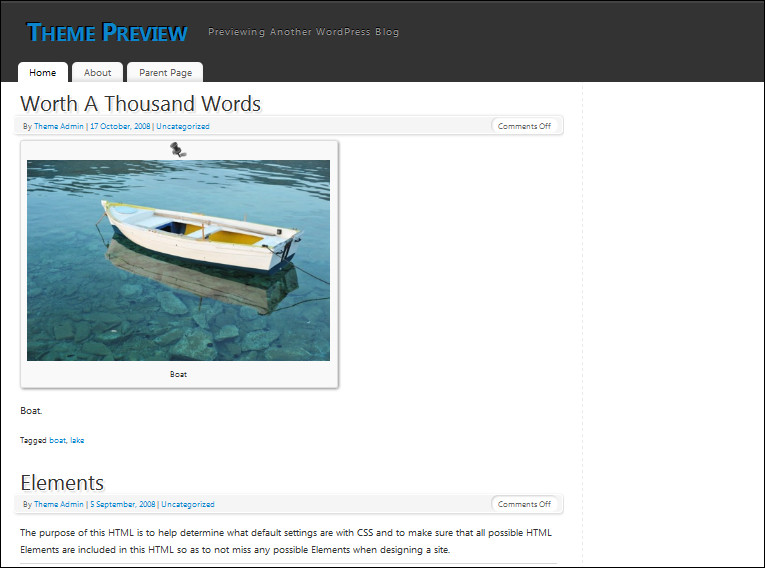 Mantra is very customizable theme featuring a pack of over 100 customization options and easy to use tweaks capable of tuning WordPress to your very specific needs and likes. With the help of a simple and efficient user interface you can customize almost everything: layout (1,2 or 3 columns), total and partial site widths, colours (all texts, links, backgrounds etc.), fonts (over 35 font-families plus all Google Fonts), text and header sizes, post metas, post excerpts, post formats, header and background images, custom menus, 27 social media links and icons, pins, bullets and much much more. With a fully responsive layout,a customizable showcase presentation page, animated slider, magazine and blog layouts, 8 widget areas, modern graphics and an easy and intuitive admin section, you can start creating your dream site right now.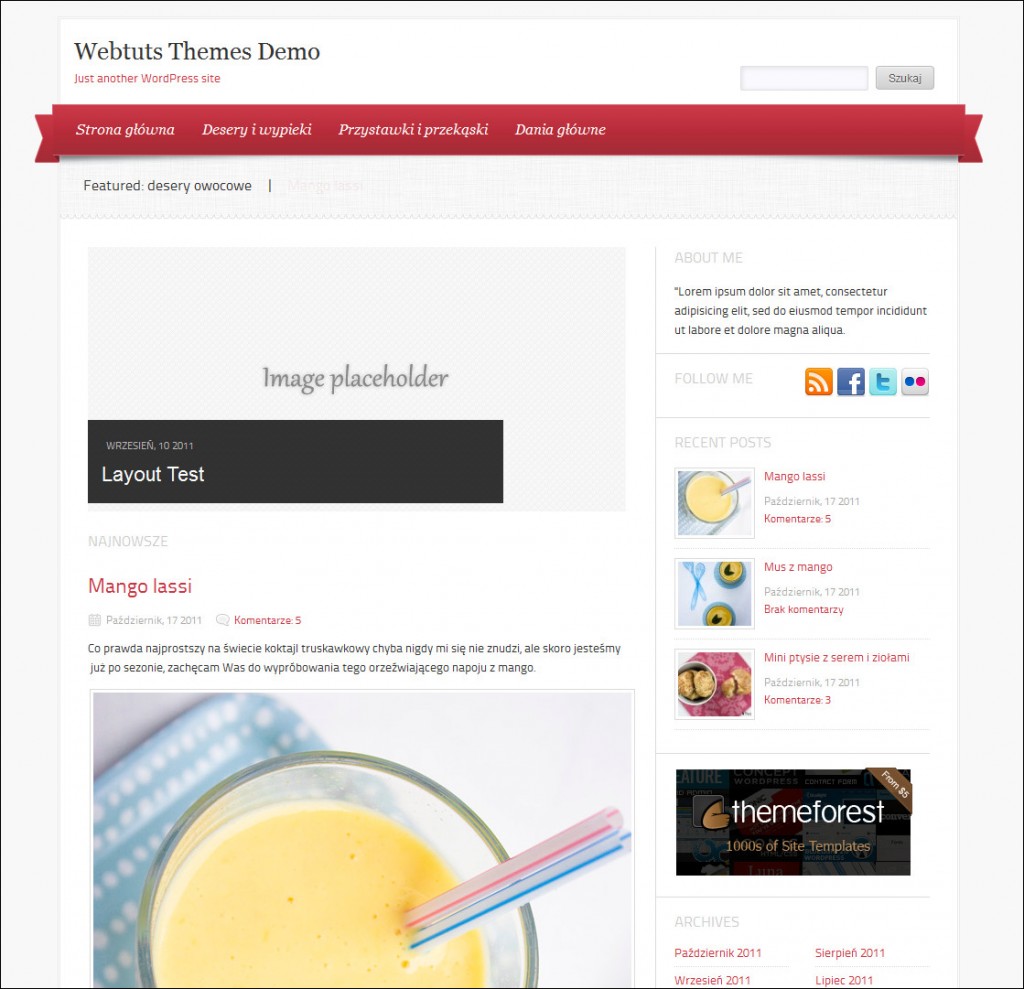 For people who are looking for free WordPress themes that are elegant and culinary oriented, Delicacy could be the perfect solution. It can easily be customized for personal blogging or other topics. Features include a drop down multilevel navigation, six color schemes, 4 custom widgets and custom theme options.
Let's talk about Free WordPress Themes
Many people automatically assume that premium WordPress themes are always better than free WordPress themes. However, life is not always that easy. Whenever something has "premium" attached to it, it generally means "pay more". Thus, many premium themes from WordPress can actually cost more than what you will get.
So what are the things that you will enjoy with free WordPress themes?
First of all, free themes will not empty your pockets. Simply download one without paying for anything. Although free themes usually have no personalized support, you can place your comments and queries in forums for developers to answer. In addition, you could always receive excellent support from official forums and WP Codex.
WordPress themes that are offered for free are more common and thus, they can support a large number of configuration settings and plugins. In general, free themes also undergo a review process before they are placed on the wp official repository.
Thus, you should never underestimate the power of free WordPress themes. Many users would start with a free theme then upgrade to a premium theme whenever they need more. Take note though that in their attempt to outdo each other, premium themes are often loaded with features, which may not all be needed. You will then, in effect, be using only a few from the total amount of features. A premium theme then might be overkill in certain cases.
In searching for free WordPress themes, always remember that it has to serve your purpose. When choosing a theme, never compromise on the functionality and features that you require. A good free WordPress theme will in most cases give you enough features that will cater to both your present and future necessities. If you need additional features you can use a WordPress plugin to add on what you need.
Try to look for a theme that will not require a rocket scientist to customize it. The time and efforts that you save can be invested in other areas of your business. If you have a specific subject such as a photo gallery, look for a free photography theme that was specifically designed for that purpose.
In addition, make sure that the free WordPress themes you are considering are not antiquated. Remember that web technology advances very rapidly and it is wise that you opt for an updated theme. Check if the theme has an available support option. You can do it by checking the forum activities, if there is one, and the frequency the developer respond to comments.
Please share this article with your friends and tell us what you think. Do you use a free WordPress theme or a paid one for your website? What are your experiences with free WordPress themes?