WordPress is a very popular free open source blogging and website building tool. It is a easy to use content management system that allows you to create and modify content, post and pages from the dashboard. The power of WordPress is constantly growing and it has been since it was brought to life back in 2003. New WordPress themes and plugins are developed every day and to day the system is very flexible and with a huge amount of useful features.
To help you get even more functionality from the nice features of WordPress we have decided to showcase a collection of WordPress shortcut keys that will speed up your work and blogging process.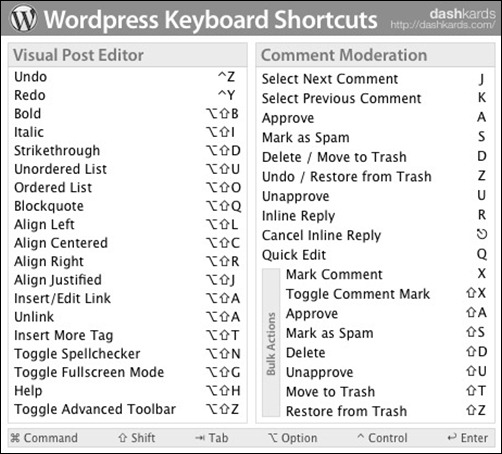 Keyboard WordPress Shortcuts keys in the HTML Editor:
Blockquote: Alt+SHIFT+q
Bold: Alt+SHIFT+b
Code: Alt+SHIFT+c
Insert date & time: Alt+SHIFT+s
Insert Image (IMG) URL: ALT-SHIFT-m
Italics: Alt+SHIFT+i
Line Break: SHIFT+Enter
Link: Alt+SHIFT+a
List Item (li): Alt+SHIFT+l
Ordered List (ol): Alt+SHIFT+o
Publish the Post: Alt+SHIFT+p
Read More: Alt+SHIFT+t
Redo: CTRL+y
Strike through: Alt+SHIFT+d
Undo: CTRL+z
Unordered List (ul): Alt+SHIFT+u
Shortcuts in the Visual Editor:
Address: CTRL+9
Advanced Editor (Kitchen Sink): Alt+SHIFT+z
Align Center: Alt+SHIFT+c
Align Left: Alt+SHIFT+l
Align Right: Alt+SHIFT+r
Edit HTML: Alt+SHIFT+e
Format: CTRL+8
H1 Header: CTRL+1
H2 Header: CTRL+2
H3 Header: CTRL+3
H4 Header: CTRL+4
H5 Header: CTRL+5
H6 Header: CTRL+6
Paragraph: CTRL+7
Activate the WordPress shortcut keys option
Don't forget to activate the WordPress shortcut keys option. Enable it as the image below shows:

Keyboard WordPress Shortcut keys for Comments
WordPress also give us the possibility to use keyboard WordPress shortcut keys for browsing and moderating the inbound comments. This ability can be a time saver if you get lots of comments, because it allows you to navigate faster and perform a series of actions on the comments.
These keyboard WordPress shortcut keys are easy to use and very useful when handling your visitors comments :
J – moving down and then onto the next page
K – moving up and then onto the previous page
A – Approving the comment.
S – marking a comment as Spam.
D – Deleting comments.
R – Replying to a comment.
Q – editing the comment and then Tab and Enter to save the comment.
Escape – cancelling a reply.
U-For Un – approving a comment.
X – marking comments.
Shift+A/S/D/U – moderating multiple comments in a go.
Shift+X – toggle the selection.
WordPress Shortcut Keys for iPad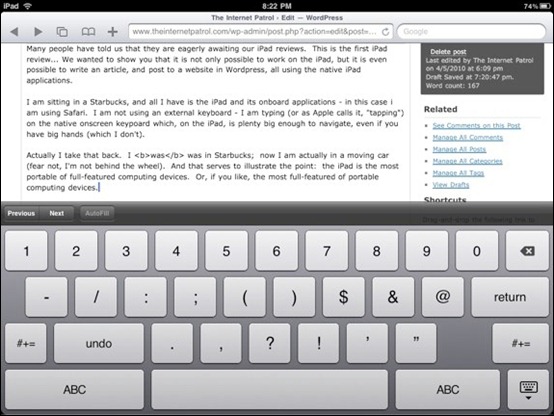 You can also use WordPress shortcuts when working on iPad and iPhone. I think these tips will help you a great deal and, once you get used to them, you cannot go back to the old typing style.
When you need to type a URL in the address bar, you can make use of a ".com" key and avoid time delays. Holding the key for a while will make an options list pop up, with the appropriate endings: .net, .org, .edu and so on.
For email addresses fields – the To;, CC; or BCC; strike and hold the dot key. This will make a shortcuts list to pop up and automatically complete the address. This increases your convenience.
Making the transition between numeral and alphabetic keyboard can also be made easier. For example, when you need to type "@", you must switch from alphabetical to numeral, then back. It feels like useless effort. Here is how to change it: strike ?123 and move your finger smoothly until you get the "@" key. Let it go by raising the finger up.
WordPress shortcut keys are designed to help you attain a better typing speed and to allow easier blog posting.
Group discussion
Do you find these WordPress shortcut keys helpful? If they are useful to you, let us know in a comment! Do you know other good WordPress tips and tricks? Please share your experience and opinion.