For blogs, About the Author box, or author biography is important for building good relationship with the readers. For those websites running on WordPress, usually the author bio box is built into the WordPress themes. However, just in case you still do not like the look of your about the author box after some customization attempts you have made on its code, the best thing that you can do is to deactivate the built-in feature and install a beautiful about the author WordPress plugin of your choice. Thanks to the large and acive WordPress community there are several free About the Author WordPress plugins that you can use on your site without spending a penny. They may be used e.g. with WordPress portfolio themes to build a cool online portfolio site where it is important to highlight the author.
So here, you will find author bio plugins with different layouts and features. Some of these integrate social media on their interface while some are clean, and simple that contains only the essential items. We hope that this article can help you in your search for beautiful author box to complement the overall design of your website. If you like this article please share this article to your friends. Enjoy!

Use Fancier Author Box to personalize your single or multi-author WordPress website – This WordPress Author plugin is easy to setup and you can add social media buttons in a snap.

Simply adds an author bio box in every post automatically. You can choose where you want to show it. You can add links of your Blog, Twitter, Google+, LinkedIn and Facebook profiles on the bio. Do it automatically or manual with shortcode [author_bio].

Cool author box adds a stylish author box with author name, bio, Gravatar and links after the content in posts and/or pages.
The DT Author Box plugin is an easy plug and play add on for any WordPress blog/site owner which supports single or multiple author sites. It adds an author box or signature to the end of all posts or articles with minimal setup required. The author box can consist of a profile thumbnail image, a short bio, and a link the the author's Twitter and website but you do not have to include all of these. Until further features are added to Digital Tweaker's Author Box, the only area to make changes for the author signature will be found in the user profile section.

This plugin is the easiest way to add a customizable author bio below your posts. The plugin works right out of the box with WordPress built in profiles.

This plugin is perfect if you have multiple guest bloggers on your website and each do not  have a user account. This plugin features the ability to display ANY custom profile (does not need to match the username of the post author); Also you have the option to include social media buttons on both website profile and custom profile.

Advanced Author Bio automatically adds a short author bio box along with gravatar and social profile links in every single post of your blog.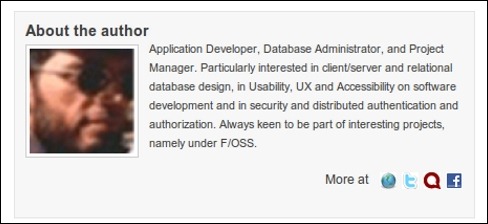 Author Box Reloaded is a WordPress plugin that adds an author box below text when viewing a single article. Also it defines links to the external websites like Twitter, Identi.ca, Facebook, Netlog, LinkedIn, Drupal Association and WordPress.Org

This plugin adds an author box after your post contents.The box contains author's avatar,name,post count,site link,description,Email,Facebook,Google, and Twitter links.
The Author Bio Widget is a simple sidebar widget that displays some basic information about the author of the page or post being viewed. The bio includes the author's gravatar, nickname and bio information as set in the user profile. The author's name will also link to the main blogroll filtered by content from the same author. The widget settings include a custom title and a size option for the gravatar ( profile picture ).

Social Author Bio automatically adds an author bio box along with Gravatar and social icons on posts. This is the most configurable author bio box!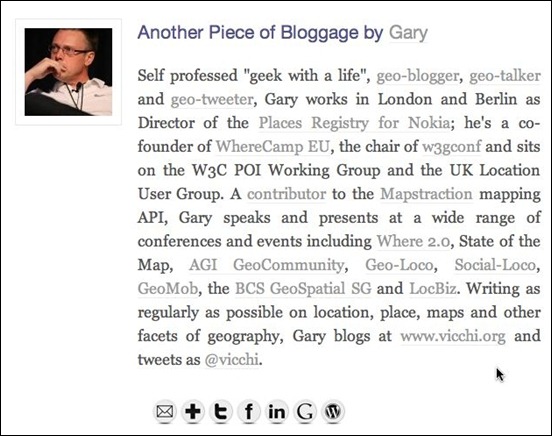 This plugin allows you to add a customisable biography to posts, to RSS feeds, to pages, to archives and to each post on your blog's landing page. It integrates out of the box with the information that can be provided in each user's profile and supports custom post types. Display of the Biography Box can be suppressed on a global or per user basis for posts, pages and custom post types as well as on a per category basis.