Because of its mobility and large array of useful apps available, iPad has become very popular these days, and this trend is not likely to end anytime soon. With the capability that almost rivals desktops, iPads, have also become the gadget of choice of designers while on the go. With the help of some iPad apps, designers, geeks and creative individuals can now do their job while away from their workstations.
Here, we are showcasing some of the great iPad apps for designers and other creatives to use while on the go. You will find here apps for mock-ups, sketching, social media, web development and etc. that you can use to accomplish varied tasks. If you like this article, please share this to your friends. You are also welcome to make additions and comments about these useful iPad apps.
Wireframing, Mind Mapping and Productivity Apps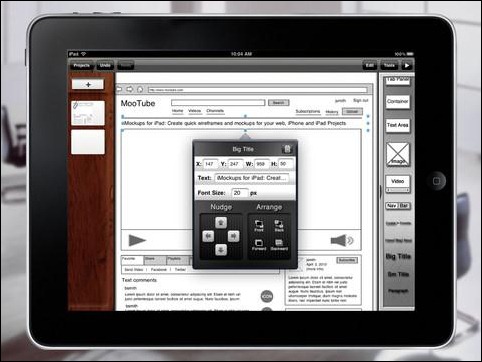 iMockups for iPad is the premiere mobile wireframing and mockup app for your web, iPhone and iPad projects. Created exclusively for the iPad, iMockups combines a beautiful interface with intuitive functionality, taking full advantage of the breakthrough touchscreen device. iMockups is simple to use but make no mistake, it's a serious app for creative professionals.
Need to create a quick diagram, process chart, page layout, website wireframe, or graphic design? With OmniGraffle, your iPad touch screen is your canvas (or graph paper, or whiteboard, or cocktail napkin. OmniGraffle knows what makes a diagram different from a drawing, so it knows how to help you make superior documents quickly: it keeps lines connected to shapes even when they're moved, it provides stencils full of objects for you to drag and drop, and it can magically organize diagrams so your ideas come to life.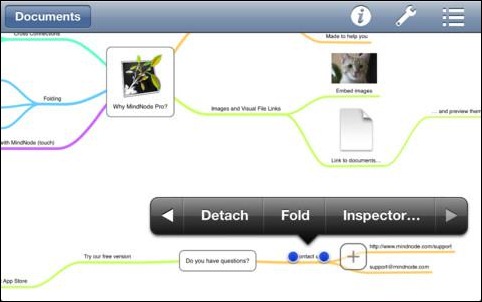 MindNode is a very easy and intuitive application for collecting, organizing and outlining your thoughts and ideas as mind maps. Mind maps can be used for many different tasks (e.g. to-do lists, brainstorming, holiday planning, research, writing, project management…) and in many different environments (e.g. school, meetings, working place…). MindNode makes creating mind maps on the iPhone and iPod touch extremely easy. You create new nodes directly on the canvas by dragging them out of the node well which appears as a plus sign next to a selected node.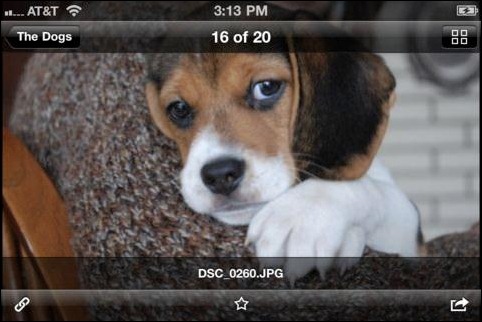 Dropbox is a free service that lets you bring all your photos, docs, and videos anywhere. After you install Dropbox on your computer, any file you save to your Dropbox will automatically save to all your computers, your iPhone and iPad and even the Dropbox website! With the Dropbox app, you can take everything that matters to you on the go. Read your docs or flip through your albums when you're out and about. Save photos or videos to your Dropbox and share them with friends in just a couple taps. Even if you accidentally leave your iPhone in a taxi, your stuff is always safe on Dropbox.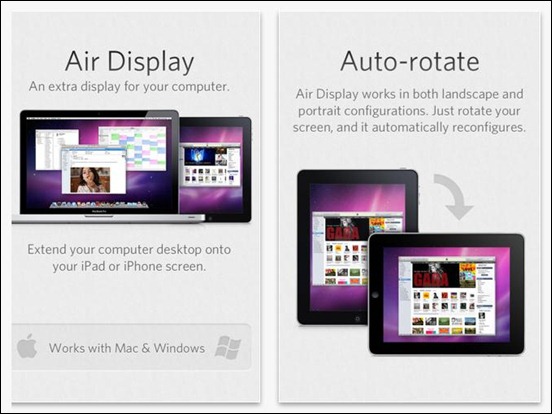 Ever wish you had an extra display for your Mac or Windows computer? There's an app for that! With Air Display, you can use your iPad, iPhone, or iPod touch as a wireless display, to extend your computer desktop. Air Display works in both landscape and portrait configurations. Just rotate your screen, and it automatically reconfigures. Air Display makes a laptop much more useful. Adding the iPad's 1024×768 display nearly doubles the screen area of a laptop or netbook.
Moodboard is the bestselling app for creating mood and inspiration boards on your iPad. Each board is a blank canvas for organizing the things that inspire you. Add photos, text, color swatches, and special elements to your boards, then share them with friends and colleagues, anywhere, anytime.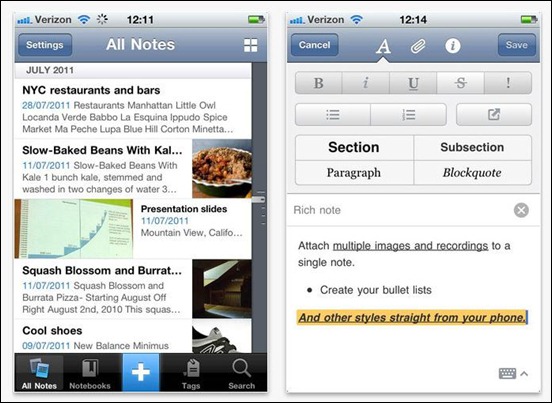 Evernote is an easy-to-use, free app that helps you remember everything across all of the devices you use. Stay organized, save your ideas and improve productivity. Evernote lets you take notes, capture photos, create to-do lists, record voice reminders–and makes these notes completely searchable, whether you are at home, at work, or on the go.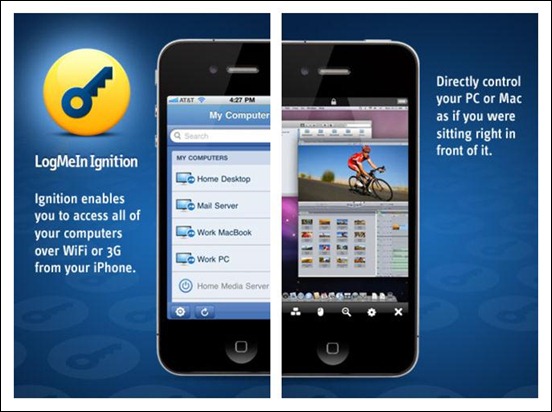 Remotely control your PC or Mac, plus view, transfer and save files or folders from your iPad or iPhone. Ignition is a one-time purchase that runs on both your iPad and iPhone and works with LogMeIn software on your computers. Install LogMeIn software on an unlimited number of remote computers, and you'll be able to access them all from your iPad and iPhone.
Design and Illustration  Apps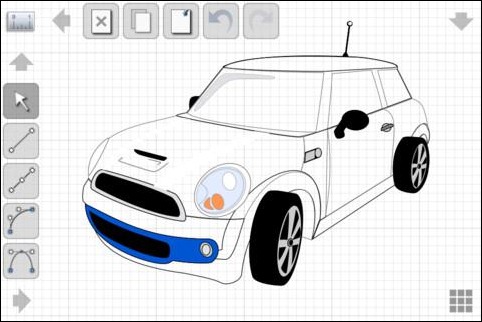 Make professional quality designs, illustrations and technical drawings on the move using your fingers at last! iDesign has unique features and offset controls which allows you to draw accurately with your finger not getting in the way or blocking your view.
Color RGB helps you find the color you need by giving you the Hex Code, RGB, or Hue values for the color. Now you can save your colors and compare colors side by side.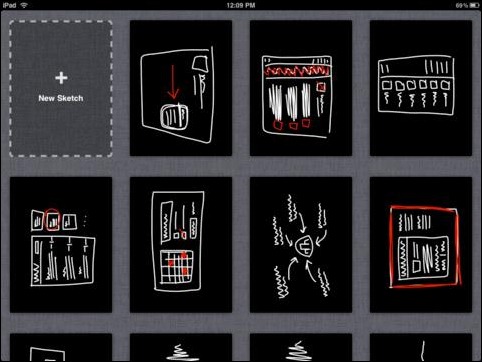 Draft is a simple way to get ideas out of your head and into a quick sketch. Draft is minimal and focused on the basics – a black background and two ink colors: white and red. Save sketches to the library, or share them via email or Campfire (a Campfire account is required to share via Campfire – http://campfirenow.com). Draft is not a full-featured sketching or drawing app. There are no brush shapes, line weights, box/circle tools. It's just your finger, two ink colors, and a blank slate on which to simply draw whatever you want with nothing getting in your way. It's like a blank piece of paper more than it's like a Photoshop document. It's refreshingly focused on just what you need and nothing you don't.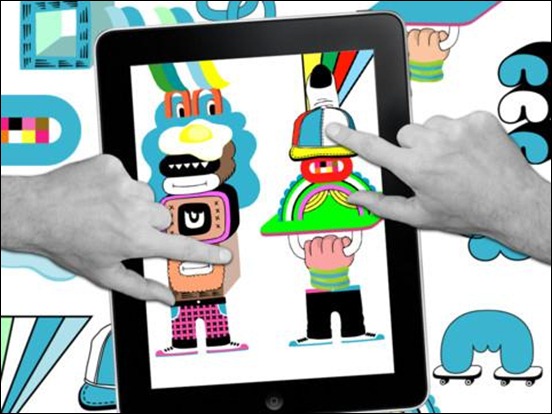 Granimator is a graphic wallpaper creator with a difference. To get started the user simply selects from the choice of shapes, styles and backgrounds. They can then draw the selected assets onto the stage, and erase, move, scale and rotate them to create compositions. Each shape represents a sound that can be manipulated and played – adding another creative and interactive level to the app.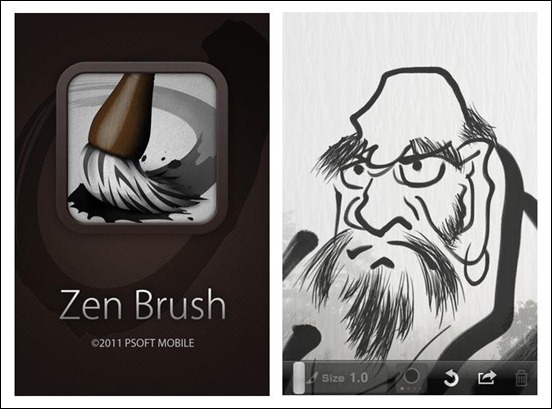 Zen Brush is an app that allows you to easily enjoy the feeling of using an ink brush to write or to paint. It allows anyone to easily perform fluent strokes while not compromising on the fascinating texture of a real ink brush. Create works that radiate the right atmosphere by choosing the best background template from our large collection.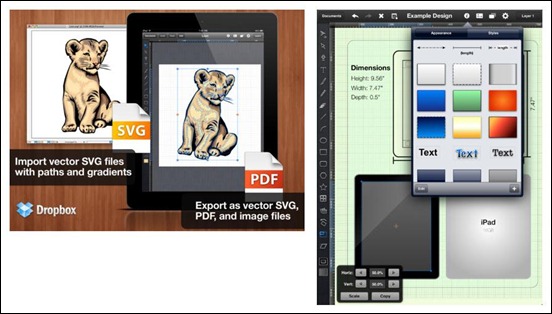 iDraw is the most feature-packed vector drawing and illustration app available on the iPad! iDraw has all of the tools you need to create everything from detailed technical illustrations to beautiful works of art. Create complex designs quickly and easily, even on the go.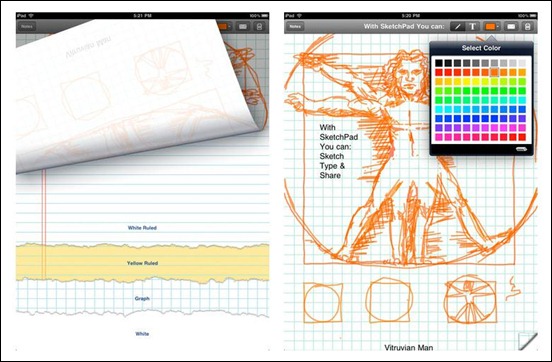 SketchPad is a fun, easy to use drawing and note taking application for the iPad. SketchPad allows you to draw in a variety of colors, collect and browse through notes and share notes that you create on the iPad over email. SketchPad includes a variety of paper types including yellow, graph paper, ruled and plain. it's fun to draw, doodle and play.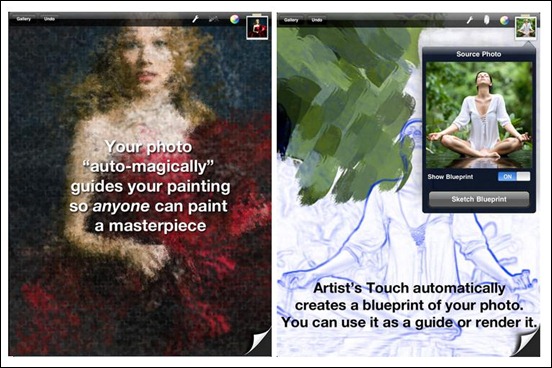 Artist's Touch is a powerful natural-media paint app with a unique "photo-paint" algorithm that allows anyone, regardless of skill, to paint like a master using photos from their iOS library.
Penultimate gives you the fast, tactile gratification of writing on paper, with digital power and flexibility. Take notes, keep sketches, or share your next breakthrough idea — in the office, on the go, or home on the sofa.
Touch Sketch is a next-generation sketching application that turns your iPad or iPhone into a fun and intelligent drawing pad. Play with different sketching techniques with automatic shading applied as you work, or use abstract tools to decorate the page with unique design patterns.
Try Inspire Pro and you will quickly see that it is a painting app like no other! The key feature is the simulation of wet oil paint on canvas, allowing amazing blending effects with five real kinds of brushes. You will be stunned by what you can do with a dry brush! Inspire Pro is not a Photoshop clone. It does NOT have layers or a large number of brushes. It does, however, have the BEST color blending capability on the App Store. Whether you're a beginner, expert, or somewhere in between, you will enjoy the simplicity and power of Inspire Pro.
Create art anywhere, with Brushes on your iPad! Brushes is a popular painting app, specially designed for the iPad. Simple to learn, yet powerful enough for pros — Brushes has been used to create 4 different New Yorker covers!
Web Development Apps
Markup for iPad lets you connect to your websites and edit the text files within them.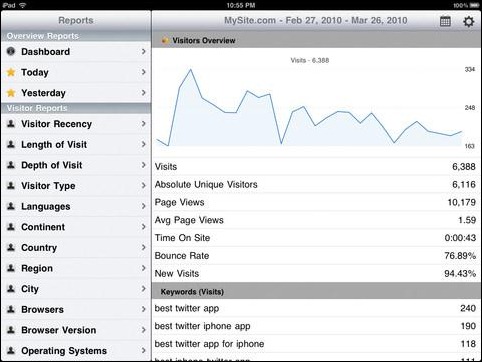 The premier app for Google Analytics, Analytics App, now debuts on the iPad as Analytics HD! Only Analytics app for iPad with Segmentation! See charts and reports like you've never seen them before, and share them in a meeting with full screen charts! Analytics HD brings all your important stats in a simple and efficient interface, faster and easier than checking Google Analytics from your browser!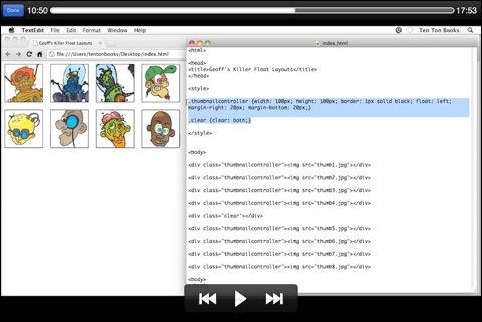 Have you wondered ever how to build floating layouts using only elements and CSS? If so, this tutorial, Designing CSS Floating Layouts vanquishes the mystery and headache by showing you how to build fantastic floats from the ground up. Join web master Geoff Blake with his trademarked no-jargon approach and you'll discover the web design techniques used in making floating layouts. You'll learn about floats and clears. You'll then build three different types of layouts: flexible layouts, fixed layouts, and combination flexible/fixed layouts all from scratch, all floating, all by hand! Soon you'll be floating so effortlessly we'll have to toss you an anchor (like an old PC) to get you back to earth!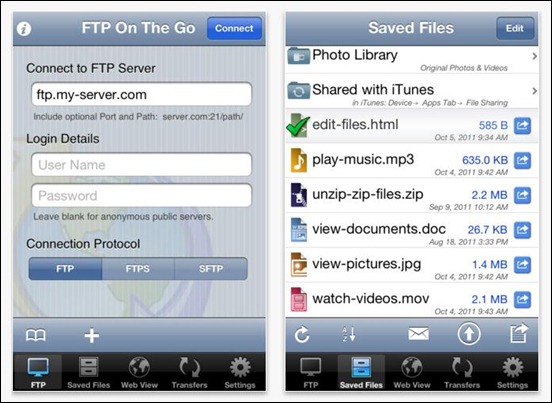 An FTP client for the iPhone and iPod touch. All the features of a desktop FTP client and more; a very powerful app. With FTP On The Go, you can fix your website, and view files on your FTP server, from anywhere. Out of the office and need to edit a file? Need to view the latest document on the server? Have to upload new photos when on location and don't have an Internet connection on your laptop? FTP On The Go can do them all, and more.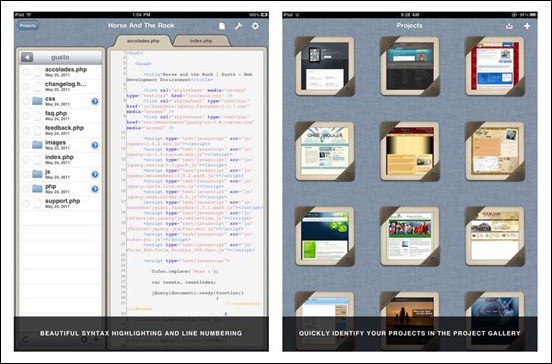 Gusto was created to embrace the workflow of web development on the iPad. Quickly identify your project with a beautifully generated thumbnail of your website. Open your project and download multiple files and folders at a time from your FTP or SFTP server. Gusto allows you to open multiple documents in tabs for faster navigation. After editing, preview your document locally to quickly see your updates. When it's time to make your changes live, transfer your documents via the built-in FTP/SFTP client or the easy to use document publishing.
Social Media Apps
Now a universal app for both iPad & iPhone, Twitterrific is the friendly, award-winning Twitter client that's beautiful to look at easy to use and full of elegant features. Effortlessly read and compose tweets, search Twitter.com, filter message types and much more.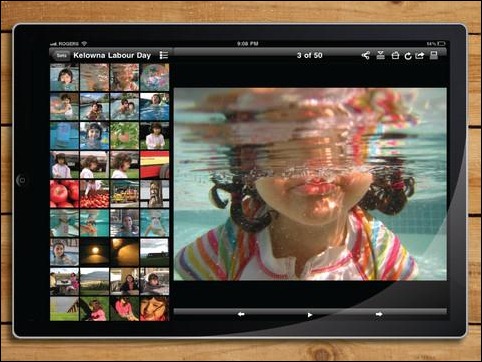 FlickStackr brings Flickr photo sharing to the iPad. Designed from the ground up for the larger screen, it allows you to BROWSE photos in the Flickr universe. UPLOAD photos, and EDIT your photos' metadata.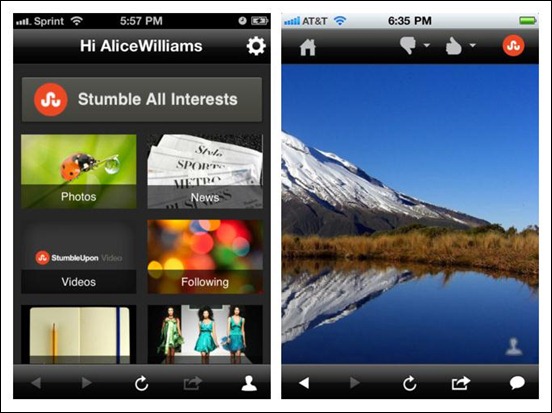 StumbleUpon is the easiest way to discover new and interesting things from across the Web. Simply tap the "Stumble!" button, or swipe your device's screen to discover photos, videos, web pages and more, recommended by people sharing your Interests.
Photography Apps
PhotoPad is an easy to use, premium photo editing app. Originally designed for the iPad, PhotoPad now works on the iPad, iPod touch, and the iPhone.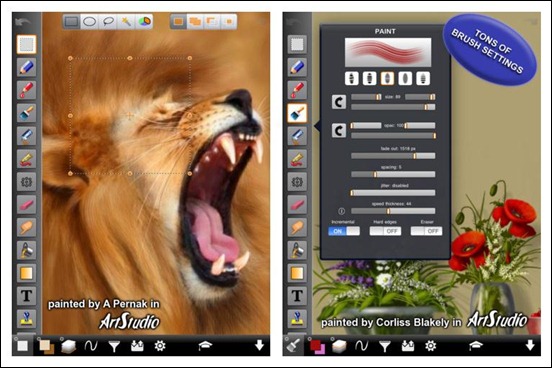 ArtStudio is a professional drawing / painting application. It uses advanced mathematics to attain the highest level of quality, at the same time offering incredible performance achieved through numerous code optimizations. It still remains a fantastic tool for beginners – it contains drawing lessons showing step-by-step instruction on drawing various types of images.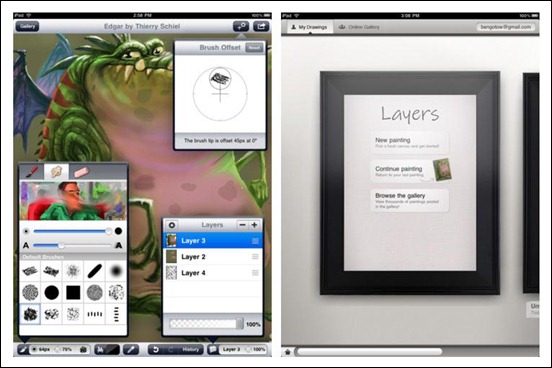 Want to doodle, draw on photos, or paint a masterpiece on your new iPad? Look no further! Layers packs in everything you need to be creative on the go. The pro edition of Layers provides more brushes, more layers, and more advanced layer operations than the standard edition. Enjoy more control over your brush tip using the brush offset option, and email your paintings as layered PSD files to transfer your work to the desktop!
Photo Pad: Flickr allows you to sync all photos within your Flickr account to your iPad and carry them with you at all times.
Typography Apps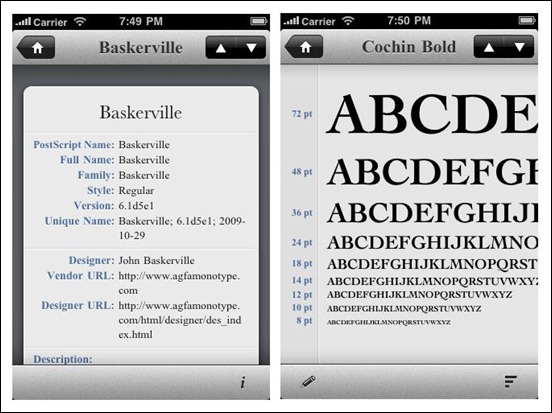 Typefaces is a font viewer for iPhone and iPad. This application shows you all the fonts in your device and all the glyphs included those fonts.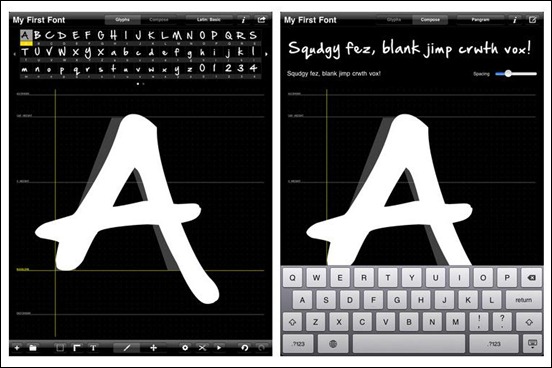 iFontMaker is the first font editor exclusive for iPad. With the touch interface, your 100% original hand typeface can be done in 5 minutes. You can email the typography or convert it into a TTF file available in all applications such as Adobe CreativeSuite, Microsoft Office for Mac and Windows, and also in your web site as a web font!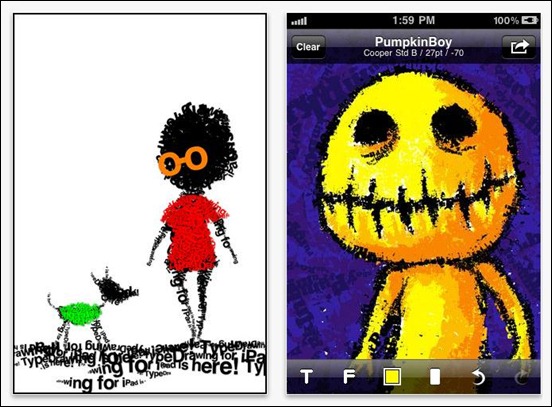 TypeDrawing is really easy to use, but it's perfect for creating TYPOGRAPHY ART and UNIQUE WATERMARK over your photos. If you love typography, this poetic visual art app is absolutely yours. Start by typing a sentence you want to say, and then just draw with your finger. This simple action leads you to make stunning typography arts and wallpapers. Of course, every screenshot is made only with TypeDrawing.