Geeks are creative individuals who often spend their time at work in a debilitating solitude. Their job by nature entails a lot of mental exertion unlike any other. Because of which, geeks have learned to come up with creative gadgets that could help them relax and lighten the overly tense life that they have. The sight of things that they use on their trade from a different perspective, makes geeks remember that there is more fun and exciting life outside the world of codes.
We dug the web and found some of the coolest products that any geek will love. These are the things which are either inspired by geeky items, or are made to make life easy for them. Anybody however, will appreciate this collection not just the tech guys, but any individual who has an eye for anything beautiful and creative. Also you should see an article related to this one about coolest office gadgets you must have. Let us go now, and check these amazingly cool geeky products!
Pac-man Bottle Opener
Bottle opener in the shape of the popular arcade video game Pac-man.
MORE INFO – Psyho
Ctrl-Alt-Delete Cup Set
Let's look at your computer's lifecycle. When your Windows computer is being a bit slow, when its memory is fragmented, when the threads of its normal execution become so tangled that it's no longer considered useful, the one thing that will refresh it fully is the troika of buttons "Ctrl – Alt – Del." Hitting those three buttons are designed to interrupt the computers processes, clearing out the memory, and recycling the system power.
Now, let's look at your lifecycle. Mid-afternoons are the doldrums of your day. You're less productive. You're tired, your thoughts are fragmented, your productivity suffers. The one thing that refreshes you is the coffee break.
Until now, there wasn't a clever way to combine both kinds of refreshment with style. Now you can enjoy your personal mental refresh using a coffee-cup set made to look like the keys you use to refresh your computer. This set of plastic cups look like giant black Ctrl, Alt, and Del keys. Pressing them won't really do much, however. You have to invert them, fill them with your favorite refreshing beverage (hot or cold), and drain them into your face hole.
When you're done, wash them, and set them back into the stylized circuit-board like tray. They'll be ready and waiting for you when you need another break
MORE INFO – Think Geek
Tetris table
A cool table inspired by the game of tetris.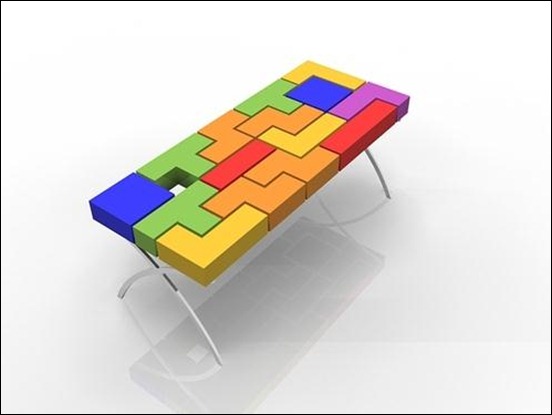 MORE INFO – Behance (Jared Kohn)
Pixelated Hand Sticky Note Pads
Talk to the hand. Ok, so don't talk to the hand – write on it instead. And make the hand pixelated and in recognizable shapes. Like the hand that grabs things and the hand that shows your approval of something. Oh, and make the hand a pad of sticky notes. Suddenly, you have these Pixelated Hand Sticky Note Pads. The Pixelated Hand Sticky Note Pads really are simple. There's the Grabby hand, the Thumbs Up (or down, depending on how you look at it) Hand, and the Two Pack (which is one of each). 200 sheets per pad – all waiting to hold your memos, messages, doodles, etc., and stick them onto different surfaces. With Pixelated Hand Sticky Note Pads, you'll always have a sticky note pad handy (which is a joke so bad, we repeat it all over this page).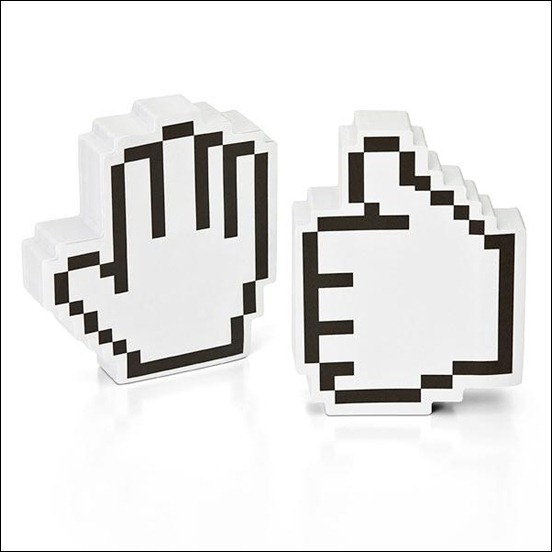 MORE INFO – Think Geek
Xtensor Gamer Hand Exerciser
You've got the greatest gaming rig out there. What's the problem? Your rig may be awesome, and your brain may be sharp and quick, but if your body doesn't respond to your brain's commands correctly, you may as well be playing with mittens on. You need physical conditioning. Flexing with the Xtensor between gaming sessions will make your reaction-times much quicker, and will mean no cramping hands after all-night fragging sessions.
MORE INFO – Think Geek
Rude Self-Inking Stamps
You get a memo handed to you by the office's resident tree killer. It's a verbose piece of paper requesting a tremendous asset allocation for an absolutely idiotic idea. You want to write a big NO on it, but somehow that seems so tame. A few seconds of pondering, and you know what needs to be done. You get out your Rude Self-Inking Stamps and go to town.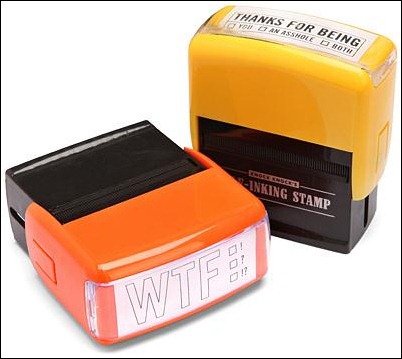 MORE INFO – Think Geek
App Magnets
Because you're used to apps for everything else you want to do, why not use these handy app magnets for keeping a take out menu handy on the microwave, posting your kids art on the fridge, and making sure your grocery list stays put on the freezer. Replicas of the apps you know and love, these magnets are the perfect gift for diehard fans of the iPhone. You can also find awesome iPhone cases to protect you precious gadget. Check out this article on splashmagazine.com.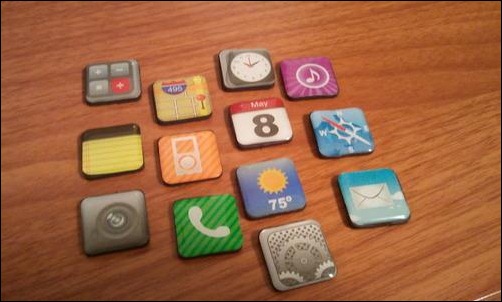 MORE INFO – Amazon
Executive Sand Timer
These magnificent timepieces are simple hourglasses designed to allow a set amount of sand to pass through from one chamber to the next – taking roughly an hour to do so, you can watch causality in action! One grain falls allowing gravity to pull and overcome the friction of another grain of sand behind it. As each flies by, another falls in succession, thus the passage of time. It's a beautiful and mesmerizing thing.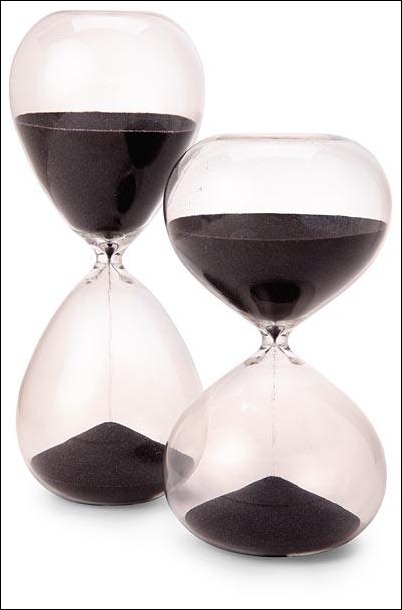 MORE INFO – Think Geek
"Enter" key doormat
Cool and creative doormat that you can use in your home of office.
MORE INFO – ArtLebeDev
Grid-It Ultimate Organizer
One of the best parts about having a Bag of Holding is that it fits EVERYTHING. But one of the worst parts about having a bag that fits everything is trying to find one particular piece of that everything. You're elbow deep in the bag, rummaging around, getting papercuts, finding slightly unwrapped cough drops. Ew. Where is that darn pen?! Grid-It is an insanely versatile organization system that will tame your crazy bag once and for all.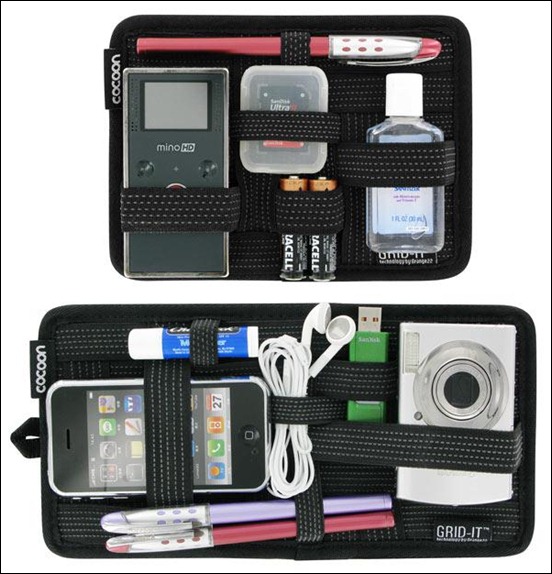 MORE INFO –Think Geek
Floppy Disk Sticky Notes
THESE ARE NOT FLOPPY DISKS. They look just like floppy disks, but they're really cleverly disguised sticky notes. Just like in the old days, you can write your notes on the handy dandy lines on the label. Just don't forget that they're just paper and not actual disks. You can't store more than a few lines of text or a small doodle on these. (Almost like a real 3.5″ floppy!) But the sheer retro-awesome of these floppies makes up for their lack of storage capacity, don't you think?
MORE INFO –Think Geek
"Beauty and the Geek" jeans
This jeans is ideal for hardcore geeks who thinks of using their computer all day and all night, anytime, everywhere.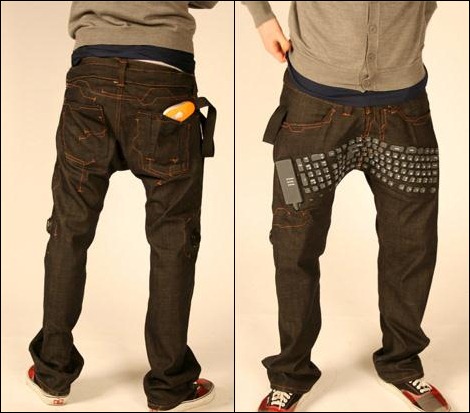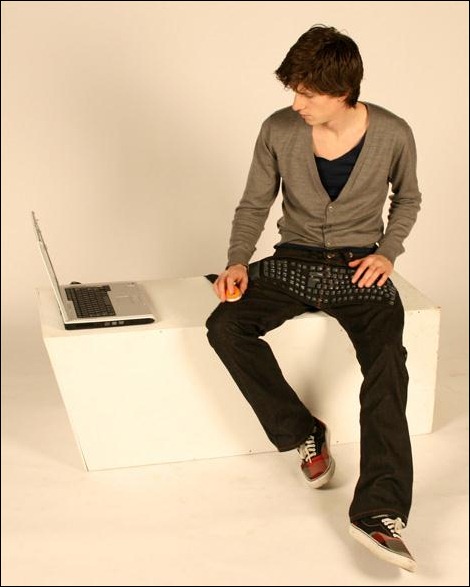 MORE INFO – Yanko Design (Erik De Nijs)
World's Largest Coffee Cup
A geek who does not drink coffee is a geek without a soul. Well, it may not or may not be true but to some extent, most geeks are connoisseurs of coffee. If you have drinking habits of coffee to the extreme, why not use this giant coffee cup? This means not only will you be getting waaay too much coffee with one cup, but you'll also be getting some arm exercise. But do you really need your own World's Largest Coffee Cup you are wondering? Well, you don't want someone else in the office to get it first do you?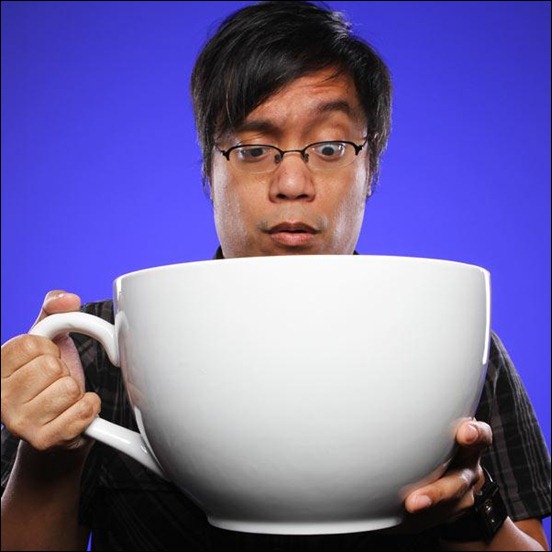 MORE INFO –Think Geek
iPhone SLR Mount
Ever since the iPhone camera was invented, it's aspired to be what it simply never quite could be: a DSLR. Faux no more. The iPhone SLR Mount gives you the real thing. It'll set your phone photos apart from everyone else's on Instagram in an unprecedented way. This case-adapter combo lets you mount your Canon EOS or Nikon SLR lenses to your iPhone 4 giving your phone powerful depth of field and manual focus. Telephoto, wide angle, macro, or your fixed-fifty lenses all attach to this mount giving you a full range of lenses at your iPhone lovin' fingertips.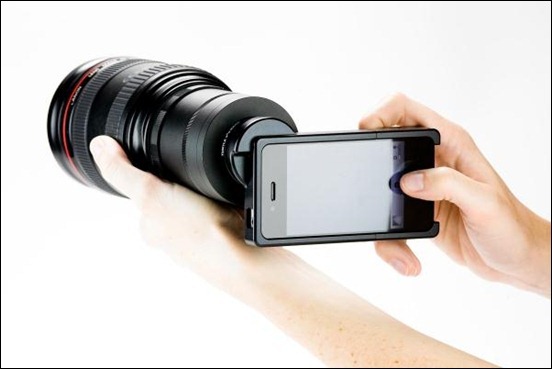 MORE INFO – Photojojo
File Folders with Attitude
No matter how hi tech your office is, there will always (it seems) be a never ending supply of paper. All these papers have to go somewhere, and that somewhere is normally file folders. But file folders are boring. Normally the only exciting thing about them is the little label on the top (and even those, truth be told, are pretty dull). Well, enough, we say, of boring folders. Enough carrying around papers in plain manila with no personality or clue to what's inside. Time to start advertising the contents for what they are!
Each of these file folders has the same attitude problem as you, and they are a great way to nonviolently advertise that attitude. No one will question what's inside for fear of even more attitude thrown their way. These folders tell everyone who reads them to sit down and shut up. And that's the way it should be.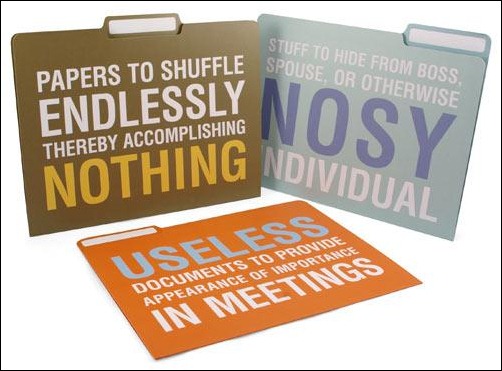 MORE INFO –Think Geek
Cheat Sheet Kitchen Apron
See, cooking is as much science as it is an art-form. A good chef has to work intuitively with his ingredients, but a great chef knows that there are four tablespoons in a quarter cup. Sure, that may sound like the absolute basics, but you'd be surprised how often world-class chefs forget it. But in the heat and hectic pace of a commercial kitchen, it's easy to freeze, freak out, and make stupid mistakes. If only you had a cheat-sheet!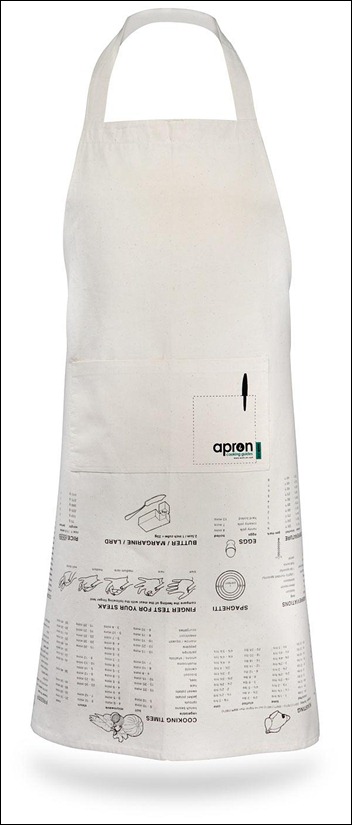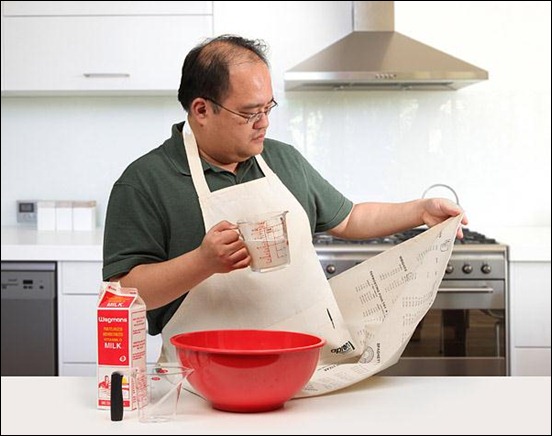 MORE INFO –Think Geek
FridgePad – Magnetic Refrigerator Mount for iPad
Stick your iPad right on the door of your refrigerator with this cool magnetic mount. You can browse it to access menu and cooking tips and yes, play with your favorite apps.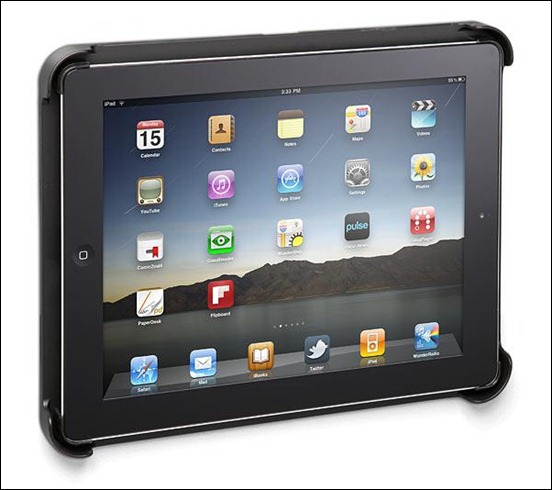 MORE INFO –Think Geek
Tetris Couch
Tetris blocks that can be assembled to form a beautiful couch.
MORE INFO – Coroflot (Stefano Grasselli)
Robot Tea Infuser
They don't have emotions (yet), but robots are slowly taking over all the boring jobs we didn't want to do ourselves. They skim our swimming pools, vacuum our floors, spy on our children, and now they brew us the perfect cup of loose leaf tea. If you've been waiting to hop on the loose leaf tea wagon, now is the perfect time to join the revolution.
The Robot Tea Infuser is made of stainless steel. Pop open his chest compartment and load it with your favorite loose leaf tea. Close it up and he's ready for an invigorating dip in your hot tub mug of scalding hot water. His adjustable arms allow him to hang freely without getting his head wet. When your steeping time is done, the infuser tray below the robot prevents dripping as you carry him to the nearest waste containment vessel.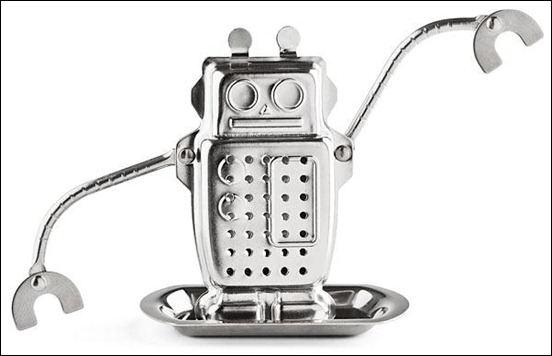 MORE INFO –Think Geek
Save Key Bank
Save your money in this cool computer key bank.
MORE INFO –Uncommon Goods
Vyne – hands-free viewing accessory
Vyne is a hands-free viewing accessory for the smartphone. It is designed to be worn sitting down in a stationary position for viewing media content for an extended period of time.  Constructed of a flexible elastomer neck and plastic clip, Vyne allows users to easily watch movies, slideshows, and video calls in a variety of configurations & locations with maximum comfort and minimum fatigue.
MORE INFO – Vyne
Poufman's living room set
A living room set inspired by pac-man.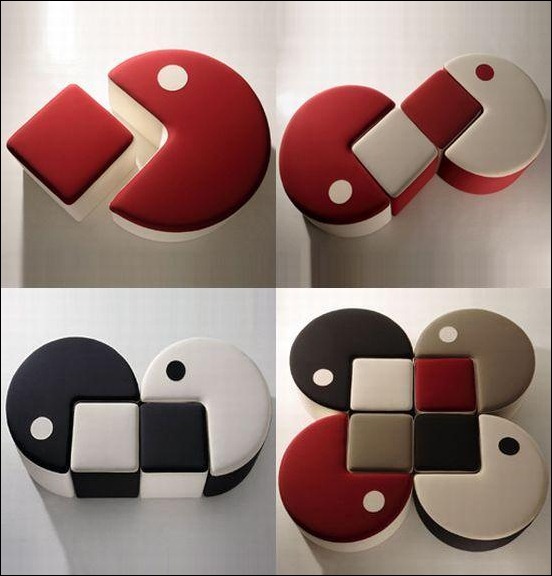 MORE INFO – Hometone (Qayot)
Darth Vader USB Hub
Vader – once Anakin Skywalker, though that name no longer has any meaning to him – When we were just younglings, that breathy evil space-samurai used to give us nightmares. Now, though, Lucas has turned him into a simple misunderstood uberjedi with a few mechanical upgrades. Still, that lovable 7 foot-tall misanthrope is the coolest Jedi evar, and it was about time we turned him into a USB Hub.
MORE INFO –Think Geek
Get The Hint Mini Sticky Notes
You can put your subtle or not so subtle message right where it needs to be. Whether you need to leave a gentle reminder or a loud and clear message, these little notes can help.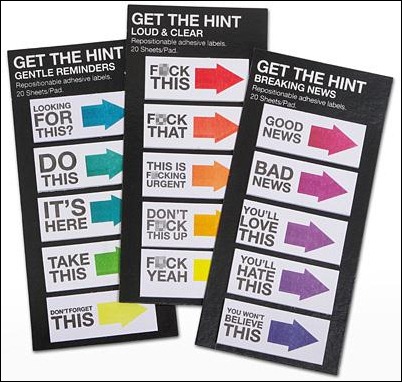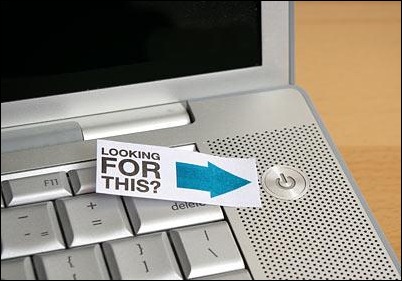 MORE INFO –Think Geek
Grassy Lawn Charging Station
If you're a true geek, every type of portable device on the planet is probably vying for the valuable electricity at your home. Unfortunately all those gadgets make a big mess with their power adapters and cables while they suck up life-giving electrical juice. Now you can hide that charging cable disaster with scenic grass.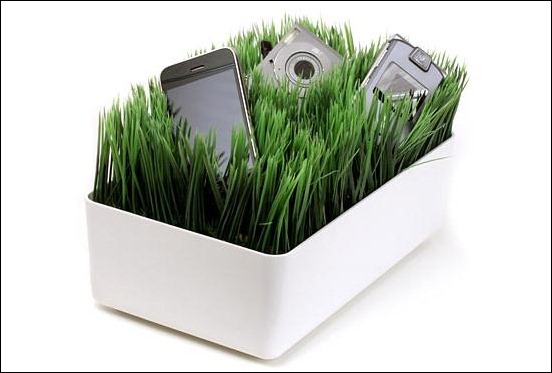 MORE INFO – Think Geek
Crystal Skull Glassware
Have you been putting in late hours at your lab in Castle East? Seeing eerie and surprising sights? Now the cadavers rise, the ghouls knock down the doors, the zombies are pouring drinks for Wolf Man and Dracula… are you still at work or is this a party?
Now everything's cool. Just have that coffin-banger over at the bar mix you a Transylvania Twist in one of these Crystal Skull Shotglasses. Not into shots? No biggie, how about a pumpkin ale or a hard cider in a Crystal Skull Stein? Sit back and enjoy the rockin' sounds of Igor and the Crypt-Kicker Five. Just remember, no matter how awesome the monster bash is, we'd like to see you around tomorrow. We hear that Frankenstein runs a designated driver service.
MORE INFO –Think Geek
New keybag
A creative bag in different colors.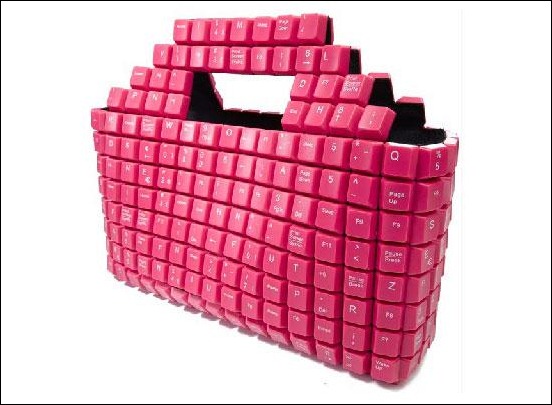 MORE INFO –Design Boom (Joao Sabino)
iCADE – iPad Arcade Cabinet
How cool would it be to slide your iPad into a desktop-sized arcade cabinet and rock it old school with some Battlezone or Tempest? Enter the iCADE iPad Arcade Cabinet! To use the iCade, gently slide the iPad into the cradle. The iCADE uses Bluetooth to connect to the iPad so there's nothing else you need to do. You're ready to "insert coin" and game on!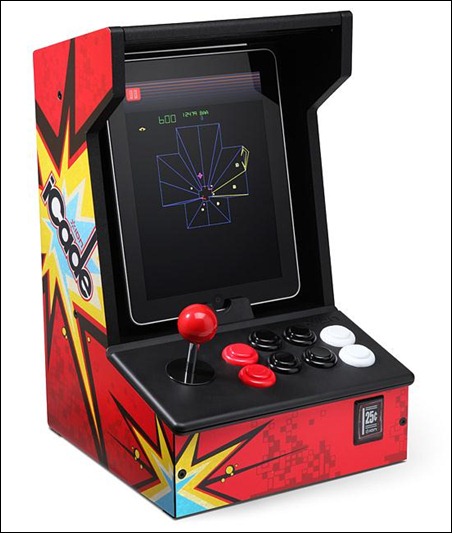 MORE INFO –Think Geek
Fleece Gloves for IPhone and Cell Phones
Fleece Freehands are soft, lightweight and comfortable. Grippy material on the palms and fingers will keep your phone from flying out of your hands. All Freehands have fully shirred elastic wrists to keep cold air from getting in and a plastic hook and loop to hold the gloves together when you put them away or to attach to a jacket zipper.
MORE INFO – Amazon
My USB Desk Pets – Perfect poop-free pets
Desk Pets remind us of the spider robots from Minority Report. Be relieved that in the testing of My Desk Pets, no models attempted to scan our retinas. They're colorful little bots that drive around at a blinding 1 foot per second and do fun tricks. You can even race two or more bots of different colors against each other. The unique, patent pending control features a retractable USB charger so you can keep your Desk Pet primed for battle.
MORE INFO – Think Geek
Please help us spread this article by clicking our social media buttons.