Working as an office guy is far from interesting. On the contrary, many, including me, find the usual repetitive tasks to be boring and stressful. Just exactly the kind where you are longing to go somewhere else to escape from the drudgery, only to find that the five o'clock off is almost light years away.
Well, there are many ways to fight office boredom. You can clean up your desk and keep things organized as possible. If you want games on the other hand, you can play tetris or some boring game to fight boredom with boredom. This however has never been taken seriously by most office employees. I have however tried it once as per suggestion of my buddy, and found that it was surprisingly cool.
By the way, one of the proven ways so far in breaking office monotony is the introduction of some nerdy items to the workplace, and that is what we will be sharing with you here. In this article, you will find not only cool office gadgets but useful tools that you can enjoy in your workplace as well. We are talking here about creatively designed products and outrageously hilarious devices, if that is how you see them,  that can make your office a better place to work in. Also if you are a geek, you should also see this article about 30 Coolest Products Geeks Will Love. We are inviting you to go over these items and share this article to your friends in any way possible. If you are also interested in the coolest business website templates for you company then check out the impressive theme collection. Enjoy!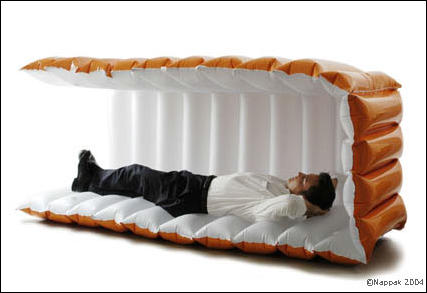 Tired in the office? Now you can take a nap with this inflatable sleeping cube. You surely deserve a brief rest after all hustle in the office. Just arrange it with your boss prior to setting up camp so that he will give you time to take your break in the comfort of your cool napping gear. And yeah, never mind if your co-workers would call you lazy, unless you admit that you really are. What's important after all is, you give yourself time to recharge so that you stay productive for the rest of the day.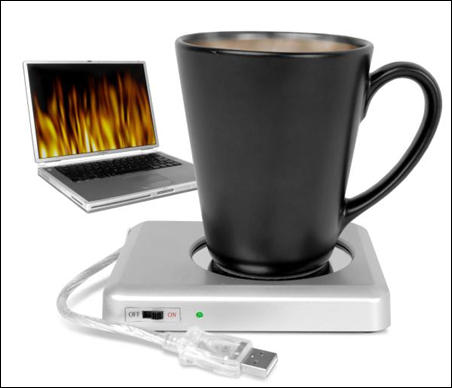 Why is it that a really good cuppa always seems to cool at 10 times the normal rate when you're working at your computer? It's really very annoying. At last, there's a solution with this easy-to-use USB Cup Warmer. Simply plug the little gadget into your USB port, pop your cuppa onto the hot plate, and it'll extend your drinking time by up to 30 minutes. Think you have all the computer essentials you need? You will soon come to realize that this is a real essential. You won't be able to manage without one of these on your desk. Make working at your computer cosy with a hot cup of warming comfort beside you.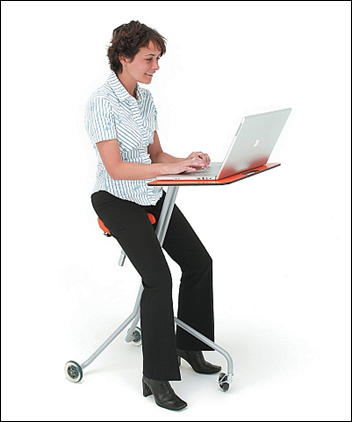 This mobile desk allows you to easily travel around your workplace without leaving your laptop or documents behind. Simply propel yourself from one area to the next. The seat is height-adjustable. Ideal if trying to shop for a very unique and useful office gift.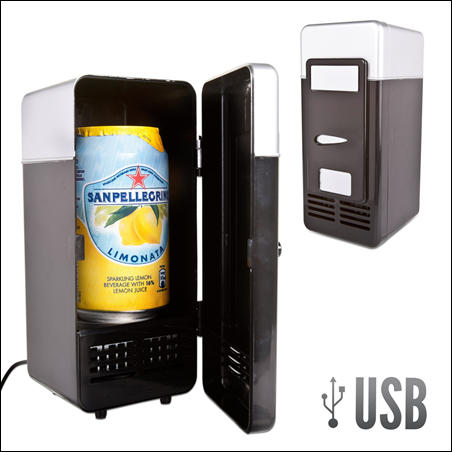 Keep your can cool with the Wiki USB desktop mini fridge. The first few sips from a cold can of drink are mighty fine, sadly it all goes downhill after that, as it warms up so darn fast (unsurprisingly considering what they are made of). So that by the time you consume half of your drink, it's already as warm as  a toast. Solution, the Wiki USB Fridge. Just plug this little wonder into a USB port and in a matter of seconds, the cold plate will chill to the perfect temperature, pop in your can and rest easy knowing that every sip will be as chilled as the last. It comes with a long cable, so you can use one away from your machine. It also requires no software or indeed brain to operate. It's pure plug and sip.
While our mobile phones are charging, they lay on the floor, kitchen counter or somewhere that is not handy. All of that is solved with Driinn.
When you want to record interviews, meetings, and office discussions without intimidating anyone, then this wireless calculator video camera is the perfect answer. This working calculator has a subtle camera on the side for quietly viewing and recording all your important conversations. The color video is recorded with audio in digital format by the included receiver so that you can view on the portable recorders LCD screen or connect to your computer for easier viewing and management of all your recordings. The wireless recorder is small enough to fit into a pocket if needed for use on the road.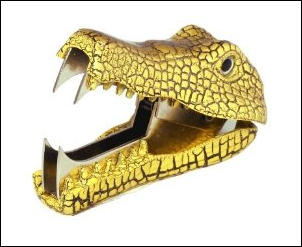 Tired of looking at your old stapler remover? Make your office job interesting again by using this hilarious stapler remover that bites exactly the wire out of your paper. You will surely love this animal being turned into a nice office helper. It comes with its fully textured glossy feel and a pair of large bulging eyes.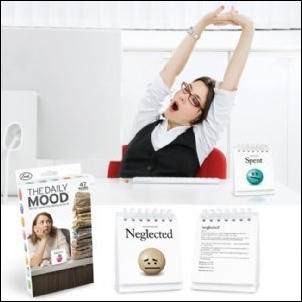 Some days the office is like a tea party, other days it's a lions' den. That's why The Daily Mood is a crucial desktop accessory! This fun flip chart spells out everyone's demeanor in no uncertain terms. There are 47 moods to choose from, each with its own smiley along with a snarky definition, fascinating facts, and sample sentences ("People say I'm apathetic, but I just don't care"). It's lo-tech "social networking" fun.
Cat pencil sharpener meows while it works! A great home or office addition for feline fanatics, combining fun with function. Hones graphite faster than a cat sharpening its claws on a scratching post. Requires one watch battery (included).Available in white or black, please let us choose. Plastic, 4 3/4 x 1 3/4 x 5 3/4″.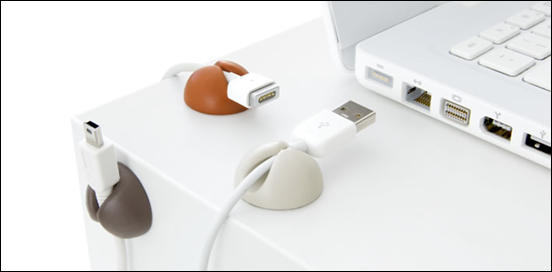 Anywhere you wish to have cables temporarily held yet easily removed or extended, CableDrop gently grasps your power and peripheral cords so they do not fall off your desk every time you unplug your laptop. The ever popular CableDrop manages your wires and cables easily solving your cable management needs.
Paint a new picture of organization with tin storage boxes adorned in classic Pantone colors. It is a creative and color coded way to organize small things in your office such as clips and others.
At last! A laptop sleeve that you can bring with you to corporate America. Be sure to talk about it by the water cooler. Made of heavy duty vinyl and padded with 1/2″ foam. Flannel lining color may vary depending on availability.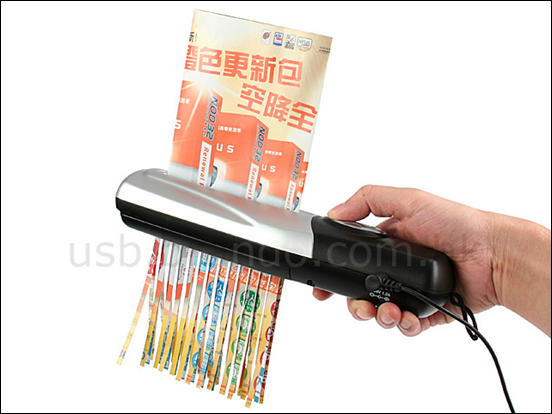 This cool gear shreds your confidential documents, notes, business cards easily on the go. Providing lots conveniences for you and it is also a space-saving tool for users to use it in everywhere.
Current materials used on bodies of chainsaws are too heavy for office use. Lighter materials, however, could cause the vertical axis of the guide bar to shift when pressure is applied onto the saw chain. Research and development introduced several innovations to offer an optimal blend of tough plastic and lightweight alloy. Cut through different types of wood as you would with a full-sized electric chainsaw. But wait, under what instance in the office perhaps would you exclaim to your co-worker, '"darn, I wish I had the cute usb powered chainsaw with me."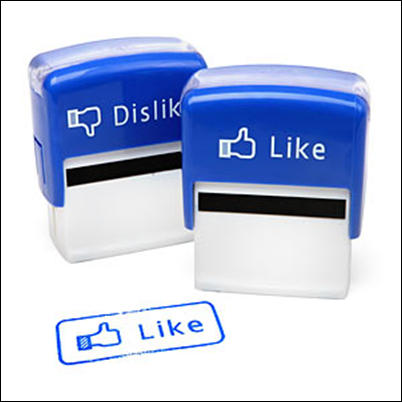 Each Like/Dislike Stamp Set comes with two, self-inking stamps (that's why it's called a set). Use the Like stamp for things you like and the Dislike stamps for things you don't like. For instance: we like origami – so though we will probably crush the little paper swan, we're gonna stamp it with the Like stamp. We don't like TPS reports, so we'll save the Dislike stamp for that. And why did we provide these further instructions and examples for such a straight forward product?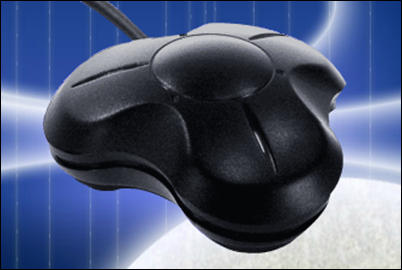 If you don't want to be caught by your boss playing games on your office computer then this nasty little thing is for you. StealthSwitch uses patent pending technology to instantly and completely hide applications with a press of the footswitch. The applications are not just minimized…they are made completely invisible. No more minimizing applications, turning off the monitor, or re-booting when someone enters your office or cubicle.
With a simple click of the foot switch, you can instantly hide the current window, hide all open windows, or hide all open windows except certain windows. And the best part – because the StealthSwitch is under your desk, no one will notice. When they leave your office, simply click the foot switch again and your programs are back just the way they were. StealthSwitch  can also mute the sound, hide the taskbar, hide all desktop icons, and password protect the restore function all at the same time. Protect your privacy – Save your job – Use StealthSwitch. Just make sure to click the switch on time otherwise you will of to your early retirement.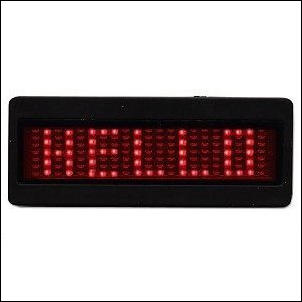 This gadget has adjustments for the speed of the scrolling images and also the brightness of the characters. Simple instructions for programing and adjusting are included. It is simple to program your name or message using letters, numbers and an array of signs with a storage capacity of (118) characters. It is a great "Attention Grabber" and conversation piece. Please see our other Key-ID-Badge accessories listings under Collectors Dice.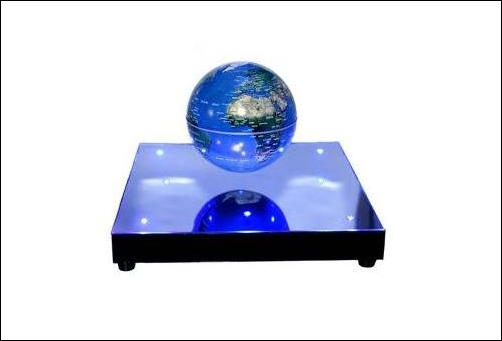 Just as Earth revolves on an axis, so does the Terra Magic line. Advanced magnetic drive allows the Terra Magic AXIS to rotate for months on just one battery. Terra Magic AXIS 4" globes feature four distinctive color styles with a new, artistic base. Designed to illustrate many magical aspects of our world, Fascinations products will cause you to react with amazement and ask "What makes that work?" or "How is that possible?" By working with engineers, scientists, magicians and most importantly, kids young and old, Fascinations is proud to bring you the best in truly unique toys and gifts.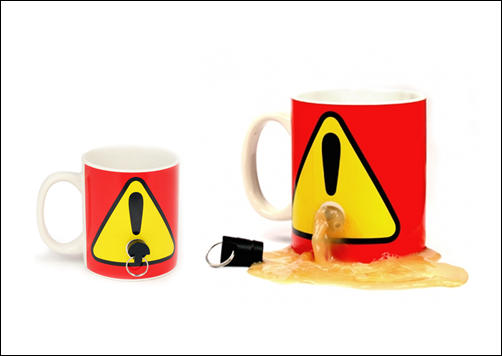 Sometimes it starts as an innocent mistake, shall we say a case of mistaken identity.  You go to make your morning coffee, and your beloved mug is not where it should be.  The following week you go to the kitchen and your mug is lying abandoned in the sink with green tea stains all over it – and you don't drink green tea!
Before you know it, your mug has been round the office more times that the mail trolley, and has become home to more varieties of beverage stains and lipstick marks than is proper for a decent mug.
That's the problem, so how do you fix it?  Cellotape the mug to your arm?  Superglue the mug to your desk?  Quit work start campaigning for awareness relating to mug theft and misuse?  These are all worthy ideas, but we appreciate that you don't have that kind of time on your hands (nor want mugs stuck to your hands!).
So enter the Plug Mug.  A mug, with a hole in it, which renders it completely useless to mug thieves.  Just keep the plug safely stowed away from harm (on your key ring or in a vault) and you will find that no-one is interested in stealing your mug anymore.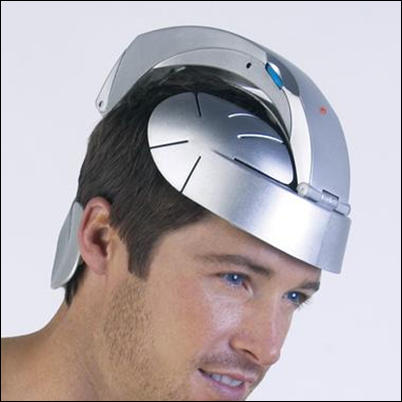 This plug-and-play brain massager gently yet effectively relieves tension in your head by stimulating the thousands of nerve endings located on your scalp.  It is convenient, easy to use, and can be smoothly transitioned through different intensities of vibration. This head spa can also function with an A/C adapter or batteries when you're away from your computer.  Better yet, it has a lightweight, space age design that you can wear to the next SciFi convention.
So, what are you waiting for?  Relax and relieve your stress instantly with our USB Brain Massager.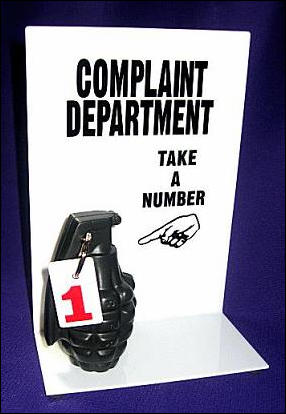 Everyone has their fair share of complaining to do now and then, but frankly, no one wants to hear it. So when you've had as much as you can take, pull out the Complaint Department Grenade as John from accounting tells you his sob story about his cheating wife and blah blah blah. Shaped like a real grenade, this handy device tells onlookers to take a number for their turn to whine. It makes an amusing office gag or can be used to alert others of how little you care. Perfect for IT Departments and Call Centers.
Challenge your tasks to a lighthearted game of organization with supplies that keep you on point, but out of the norm. A clever way to stay organized and keep work on point, without taking yourself too seriously, use these paper clips to mark pages in books, bind important documents or add a playful touch to the daily grind. Clips come in a set of 30 in three punchy designs: Rock, Paper and Scissors.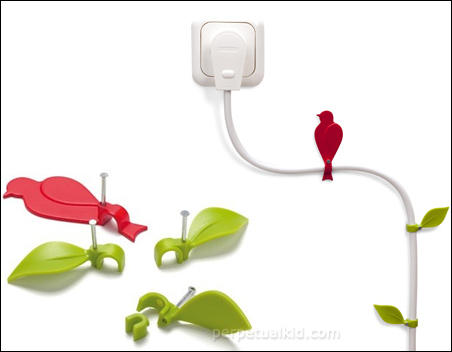 Never be annoyed by unsightly cables running willy nilly all over your walls again!  Instead, turn them into things of beauty using our Wire Blooms Cable Clips handy kit.  Make your wiring mess a piece of art on any wall in your home or office.  Four out of five art critics agree.  Decorative nail-in cable clips with a difference.  Makes unsightly cables come to life!
Spin.  Relax.  Repeat!  Feeling a little wound up from a hectic day at the office? Give our 360° Pen a whirl and you'll smile like a kid again!  Slip it over your finger and spin, or place it between your fingers and write!  Either way you're bound to see your attitude turn. You'll be impressed with the high quality of the chrome-plated plastic and tactile rubber-finish. Available in red or gray.  Blue Ink.  Measures 6.5 inches long.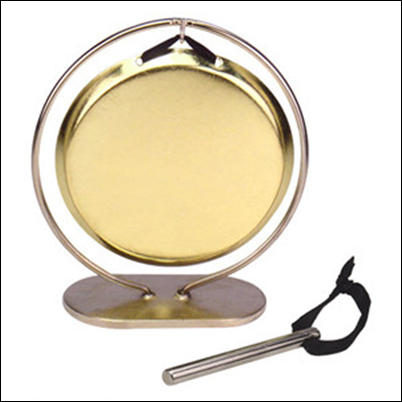 Looking to express yourself more dramatically? Want to add a little Eastern flair to the workday? Make an impression with the Executive Desk Gong. Featuring a portable gong, stand, and mallet, this fun kit also includes a 32-page book that hits the high notes of gong history and suggests humorous ways to incorporate this unique instrument into your daily routines. Perfect for any office dweller who demands to be heard!
Robots are just cool. Who doesn't want a robo dog on their desktop, holding all of your important memos and reminders? Ditch that boring memo holder and upgrade your office space.  This metal robot dog has nine flexible joints so that it can be put in any position — it can sit, lay, stand, or look like it's about to attack! Put a memo in your best friend's mouth by pushing down on its head to open his mouth. This is the ultimate memo holder for any dog lover, and it won't bite you or cost you a dime for food. Robo Dog is about 3" long, and has two floppy, black ears that you can scratch behind when you feel the need to bond.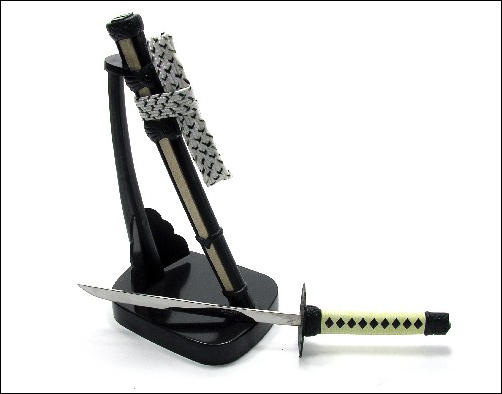 Before the 14th century, samurai were generally illiterate, rusticated brutes who would have no need for a letter opener. Times have changed. Whether you're an office warrior, a Samurai Delicatessen (John Belushi, SNL), or true warrior nobility, our 6 1/2″ stainless steel Samurai Letter Opener is a fun and fast way to slice open your mail. The whole set – sword, sheath and stand – are all included in a printed gift box. Even Hiro Nakamura would be proud to wield this blade.
Orbiculus is an embodiment of "Cancel", "Play", "Save", "Yes" and other commands into real objects. They are packed in a box and serve up a gift idea for you—something nice to stick to. The thumbtacks are suitable for any surface they can be stuck into.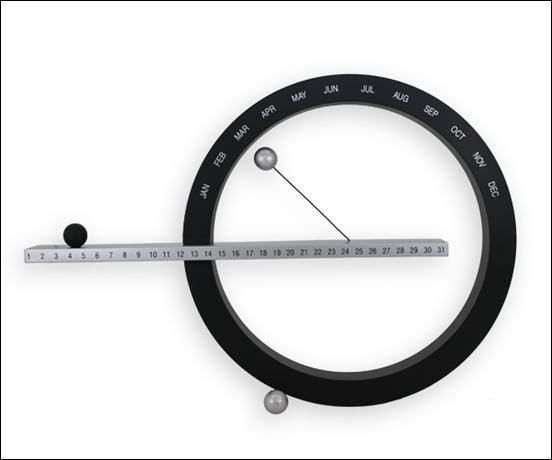 This unique and eco-conscious calendar is a design marvel by Gideon Dagan. Mark the month with the string-tethered, seemingly gravity-defying ball that suspends in mid-air. A second ball on the horizontal beam indicates the day. It can be placed on a desktop or mounted on a wall. Made of injected-molded ABS recyclable polymer and magnets.
This movable workstation is the solution when your job calls for frequent movement around your office building. If you don't want to leave your papers behind, and all the things you need to perform your tasks better get this workstation. It is equipped with wheels for easy transfer, 'plug and play' electrical system and its has spaces to hold essential office items.