At present, there are already millions of websites and this number is still increasing every second of the day. With this number of websites, competition for keywords, is tough. Of course it is really necessary that you need to rank for the keywords you are targeting in the search engines in order to get the most out of your efforts in building your website. Although you can still get traffic using social media, ranking in the search engines is still better as it is more stable and more search specific. It is the key to help readers find the content in your website which is relevant to their needs.
The good thing however is that, WordPress has a number of plugins that can help you adjust certain parameters in your website to make your content rank high. These are the SEO plugins for WordPress, or search engine optimization plugins for WordPress.
Here, we are sharing with you some SEO plugins for WordPress that can help you work on the tags, tell search robots to visit and index your website, and optimize your titles and content. This is to increase the number of visitors on your website, and consequently the rewards that you are up to, why you are making your website in the first place. If you like this article, please share this to your friends. You are also welcome to post your comment, suggestions and additions to these SEO plugin collection.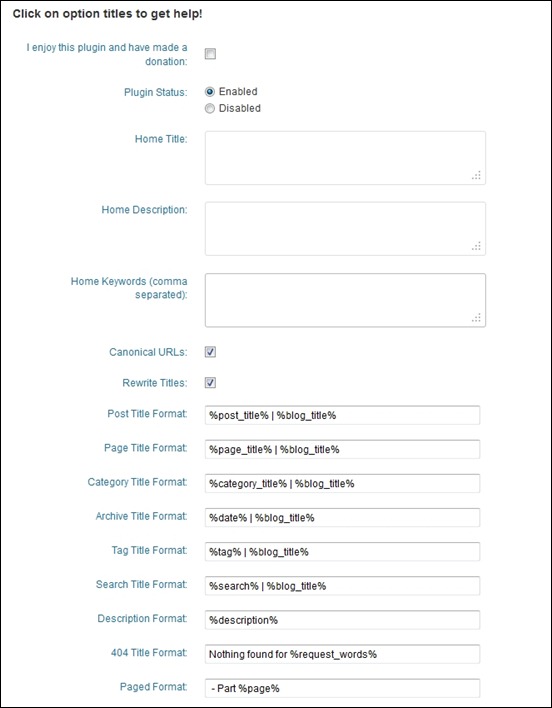 This SEO plugin automatically optimizes your titles for search engines. Also it provides SEO Integration for WP e-Commerce sites. Also, it generates META tags automatically. You can however override any title and set any META description and any META keywords you want. This is compatible to WordPress version of up to 3.3.2.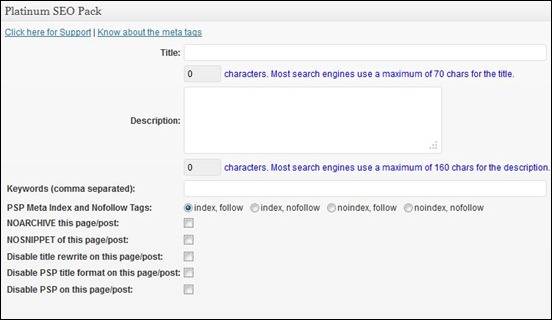 Platinum SEO Plugin offers Complete onsite SEO solution for your WordPress blog.Platinum SEO Plugin offers all the functionalities of All In One SEO pack.
This plugin can help you to take care of all needed aspects of SEO and at the same time helps you to write better content. WordPress SEO forces you to choose a focus keyword when you're writing your articles, and then makes sure you use that focus keyword everywhere. Also this WordPress SEO plugin guides you through some of the settings needed, for instance by reminding you to enable pretty permalinks. But it also goes beyond that, by automatically optimizing and inserting the meta tags and link elements that Google and other search engines like so much.
Forget to put manually your links, just choose a word and a URL and this plugin will replace all matches in the posts of your blog.
SEO Smart Links provides automatic SEO benefits for your site in addition to custom keyword lists, nofollow and much more. SEO Smart Links can automatically link keywords and phrases in your posts and comments with corresponding posts, pages, categories and tags on your blog. Further SEO Smart links allows you to set up your own keywords and set of matching URLs. Finally SEO Smart links allows you to set nofollow attribute and open links in new window. It is a perfect solution to get your blog posts interlinked or add affiliate links to other sites.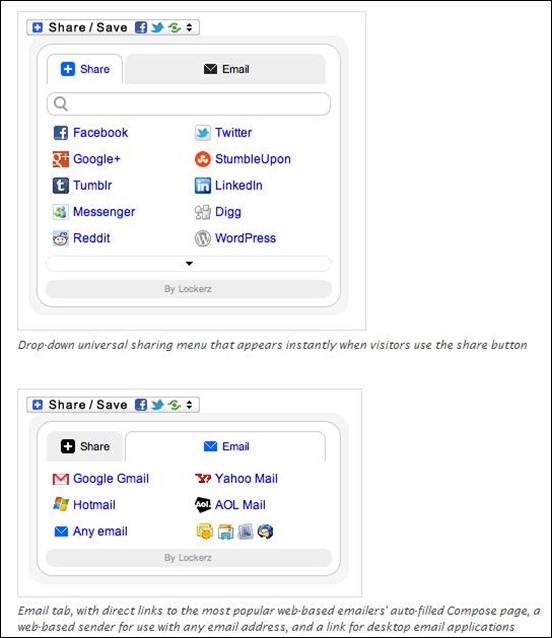 The WordPress plugin to help people share, bookmark, and email your posts and pages using any service, such as Facebook, Twitter, StumbleUpon, Google, Digg, Delicious, and well over 100 more sharing and social bookmarking sites. New: Pinterest Pin It Button in addition to the Facebook Like Button, Twitter Tweet Button, and Google +1 Button. This sharing plugin comes with a customizable Smart Menu, which places the services visitors use at the top of the menu, based on each visitor's browsing and usage history.
This all-in-one SEO plugin gives you control over title tags, noindex, meta tags, slugs, canonical, autolinks, 404 errors, rich snippets, and more.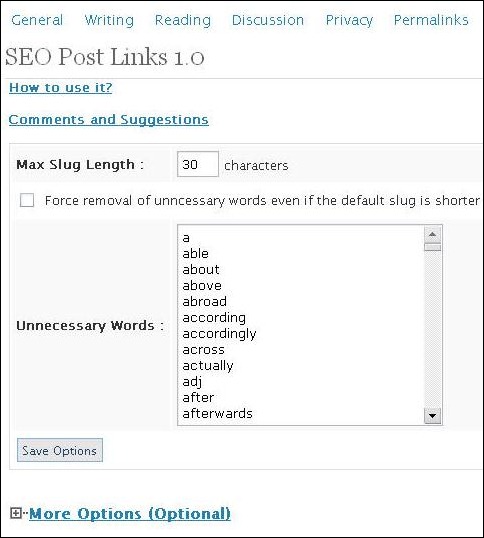 The SEO Post Links Plugin has been developed by keeping in mind all the shortcomings of the default WordPress configuration. To put it briefly, this plugin makes your blog post link short as well as optimizes it for search engine.
SEO Friendly Images is a WordPress SEO plugin which automatically updates all images with proper ALT and TITLE attributes for SEO purposes. If your images do not have ALT and TITLE already set, SEO Friendly Images will add them according the options you set. Additionally this makes the post W3C/xHTML valid as well.
ALT attribute is important part of search engine optimization. It describes your images to search engine and when a user searches for a certain image this is a key determining factor for a match.
TITLE attribute play lesser role but is important for visitors as this text will automatically appear in the tooltip when mouse is over the image.
This plugin enables you to configure several important SEO characteristics of your main title, head section (description, keywords, robots indexing and following instructions, canonical URLs), secondary title (visible in the page body), secondary description, (visible in the page body), paged comments and duplicate content.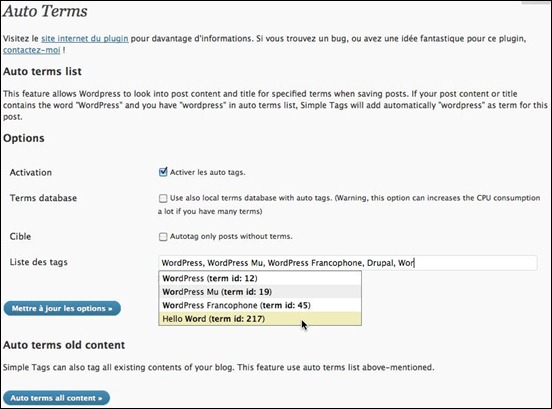 This is perfect tool to manage perfectly your WP terms for any taxonomy. With this plugin you can manage your tags (rename, delete, merge, search and add tags, edit tags ID); edit mass tags (more than 50 posts once) and enable auto link tags in post content.
Based on keywords you choose, the SEO Rank Reporter plugin will track your Google rankings every 3 days and report the data in an easy-to-read graph. You will also be able to visualize your traffic flow in response to ranking changes and receive emails notifying you of major rank changes.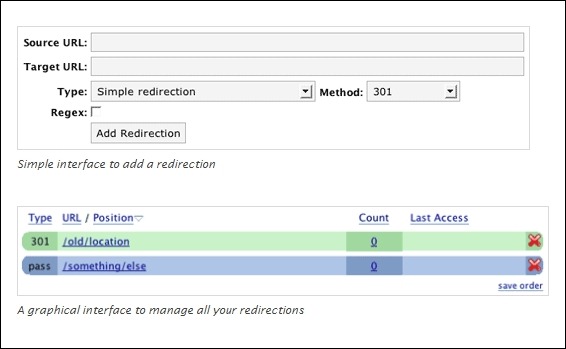 Redirection is a WordPress plugin to manage 301 redirections, keep track of 404 errors, and generally tidy up any loose ends your site may have. This is particularly useful if you are migrating pages from an old website, or are changing the directory of your WordPress installation.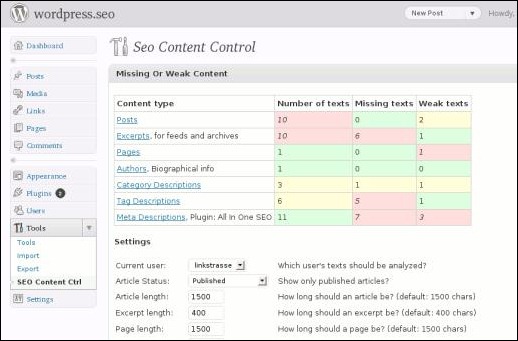 SEO Content Control helps to identify and clean up various sorts of weak content, in order to improve a site's quality and to rank better.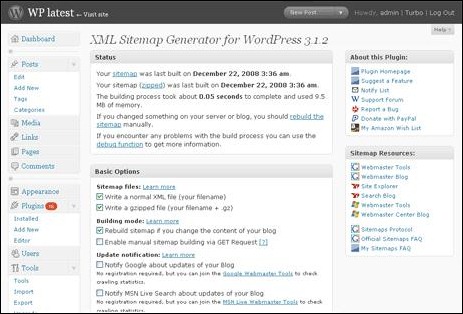 This plugin will generate a special XML sitemap which will help search engines like Google, Bing, Yahoo and Ask.com to better index your blog. With such a sitemap, it's much easier for the crawlers to see the complete structure of your site and retrieve it more efficiently. The plugin supports all kinds of WordPress generated pages as well as custom URLs. Additionally it notifies all major search engines every time you create a post about the new content.